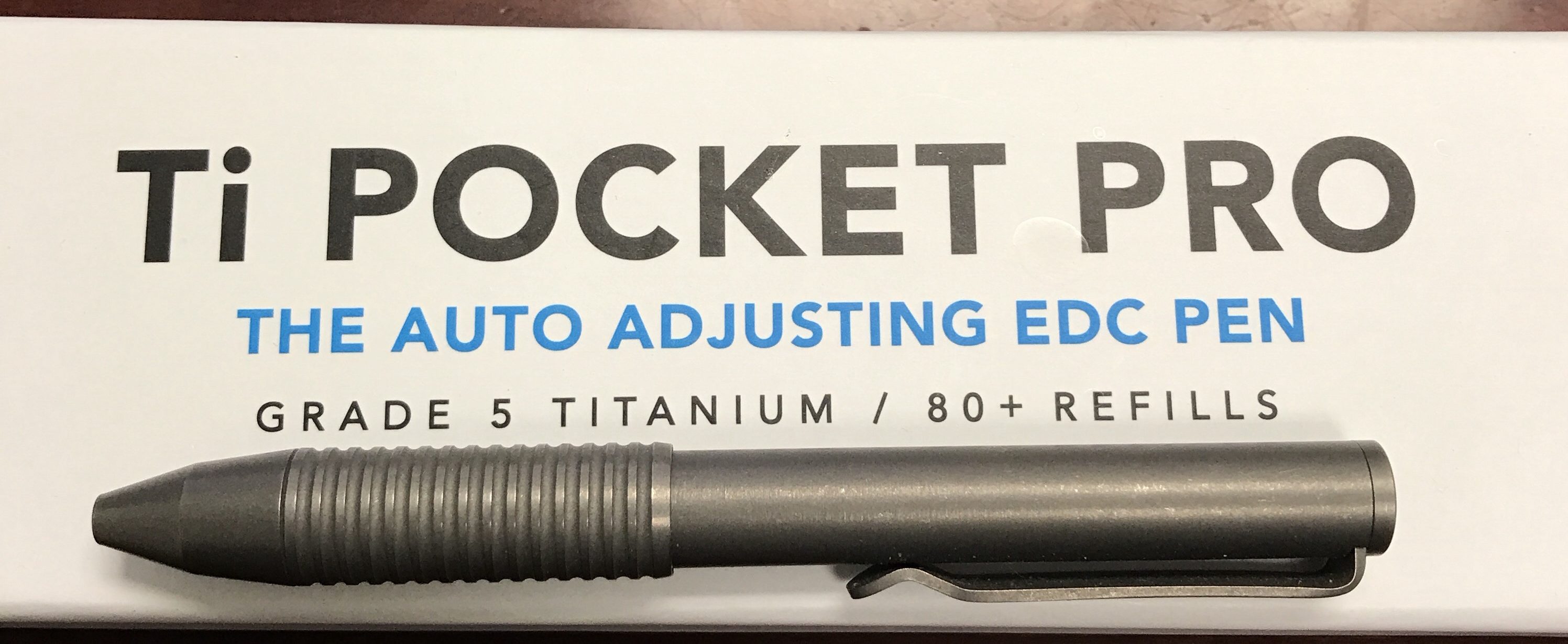 Pocket pens are always popular with so many people on the go. Regardless of your occupation, sex, age or other demographics there's usually a place on your person or very close by for a pocket pen. They should be tough and they should right good.  My friends over at
BigiDesign
make great products, including some past versions of a great pocket pen that I reviewed.  Their new
Ti Pocket Pro
has raised their bar for a couple of reasons.  First it writes good, and second it's made from Grade 5 Titanium, toughness is covered.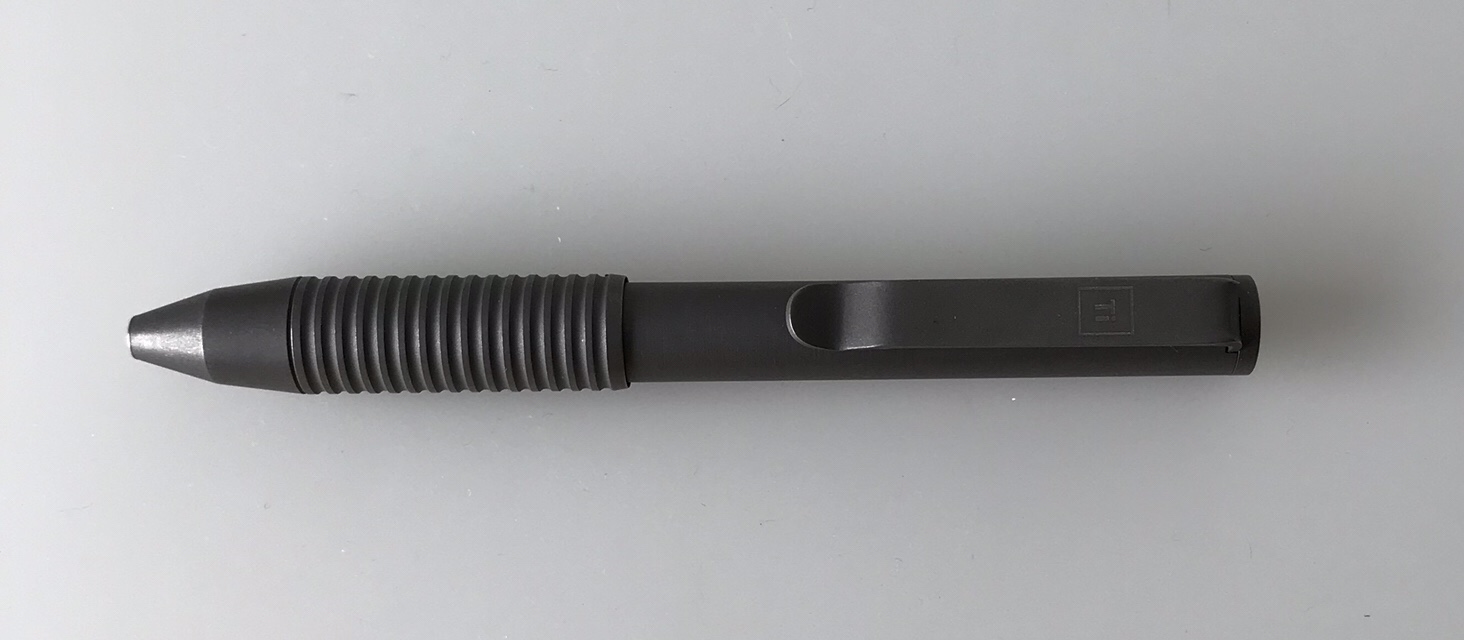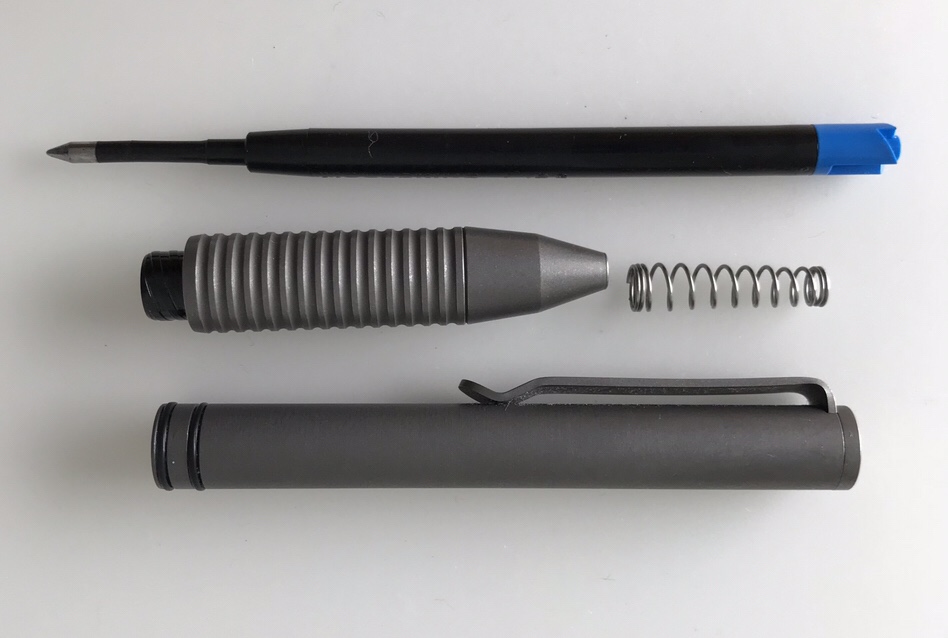 The Pocket Pro has some deep rings for a grip section. Grip is easy and nothing course or rough with the machining.
Branding is subtle right on the clip and the titanium clip serves it's purpose admirable, no reinvention or technological advances needed in the clip area. My pen is the stonewashed titanium, I like the matte type finish over a perfect shiny finish that I'm always afraid to mar up in my pocket.
Any pen is only as good as it's refill.  The Ti Pocket Pro is ready to use a variety of 80+ different refills. I couldn't even name 80 refills if I had a google box.  Most of my preferences land in the Parker style, G2 and recently the Montblanc fineliner (Thanks @heymatthew).  The
Ti Pocket Pro
will take any of these easily with it's clip tied behind it's back. Here are a few of the most popular ones and you can see the size differences that the Ti Pocket Pro can accommodate.
Monteverde Rollerball M
Moleskine Roller Pen Refill Gel
Schmidt Safety Ceramic Roller 888
Montblanc Fineliner
Uniball 207
Schneider Gelio 39 (Comes with)
Visconti Gel Ball Point .7
Pilot G2
Schmidt 9000M
Monteverde Ceramic Gel
The only one that surprised me was the Schmidt 8126, it was a touch too big around but I had no problem finding several that I really like including the Schneider Gelio 39 that came with it. I had never used that one before.
What makes these all work is a reversible spring, an ingenious threaded body and an auto adjusting collet for the refill tip.
The Spring
I don't know where they sourced this from but it's a great engineering feature. The spring diameter is different on both ends. Depending on the brand and style of your choice refill the collar will accept the smaller diameter or the larger diameter of the spring. Using the best fit keeps the spring tension right and refill rattle down. Here is a YouTube video on the proper use of the spring.
The Collet
Several of my machined pens have tip rattle that just about pushes me over the edge and regularly gets me reaching for another pen. BigiDesign has designed an auto adjusting collet that somehow finds the diameter of the refill you're using and holds it firm. Not too firm though since this is a twist action pen and the tip has to slide in and out of the collet. Well done.  I did catch some pocket link in the tip a time or two but extracting the tip pushed it out just like any retractable tip pen. Maybe I should just wash my pants more.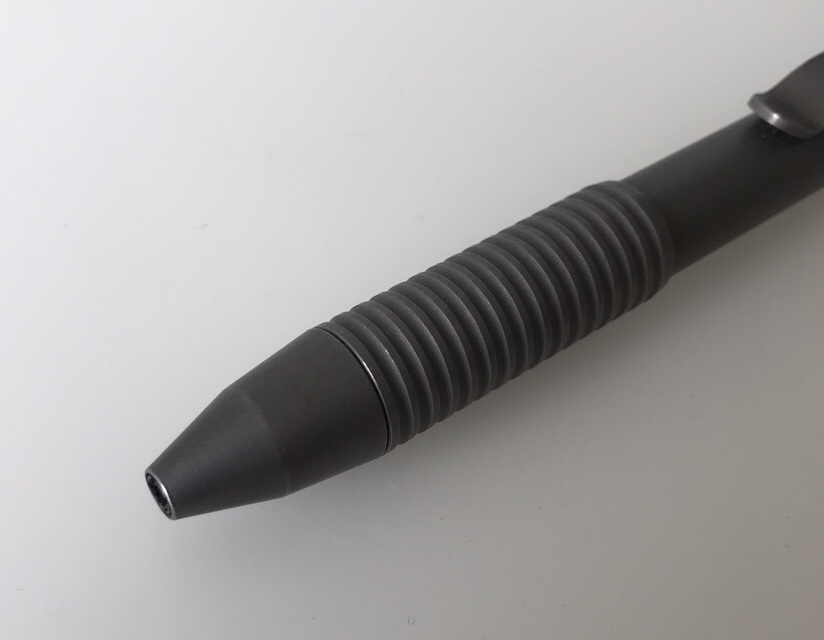 The Threaded Body
Titanium pens come with squeaky threads, that's almost universal. It's what you take for loving titanium.  BigiDesign has coated the threads with an industrial strength PVD black coating that makes them quiet and smooth.  The threads are extra wide and only require a minimal amount of turns for retraction and adjusting the pens length for the different size refills.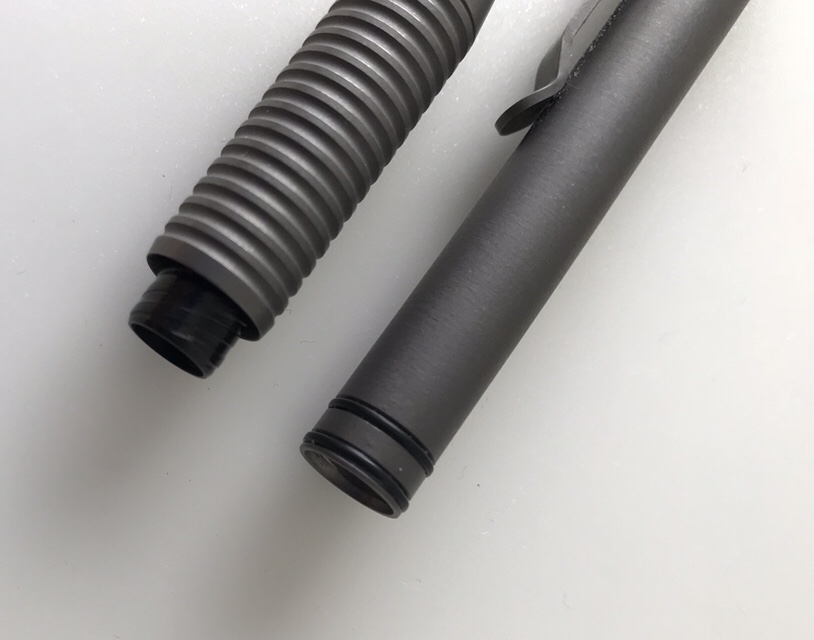 Looking at the design online the concept looked pretty simple to me. Twist the body of the pen against the refill length of your choice against the tension of a spring.  My worry was how does the body stay together and not just twist apart?  Especially with a longer refill like a G2? Chadwick and team accounted for that also with a couple of O-Rings around the PVD coated body threads. It works perfectly and they even include extra O-rings in the box.  A small twist extends the tip to writing position and a reverse twist puts it back into the body ready to pocket.
Conclusion
BigiDesign has another winner with the Ti Pocket Pro. Every pen I tried from Chadwick and team have been winners. I tend to like retractable tip pens a little more for pocket carry just due to the quicker deployment by not having to deal with a separate cap.  I'm confident you'll find a refill that works for you and in the Ti Pocket Pro perfectly.
Thanks for sticking around this long because now the chance for free stuff. The riddle is how many refills do I have left to try in my BigiDesign Ti Pocket Pro?  Ok that's not a requirement for winning your very own BigiDesign Pen but comment your answer below or give us a good reason why you want a great BigiDesign pen.  At 8:00 est on February 27th, 2018 I will use random.org to choose a winner from all the entries. BigiDesign has been generous enough to offer a free pen to the winner. Due to the manufacturing lead times and production batch process this offer is good for in stock pens. Don't worry, every pen they make is a great product and I appreciate them partnering with me to getting more of them out in the world!
Remember: Write something nice……
Thanks for stopping by and if you enjoyed this post I would love to send you an email every time I have a new post. Click Here to Subscribe
Click here for some great deals on pens and ink I have for sale