Like most everyday carry items the best one is always the one you have with you. I have reviewed, carried and maintain a collection of about 30 pens that I would consider pocket size. 5 of these 30 are in the Kaweco Sport line.
Kaweco Classic Sport Chess Gel Roller Black
The Classic Sport line is based on a design dating back to 1935. The fountain pen is probably the most popular model followed by the click ballpoint and the parker size refill gel roller I'm reviewing today. Made from ABS macrolon plastic, this pen comes in comfortably as a pocket size variant pen but when posted it's a comfortable handling length for anything but the longest of writing sessions.
Length capped: 4 1/8"
Length uncapped: 3 15/16" with refill
Length posted: 5 ¼"
Weight with refill: 11.4 grams
APPEARANCE
Where the Ice Sport and other finishes in the Sport line would be considered a fun look, I would suggest the black CHESS version gives a slightly more upscale look to the pen. On 4 sides of the signature 8 sided cap there is a nice checkered pattern that you can see and feel in the material. I suspect it's mainly for looks and it succeeds very well.
The cap is topped with the traditional gold cap of the Kaweco brand and sets off the rest of the pen quite nicely. At the tail of the body is a very small ridged tail piece. Nice aesthetic touch but I'm not sure if there is a functional purpose for it. The only thing I could think of is maybe to help with retention of the posted cap.
CONSTRUCTION
Fit and finish on the pen is top notch, as we have come to expect from Kaweco. They execute well on what can be a challenge of mass producing a nice looking and attractive designed pen for under $30.
The engineered size of the Gel Writer impressed me. The body of the pen, sans refill, is actually shorter than a parker refill. You can't get more compact than that and still use your favorite refill!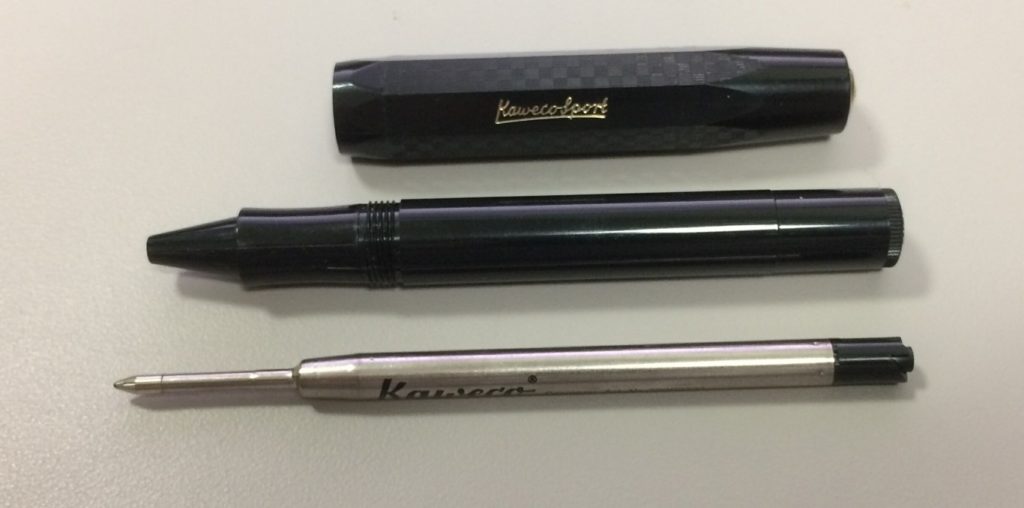 ERGONOMICS
The Sport Gel Roller has a screw on cap that requires a small ¾ of a turn to uncap and recaps in 1 turn. The threads on the body of the pen look deceiving and I was expecting a longer twist on and twist off so there is some cool thread magic going on in the cap that I would never be able to explain. It works. The difference in rotations probably has to do with the positioning that my test just happened to choose in relation to engaging a lead thread to start the engagement. With some experimenting I could get it to full close in ¾ of a turn but in practical use a full turn is very acceptable in regards to deployment and return to pocket speed.
The section is a slight concave which helps with the finger resting and unposted the pen writes fine but for my larger hands anything more than my signature on a receipt I'll be posting the cap. With the cap posted I find the overall length of 5 ¼" very easy to handle and comfortable for most writing tasks. The cap is a push on posting style with good retention and no wiggles.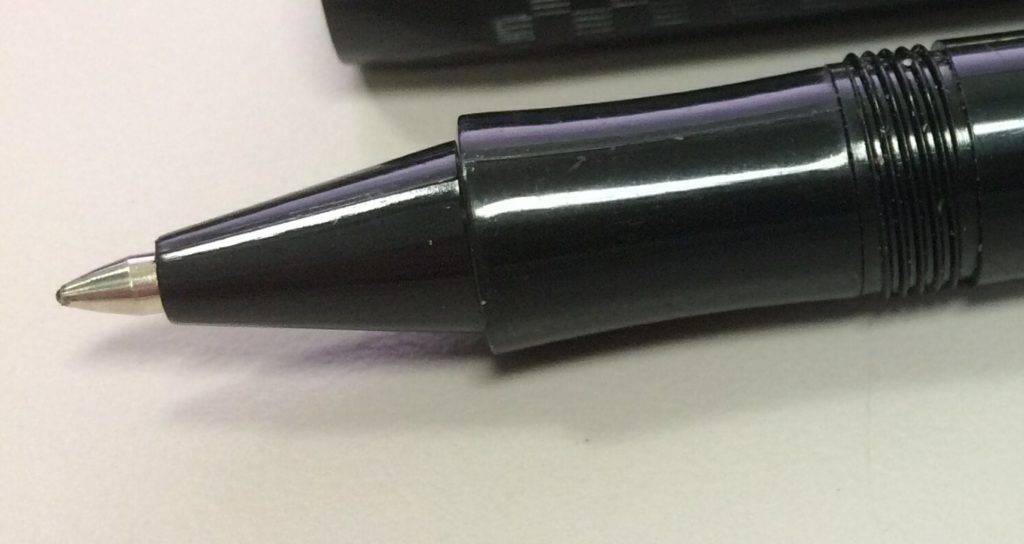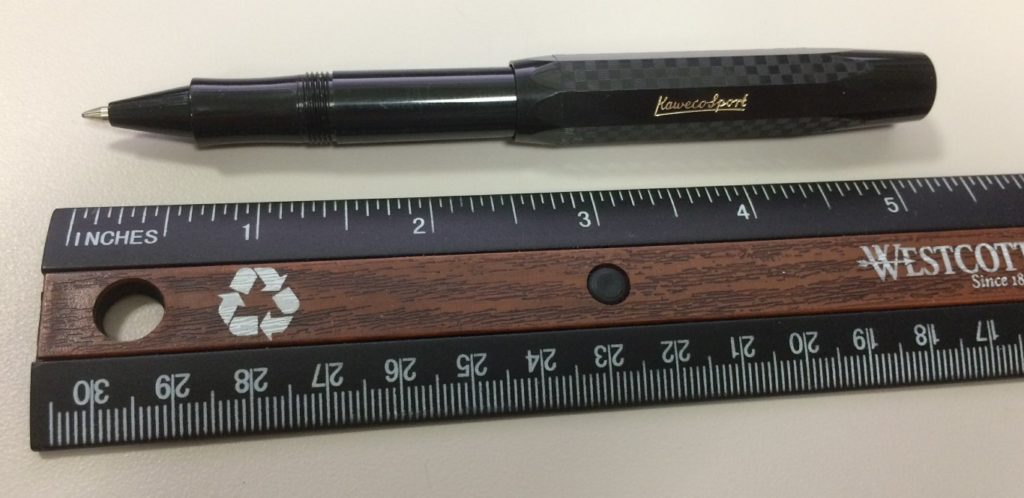 Here it is posted next to my Karas Kustoms EDK, another standard in the EDC pen genre.
REFILL
Best news of the whole pen: it accepts parker style refills. What that means to the owner is probably the widest selection of refills available for any style pen. The Kaweco refill that is included with the pen is very good. I will probably leave it in there though my replacement preferences lean towards the Schmidt line. Nobody has done a better refill guide for the parker style than Ana over at The Well Appointed Desk. Check out The epic refill reference guide or there is probably a good chance if you're reading this you already have a drawer full of old refills collected in your hunt for the perfect one for you.
CONCLUSION
The Sport Gel Writer is not the fanciest, most exotic, most expensive or technologically advanced pocket pen I own but it has quickly become an MVP for pocket wear when I'm loading up each morning for the dangers and perils of suburbia. With the parker refill, the plastic construction that is safe to other, more expensive, toys in my pocket and at $30 I don't worry too much about it. It deploys easily, writes every time and disappears back into my pocket with ease. One can't ask for much more from a mini pocket pen.
I know I talk a lot about pocket pens so have you come up with anything new lately?
Remember: Write something nice……
Thanks for stopping by and if you enjoyed this post I would love to send you an email every time I have a new post. Click Here to Subscribe
Click here for some great deals on pens and ink I have for sale