Growing up I don't really remember alot of things that came in a KIDS version. Maybe because I was kid and it didn't really matter until I grew a little older and found my big sister getting the adult size frosty and I still got the kid's size. I remember getting that crossed eye look on my face trying to figure out how many more years I had to grow before I got the big ones. Based on my waistline today I have made up for all those mini sized travesties in the Wendys drive-thru.
McDonalds has it right too, the Kids Meal is the same food as mom and dad gets just smaller quantities. Home Depot and their kids' tools? not so much…..OK OK I get the argument of safety but it didn't take me long as a kid to figure out my hammer, wrench and screwdrivers did not perform like dads. I think another company who's done it right is Pelikan with their Pelikano Junior fountain pen.  Tailored towards the grade school crowd just learning how to write it's really a great pen.  I find it encouraging with all the media surrounding the demise of cursive handwriting in school that we see a real pen company still offering a real pen for kids.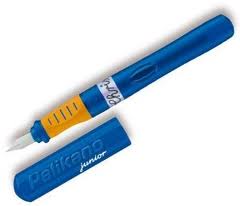 The body is big, bold and colorful. The nib is nothing to look at but out of the box mine was aligned and the experience was very smooth. As good as any of my Lamy's or TWSBI's.  Another really cool feature is the small window in the body where the owner is encouraged to put their name on a little slip of paper inside the barrel so it shows through the window. Very cool.
I have purchased one of these for my 8 year old and 10 year old for their first fountain pens. They like them a lot and so far have taken real good care of them. It only takes cartridges so my kids have already figured out they can refill the old cartridge with some of dad's fancy ink colors when they run out. Speaking of the ink it's a very nice shade of blue, dried quickly and no bleed through or smearing on all the paper I tried.
All in all a great pen for child or equally great as a tough knock around pen for purse or pocket that won't break the bank.
Maybe I could write to McDonalds and convince them to put a $15 pen as a prize in a $3 Happy Meal.
What is your child using?
Remember to write something nice.