I practice penvangelism as often as I can. I will engage anyone that is even remotely interested in pens, just ask my sister. I take every opportunity to grow the hobby and hopefully introduce others to the joy I experience writing with a fountain pen. I haven't found too many people that would just go out and buy a fountain pen after a brief conversation. If they did I'm afraid all they would find is about a $50 Cross brand at a major big box office supply store. There is absolutely nothing wrong with Cross pens, I own a few that I enjoy very much but $50 is still a little much for someone undecided if nibs and refillable ink is really for them or not.
To support my outreach I am always on the lookout for good entry level pens at a price that is comfortable for gifting and a writing experience that inspires further exploration. Much has been written about the Lamy Safari and my favorite, the Pilot Metropolitan . Nearly universally both are accepted as the go to entry level pens that are a step up from the Varsity / Plumix lines. The Pilot is my favorite and I have supported Pilot often with my penvangelism efforts.
Reading The Pen Addict the other day I saw that Pilot has come back to the entry level table with a new, at least to the USA, Pilot Kakuno. In Japanese Kakuno means to "To Write". How appropriate. The aesthetics of this pen probably lean more towards school aged youngsters but my take on that is it's just a fun looking pen. The advantage to a new Fountain pen user is it's not quite as intimidating as the almost identically priced and mechanically similar Pilot Metropolitan.
I quickly ordered mine and Jet Pens got it to me in a hurry so let's get on with the review
The Pen:
Steel Medium Nib
Color: Orange / Gray
Street Price: $16.50
5 1/8" capped
5" uncapped
6 1/4" Posted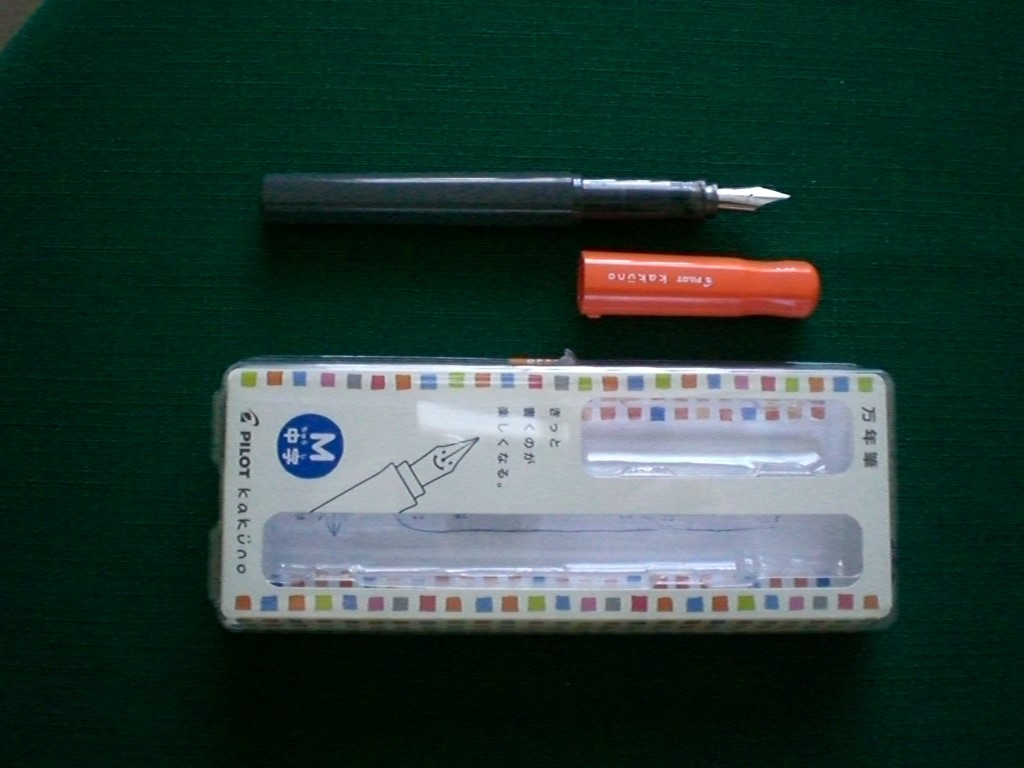 Packaging
Packaging is simple and effective with an obvious Japanese market focus. The cap is removed in the packaging to show off the cool smiley faced nib. The packaging is not designed to be reused and for me it's recycle bin material. This is different than the nearly identically priced Metropolitan which comes with more traditional pen packaging that defies its entry level cost.
Overall Appearance
A nice looking pen with the lean towards fun and casual. It would work in a corporate business meeting without a lot of attention but I don't think anyone would call it elegant.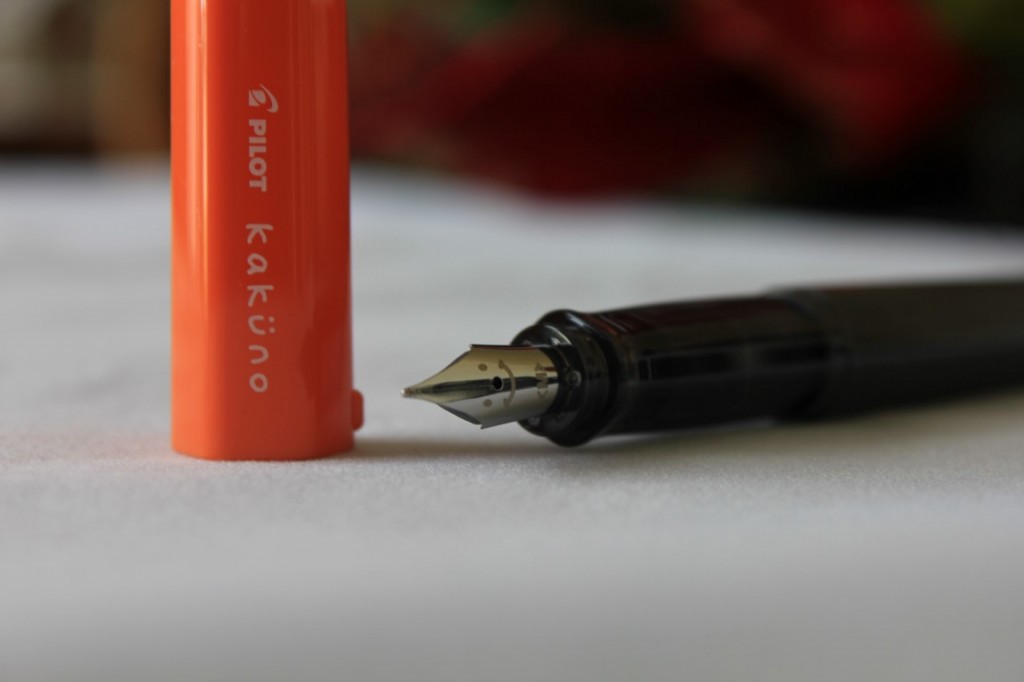 Ergonomics
The body and cap are a six sided plastic construction with good rounding on the corners. You can feel the hexagon shape in your hand but it is in no way uncomfortable. From the body you travel down through the cap area to the feed and you get a similar hexagon shape but with a slight taper that gives your fingers a natural place to rest. A great job.
Cap
The cap is unique. It's a contrasting color to the body which gives the pen it's fun/casual look without being gaudy or tacky. It's a snap on style cap that has a positive detent with no play when snapped on. The cap stays on without being hard to remove. There is no clip but at the head of the cap are round indentations that give you a good gripping area to pull the cap off. Nice touch and it adds to the overall aesthetics. Another nice feature is a small anti-roll tab on the cap which doesn't get in the way but serves a good purpose. The cap posts well and with the all plastic construction weight and balance is not an issue.
In this price range I would not have expected a threaded cap. This one seems to seal well so I don't think it will have any drying out issues. Sometimes I prefer a snap on cap for the benefit of the quick deployment it allows. Pocket to writing time is less than a threaded cap.
Clip
Not much to say here since there is no clip. Seems odd to me but it doesn't take anything away from the pen, I still really like it. But if you need a clip this one is probably a pass for you.
Filling System
My pen came with a standard Pilot cartridge and I suspect it would accept any Pilot compatible converter. After installing the cartridge ink began to flow to the paper in a reasonable amount of time. For the beginner I think cartridge is the way to go before moving into a converter and bottled ink if fountain pens really start taking up space on your desk.
Nib
The nib is a standard steel construction with a rather cheery smile engraved on it. Fun touch. The Kakuno line comes with a choice of a M or F. The loupe look of my medium shows the tines well aligned and the feed centered.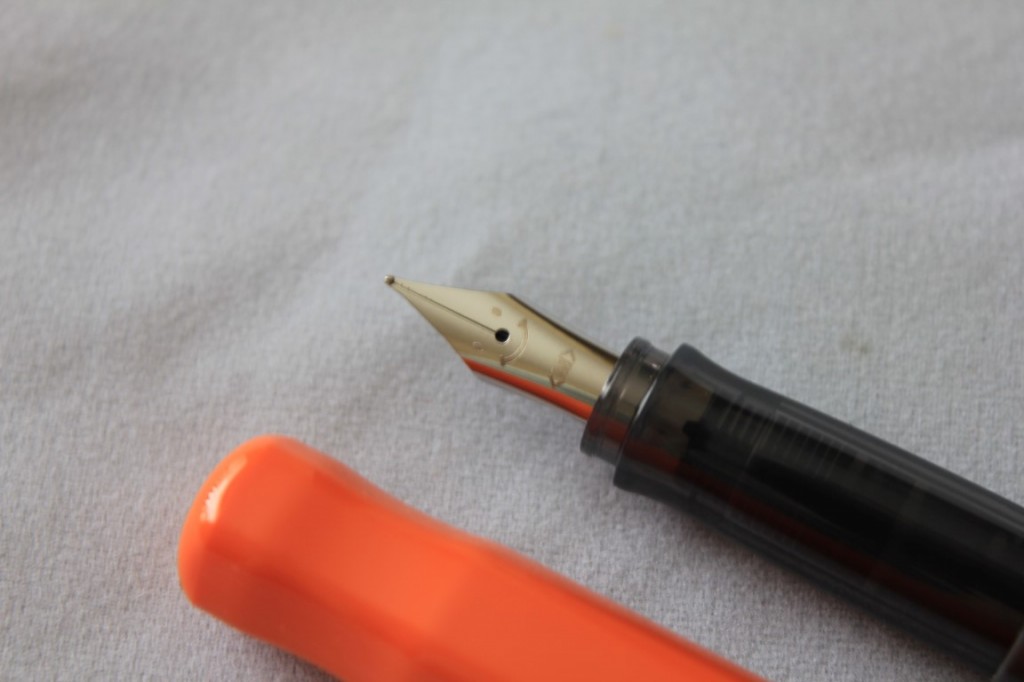 Writing
The writing experience is very smooth on a wide variety of popular paper. Smooth without being motor oil on glass. The pen never skipped and in spite of some intentional long pauses with the cap off and the nib pointing up it was never slow to start. Oh how I wish some of my other pens could learn a lesson or two here. I'm impressed.
Conclusion
I like this pen. I would never hesitate to throw it in my pocket or bag as a great knock around pen that I could count on to write every time. I like the fun look, the snap on and off cap and it's just a great smooth writer. It will stay on my Jet Pens wish list waiting for my next gifting opportunity.
Any entry level gifter pens you really like?
Remember: Write something nice……