I remember growing up my dad saved the original box for most of the things we bought. Barring major appliances and anything else that would not fit in a single car garage. He was into electronic things and gadgets so we always had a stack of boxes for VCRs, stereos, CB Radios (remember those!), police scanners, etc.  I never really understood the full value of said boxes but I knew that stack was off limits. I was responsible for cleaning our little garage and I would scorn all the space that empty cardboard was taking up and fantasize about how much better I could utilize the space.  I know dad would occasionally sell some of these items wen he lost interest with it so the original box was always a plus for the buyer. Dad took care of things so repackaged he always sold them as used but they could pass for new.
As I grew older my discretionary income grew to the point that I started acquiring things and found myself looking for places to stash the empty boxes. I don't know why I did it and how I justified it in my mind I just started doing it subconsciously. I guess if dad did it then it must be a good idea.
When my serious pen collecting began a couple of years ago I saved all the pen boxes out of habit. They were small and not a burden to store as my living quarters supported some storage.  I did have a slight justification in that pen people typically like to buy a used pen with the box. Since I'm still learning about this great hobby there was a better than average chance I would be selling some of my collection to finance other purchases. For that I was right.
Below is what I have accumulated thus far. Not a huge collection but enough that I have filled up two closet shelf space sized plastic containers. I may be able to add a couple more pens with some jigsaw puzzle stacking of the boxes but it won't be long until I need to cull some of these out or add more shelf space.
Zooming in there are a few that I just couldn't get rid of. My Nakaya and my Pelikan M1000 are really nice and would be great accompaniment to the sale of the pen.
Then there are these oversize boxes, and Conklin seems to be a big offender here. Does the box REALLY need to be this big?  I can appreciate the efficiency of making one box for your whole product line but nobody makes pens that big.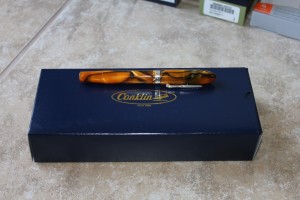 Finally I have boxes for some of my more economical pens. For the price point of the pen I would not expect these boxes to be anything special. But do I throw them away because they are more utilitarian in design and materials?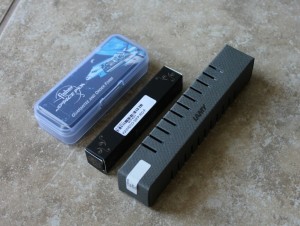 What is your retention and storage routine for pen boxes?
Remember: Write something nice……