I wish I had a heartwarming sentimental story about my first fountain pen but I just don't. I remember using a fountain pen in school to learn how to write cursive. I have never figured out how cursive writing and fountain pens go together but I recall handwriting class included both.  School was not my joy so I think I have blocked out as much of it as I can, including what kind of pen that was. I'm sure it was plastic and cheap and I think it was red. Maybe one day I will dig deeper and reacquire one.
I was always interested, collected and carried the better lines of rollerball pens but my fountain pen experience just wasn't pleasant so I stayed away from them. The fountain pen that started me down the course of the reckless writing stick spending I enjoy today goes back to about 2003. I just landed a big new project at work and decided to treat myself to a nice pen. Wandering through the Dulles Airport on a layover I found a pen shop and decided I was going to try another fountain pen, yes at full retail plus I'm sure. There was a dizzying array of brands and prices so with limited time I headed for the Cross counter. I owned a Waterman, Pelikan and Mont Blanc rollerball but most of those displayed were out of my price range in the fountain pen configuration so I found a Cross Century II for $99.  Not foreign to me but still a lot of money for me to spend on a pen, especially one I couldn't write with before I bought it.   I got it home, popped in an ink cartridge and took it to paper. I couldn't have been more disappointed with its scratchiness and paper grabbing. I didn't know enough to look at tine alignment or try different paper but I was using Levenger pads at the time so it was good paper.  I forced myself to write with it for about a week and finally just gave up in disappointment. I returned it to its box and relegated it to shelf space in the closet, not even knowing I should have flushed it, GASP!. I was ashamed to have spent that much money on a pen that wrote so badly.  It jaded me to the fountain pen world.  By 2011 I had owned about all the major brands of rollerballs and frankly was bored with just another rollerball so I dipped my toes into fountain pens and decided to try again.
I bought a Lamy Safari based on the positive reviews from a loyal fan base. I liked the Lamy but didn't love it.  What the Lamy did was make me thirsty for fountain pen knowledge so I devoured every morsel I could find. During this brain fest I carried in the back of my head that Cross aching in the closet all clogged up with ink. I read about nibmeisters and the service they provide including one Danny Fudge. I sent Danny my Cross. What came back was an absolute joy to write with. Smooth, no skipping or hard starts and a real pleasure to write with. I finally got it!  I experienced the appeal and joy others have been enjoying with fountain pens for years.
Today I consider the Cross my first. I have no plans to sell it for that reason and just as important it's a joy to write with. With the knowledge I have gained in the past 3 years I offer you my review.
The Pen:

Stainless Steel Medium Nib
Steel Grey Blue
Street Price: $95.00
5.31" capped
4.82"  uncapped
6.06" Posted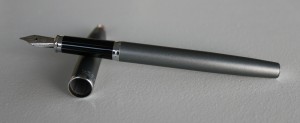 Packaging
Packaging is well done with a common clamshell piano hinged box wrapped in a thick outer sleeve. I don't like some of Cross' later packaging strategies for retail display in the big box stores. I understand it but the clear plastic typically needs a hacksaw to get into and it's just not as nice a presentation if you're gifting the pen.  In my book they did well with the Century II. Packaging is protective and makes a great presentation piece for the gift receiver.
Overall Appearance
I like the looks. The shape is very traditional Cross with a gradual taper on the body and a steeper taper on the cap that is topped with a nice chrome accent that I believe Cross calls their conical tip. The chrome tip on the cap, the chrome band at the bottom of the cap and the clip are all well plated and are sized right to be classy touches without being over blinged.
Cross calls the color of my model Grey. I think that's a boring moniker that belies the pen's attractiveness. Not to sound like a car company naming car colors but I would call the color of my pen steel grey with maybe a slight blue tint. The color is classic and professional worthy of any business environment and with no lean towards a man or woman centric hue.
Here is the best lighting picture I shot giving the best color rendition.

The CROSS marketing logo is tastefully discreet on the clip and again engraved at the base of the cap in the same color as the pen.
Ergonomics
I favor larger pens of which this Cross is not. I would call it a medium size but it still feels comfortable in my larger hands. I can't quite explain why but I enjoy writing with it. The cap and body are metal construction so you do get a bit of the coldness that metal pens typically exude but it's not uncomfortable. In return I'm sure the pen will take quite a bit of abuse without rendering it unusable. It feels stout and well built.
Section
The section is plastic with faint ridges running parallel to the pen. They form a good grip and the transition from barrel to section and section to nib is gentle and non-obtrusive. The transition from section to tip has a slight bump that gives your grip fingers a gentle stop. Comfortable is the one word description here.
Cap
The cap is a push on pull off variety. The style is my preferred for a quick deployment. Cross does a great job with a rubbery plastic type seal that gives a good positive closure. You feel the cap and body touch then a gentle push gives you good feedback that the cap is seated. The tug to remove the cap is not excessive but the effort confirms your confidence that it's not going to rattle loose in a bag or purse.  Some other makers' push on pull off caps try too hard to get a firm closure and seal. The subsequent removal effort required can cause a jolt and give you an unwelcome ink splash from the nib if you're not careful.  Cross has spent some time engineering this connection and it's evident. They got it right.
Clip

Clip is pretty standard fair, well-shaped flat steel that gives it a good stiffness and adequate roll on pressure to a pocket or pen holder. The entry tip is rounded and polished which further helps with the attachment. Hold strength is good. The Cross name/logo is etched high on the clip. Tastefully executed, common with Cross.
Filling System
The Century II out of the box uses standard cartridges. Cross sells the usual blue and black under their own brand name.
Converter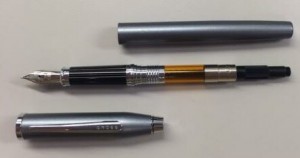 Cross sells two fountain pen converters for around $6 each. The Type I and the Type II. The Century II takes the Type II.  The Type II is a standard converter that works very well with a smooth piston mechanism. I have never had any leakage. Construction seems good and fits tight on the section. I like the metal ring reinforcement where it goes into the feed. Impressive at a $6 price point. I'm not sure about the purpose of the amber tinted reservoir, I would rather have it clear in the event I forget what ink I have loaded but that's a nit pick. Ink capacity is typical converter sized small.
Nib
You can get the Century II with a stainless steel nib or a 23K gold plated.  It appears that certain finishes only come with one or the other nib varieties. I suspect the 23K gold plated nib is just a steel nib made to look gold with the plating. I doubt either will give you any different writing experiences plated or not.  Scroll work on the nib is attractive without being tacky or gaudy.  The nib size is small but right sized for the pen's overall size. It's not nail stiff but don't expect much line variation even with pressure.
Writing
Out of the box my specimen was scratchy and I was unimpressed. I was currently carrying many rollerballs that were smoother and just as pretty on the outside.  After Danny Fudge worked his smoothing magic it is a whole different experience. A smooth traditional slightly wet medium. No skips, no hard starts and after several weeks sitting you can still pick it up and start seeing ink immediately.
I would wager that at the quantities Cross produces you are just as likely to get a superb writer right of the box as you would be getting a less than perfect example as I did. I wish those odds were better but I have learned unless your supplier of choice is one that checks the nibs individually before they go out I have to be willing to take the chance.
Conclusion
I like this pen and plan to never sell it. It doesn't have a real sentimental history with me but I do consider it my first real fountain pen.  Most importantly I like the way it writes and even though it's smaller than my normal daily carry arsenal it's comfortable in my hand.  There are probably more Cross pens given as gifts than any other brand in the world. They have done a great marketing job, as has Mont Blanc, in promoting the writing instrument as a special gift of accomplishment.  Cross makes a good solid pen and you couldn't go wrong with their Century II model.
Are you a Cross Pen fan?
Remember: Write something nice……