I realized unpacking at work the last few days my daily carry has become quite large. My pen acquisition activities have slowed so maybe my rotational efforts are deficient. The other challenge is I REALLY like each one of these pens and I'm afraid I will miss them. Here is what my briefcase held today: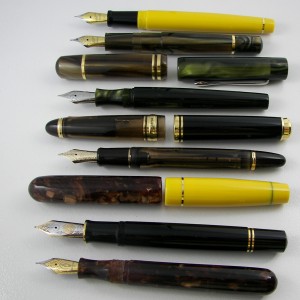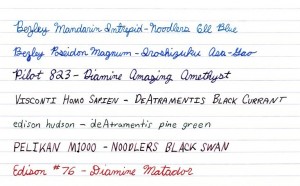 I enjoy all all these combinations.
Bexley Mandarin Intrepid with Noodlers Ell Blue    
This is my newest pen and a real bargain purchased used from a fellow pen blogger Ray at FPQuest.com. The only slight annoyance is a hard starting threaded cap when screwing it back on. I like the size, and the color is even growing on me. The nib is smooth with a slight bit of feedback that I tried to lessen with the lubricating ELL ink.
Bexley Poseidon Magnum with Iroshizuku Asa-GAo    
I like big pens and I missed out on the first run of the Poseidon. When the version II was offered I jumped on the first one I could find. When it came in I was a little disappointed in the capped size but fortunately that was deceiving. The nib goes deep in the cap so uncapped the size is wonderful.  The nib is a real oil on glass smooth. Probably my favorite nib / ink to paper experience even over some much more expensive pens.
Pilot 823 with Diamine Amazing Amethyst  
An impulse treat to myself after a bonus at work. I got it from nibs.com with a Mottishaw rounded stub nib and it writes wonderfully.  This is the most sensitive pen I have for keeping the plunger cap open slightly to keep the ink flowing. It will shut you off. Which I guess is the purpose!
Visconti Homo Sapien DeAtramentis Black Currant  
Another big pen that was on my grail pen list for a while. I finally sprung for it and can't say I've really been overwhelmed with it. The material it's made from is cool but I have never been able to get it black enough for my tastes and the writing experience is good but other less expensive pen blow it away in that department. The cap attachment is cool though. I guess the reason it stays in rotation for now is it's not a bad writer by any means but as shallow as this sounds I have too much money wrapped up in it to send it to be a safe queen.
Edison Hudson DeAtramentis Pine Green
My first EF nibbed higher end pen.  Edison continues to impress me. My real go to pen  when I need a fine line. I get some feedback from the nib but for an EF it's much better than I expected.
Pelikan M1000 with Noodlers Black Swan
I really enjoy the feel of this pen in my hand and looking down at that huge nib. It's BIG. It's a smooth writer but not my smoothest.  This one wins a place in my bag everyday because it fits my hand so well and I love the looks of it even in basic black.
Edison 76 with Diamine Matador
My first custom pen made just for me. It's a beautiful pen to me and before my Poseidon it was my smoothest writer. They are probably tied for smoothest now. When I have a longer writing session coming up I reach for this one or the Poseidon, always a hard choice.
Do you have a favorite amongst your daily carry or are you better disciplined than I to really ROTATE your collection?
Remember…..Write something nice….