Kaweco is probably best known and highly respected for their extensive SPORT line of pens. They are great pocket size pens that when posted yield a very comfortable write. I own 4 in different flavors and I count myself as one of their many faithful followers. Today I'm reviewing one of Kaweco's more conventional size pens and I walk away impressed with the German company's willingness and skill at producing other models outside their SPORT line. This example is the Kaweco Allrounder.
The Pen: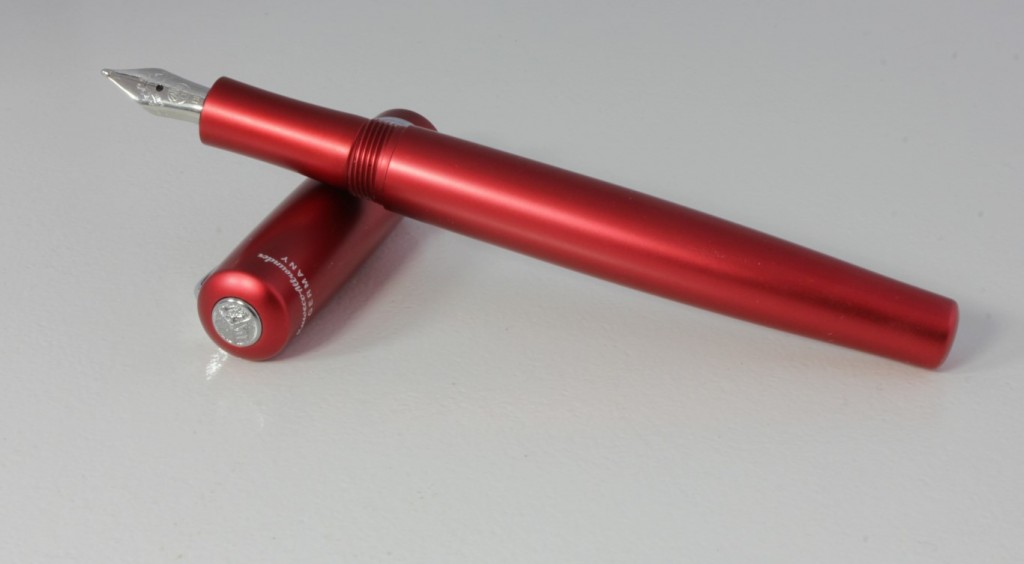 Kaweco Allrounder Fountain Pen
Red Anodized Aluminum
Stainless Steel BB Double Broad Nib
Street Price: $96.00
5.3" capped
4.75" uncapped
6.3" Posted
Packaging is 100% Kaweco with their uber cool retro tin box. Think Altoids mint container but with cool designs printed on it. Effective marketing tool but like most packaging not much use if you're going to use the pen.
Overall Appearance
I really like the matte anodizing appearance. The red is bright without being too fire engine reddish that would jump off the table. It also comes in black, blue and silver. The blue would be a close second choice for me. The coin type cap on the very top and the small divot on the bottom of the pen give it a few distinctive styling touches. Some have commented that the nib, ported over from the SPORT line, looks small for this conventional size pen. After my study I could agree but it took somebody else pointing it out for me to even notice. It doesn't look overly out of place to me.
Ergonomics
The Allrounder is a traditional cigar shape with tapered bottom, bubbled mid-section and a slight expansion in the cap. The section is large enough to keep the threads out of the way for my grip and with the length of the nib I get a good finger to nib measurement for comfortable holding and writing. I like the section's slight concave shape and I think it subconsciously guides my fingers to the right area. I always wonder what the real intentions of some design elements like this were for but ergonomically it works very well for me. No fidgeting or hesitating finding the right grip as soon I as I pick up the pen.
I'm not a cap poster so overall length for me unposted is right at the minimum for my large hands but that's ok. The anodized finish is smooth without being slick and after a couple of pages of writing I had no stress or strain at all.
Construction and Quality
The Allrounder's body, section and cap are all aluminum. Clip, fittings and other furniture are made from brass that has been chrome plated. Beyond the usual warnings for anodized finishes and the pen battleground patina risks the aluminum construction and brass parts make for a sturdy pen that should hold up well in daily use at the desk, in a bag or traveling around in a briefcase. Cap threads are well cut and after my thread frustration with another pen of mine I'm really starting to pay attention to cap threads. The Allrounder does not disappoint.
The anodizing is complete and consistent all the way to the nib and through the threads on the section. There was no machining marks, chips or inconsistencies in the finish. Any marks reflecting in review pictures here are a result of my substandard photography skills.
Cap
The screw on cap is well executed and fits with the aesthetics on the rest of the pen. Threads are smooth and engage perfectly every time I recapped the pen. Inside the cap is finished in black and equally well done.
The chrome band across the bottom looks nice without overdoing it and the printed branding at the top of the cap is well placed without being in your face every time you pick up the pen.
Clip

The clip is attractive with a high spring tension. Entrance and exit ramps are good so clipping and removing is straightforward and it will stay put. Nice curve on the clip and the ornamentation is not over done.
Filling System
The Allrounder comes with a Kaweco ink cartridge which I found to be very pleasant performing ink. It will also accept international short format cartridges or a converter that is not included.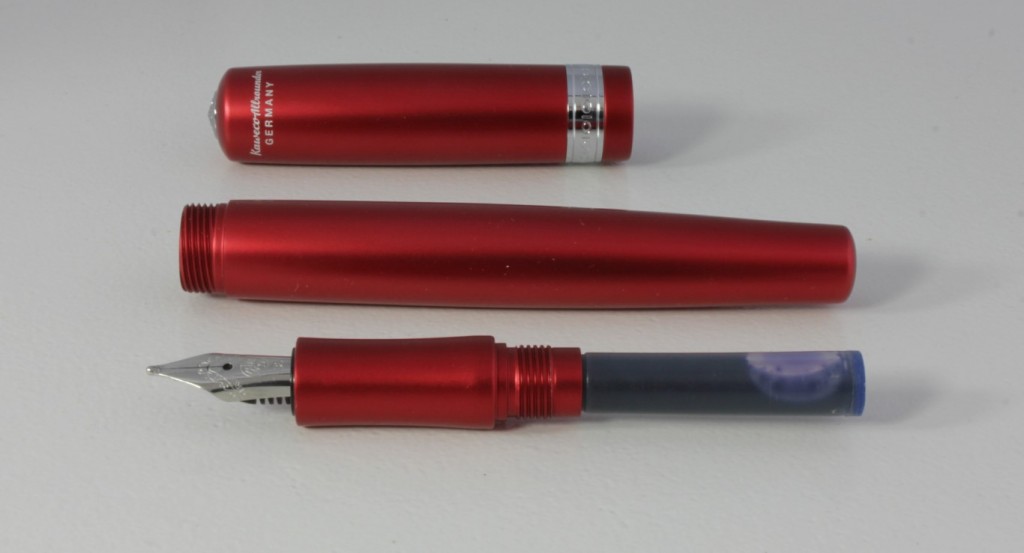 Nib
Besides the aforementioned size critique the nib it is as attractive as described in most SPORT reviews. Decorated without being gaudy. I'm not sure if the size and the feed are up to the required flow of a double broad ink line. I found mine occasionally running dry and needing some time to catch up. I checked the tine and feed alignment and they looked good. When the ink is flowing to paper it is a beautifully smooth experience leaving behind a nice thick line of your favorite color.
Cost and Value
At under a $100 you get a German quality pen that is easy for Kaweco to put their name on. The all-aluminum construction, brass furniture and fit and finish lines up with anything I've seen in this price range. Plus I just love the red and blue versions.
To help even further with the cost you can use the discount code MYPENNEEDSINK at Pen Chalet to save an additional 10%.
Conclusion
I like this pen. I would probably opt for the medium nib so I could stay away from any flow issues and medium is just a more widely used size in my stables. Kaweco quality, great looks and impressive construction. All good check marks in my book.
Have you tried any of Kaweco's offerings outside their SPORT line?
Remember: Write something nice……