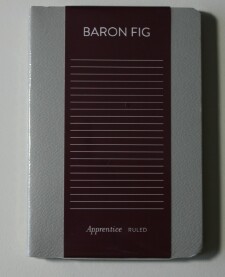 I collect a lot of things. I have not converted any rooms in my house to a collection as most of my collections are things I can, and do, use. I lot of the usual suspects that many would call boring. Pocket Knives, flashlights, pens, spinning tops, etc. Pocket notebooks is not one of those. Now I can certainly understand how the variety and usefulness of pocket notebooks could consume one into collecting but I can't seem to wrap my head around collecting something that is consumable and is designed to be used up. Admittedly my search for the perfect pocket notebook has yielded enough accumulation and variety to qualify as a collection.
My latest entry is from the fine people at Baron Fig. On a follow up of their successful and classy Confidant Journal they bring us their version of the pocket notebook, the Apprentice. I offer you my review.
48 Pages
6 Perforated pages
Gray cover
Yellow stitched binding
Blank Ruled or Dot Grid
Light gray line ruling spaced 9/32" apart
$9.00 for a 3 Pack
OVERALL DESIGN
Baron Fig once again took the minimalist approach with their design. With only two small lines of branding on the bottom of the inside back cover the clean unadorned look is set off nicely with the gray tone cover and yellow stitching. The yellow is quickly becoming a common brand hue shared with the Confidant's page marker ribbon.
The cover is a gray leather look pebble grain that is thin, attractive and sturdy even with some intentional abuse from my fingernail on the corners I found it well put together.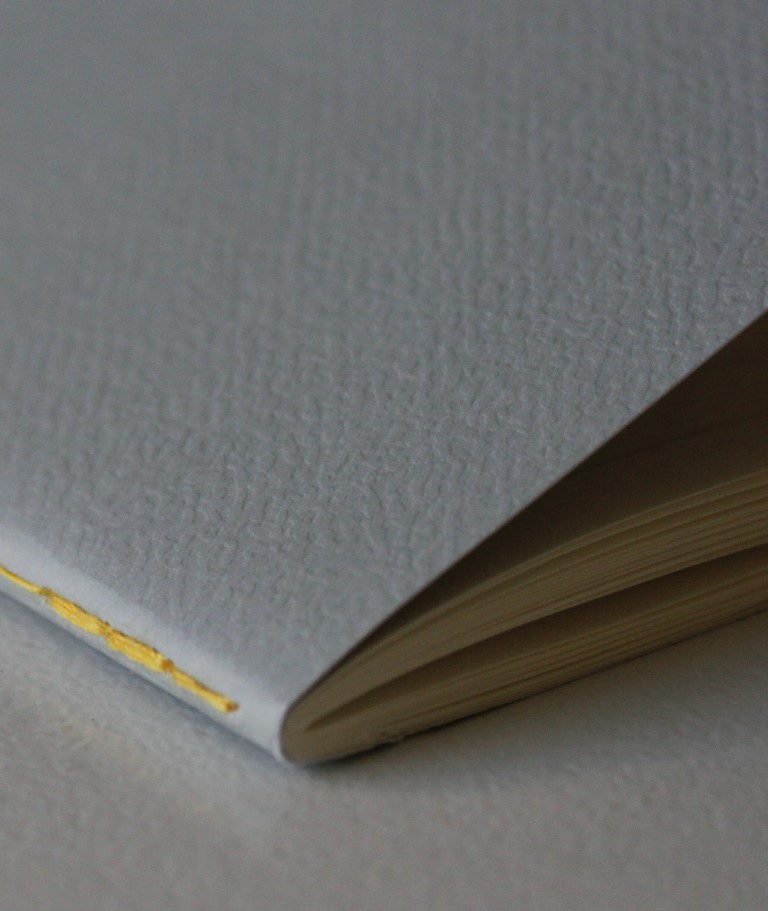 SIZE
I was taken aback by the smaller size and wondered why. After some thought I admitted I'm overly conformist and supportive of standards just for the sake of conformity and sameness, even when there is no real value in such consistency. I openly acknowledge that is a short sighted approach on my part. The Apprentice is slightly smaller than the traditional 3.5" x 5.5" notebook in this genre. Not by much coming in at 3 3/8" x 4 15/16" close enough to be called 3.5 x 5". You really don't lose a lot of writing space and most uses for these type notebooks are lists, scribbles and drawings so I don't think the size would ever make one stop and take notice that they are burning through more with that ½" less in height. I did find the slightly shorter stance makes it more comfortable for front pocket use storage as well.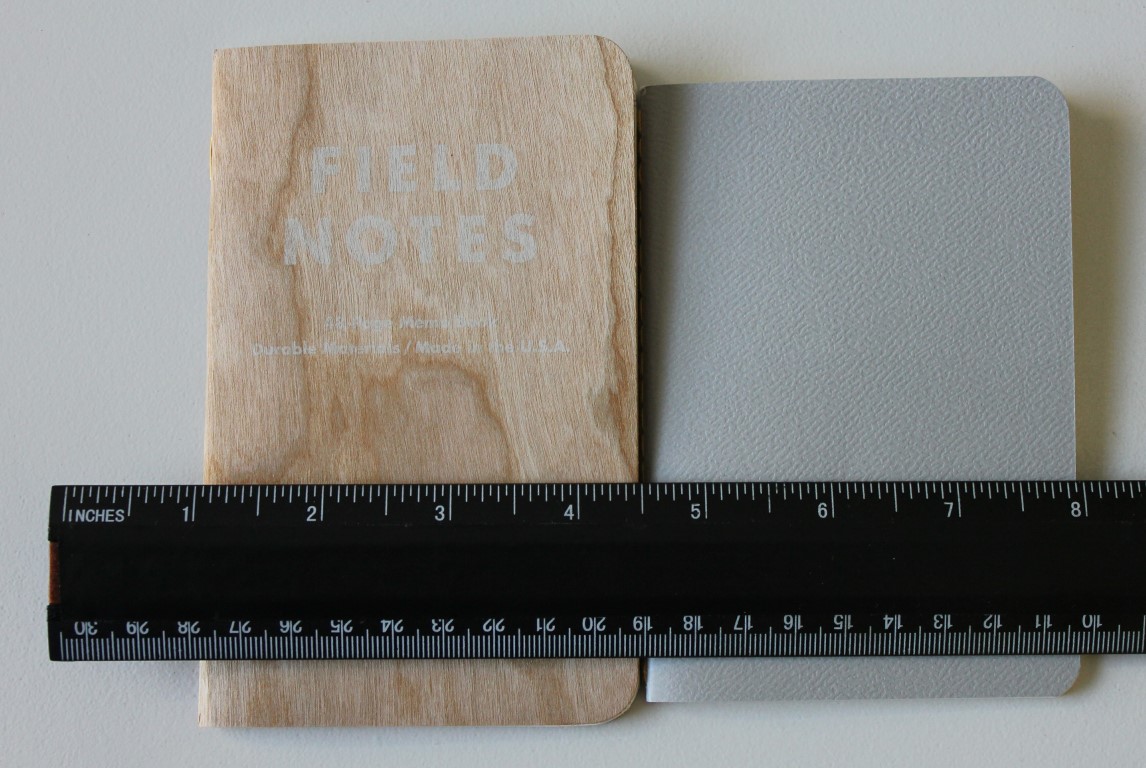 PAPER
The most important part to me of any notebook is the paper quality. Apprentice does not disappoint. Not the best fountain pen paper I have ever tried but very well behaved until you get to really fat lines that deposit lots of ink and then you do get some feathering. The positive tradeoff is better fountain pen paper tends to get really thick or require a coating. Baron Fig has found a nice balance that acts well with fine to medium nib fountain pens, rollerballs, ballpoint and pencils. Thicker paper typically yields fewer pages that end up costing you more and the coated paper delays drying time which can be a smeared mess when you're jotting down a quick note on the run.
Ruling is a nice shade of gray with consistent printing edge to edge front and back with no margins on the top and bottom. Good design to use the whole page. Spacing comes in at 9/32".
There is not a lot of weight or paper in pocket notebooks so lying flat is typically not a strong point or a requirement for me. The stitched binding allows me to reverse fold from anywhere in the notebook and it stays open well enough for a few sentences of writing which is usually the longest I pen in this style notebook. The Apprentice bends right back into it original folds and behaves nicely in doing so.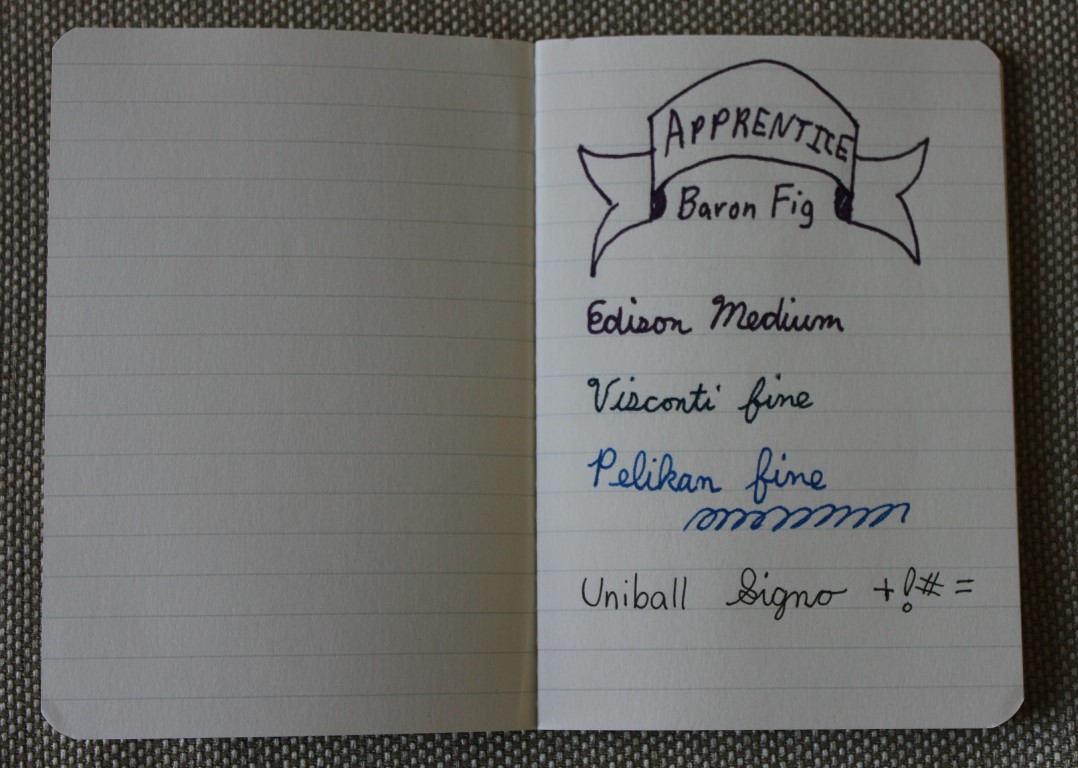 CONCLUSION
I really like the minimalist design of the Apprentice. Baron Fig has a great company culture and they have built a fine pocket notebook. It holds up well, is priced right and many will find the smaller size a distinct advantage. Thanks Baron Fig! Well done.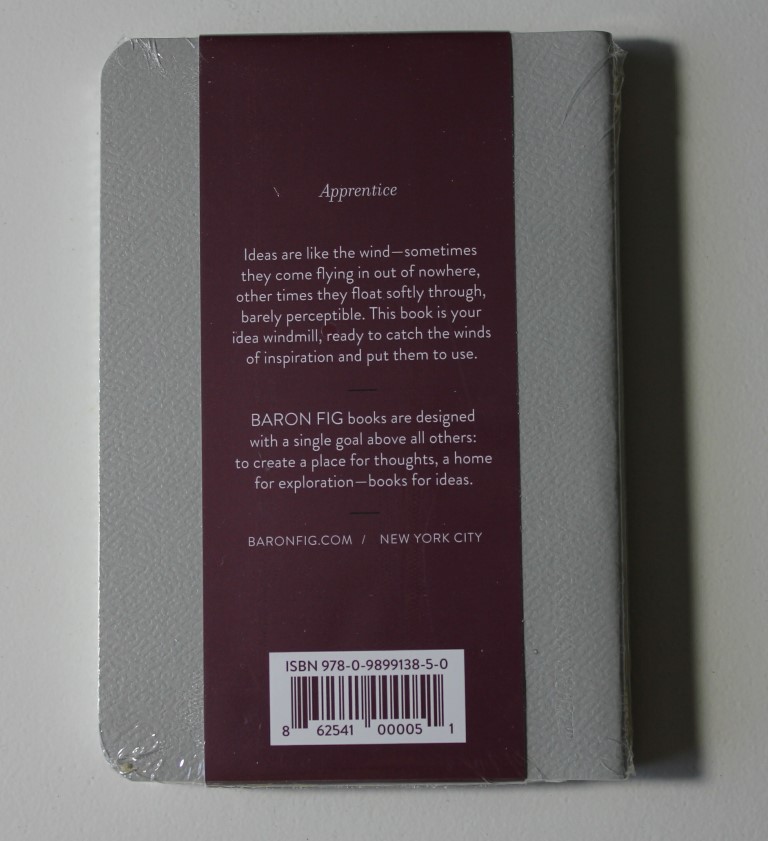 Have you been stricken with the dizzying array of pocket notebooks?
Remember: Write something nice……
Thanks for stopping by and if you enjoyed this post I would love to send you an email every time I have a new post. Click Here to Subscribe