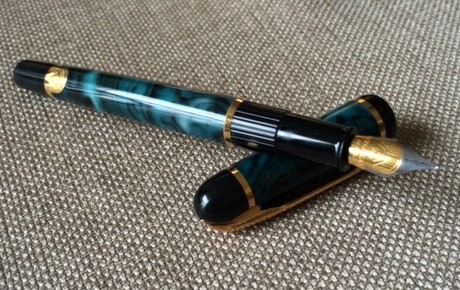 I have made a substantial investment in pens over the last few years. I feel better calling it an investment and in fact some of those pens may even increase in value over time. Ok over a LONG time. Though I don't have many pens of great sentimental value I do have a few pens that were given to me as gifts and I will always be fond of the gift giver, regardless of what they paid for said pen. I have also read stories about parents handing down pens to their children and I'm sure that is a treasured gift for both the giver and the recipient. Over the holidays I experienced this blessing through the receipt of what now qualifies as the most valuable writing instrument in my collection.
I go back a few years of a blessed a 30 year career at the same company. I have a lot of plaques and certificates that one tends to accumulate in corporate America but by far the most positive influence afforded to me at my great company has been the chance to work with great people and forge long term relationships.
One such fellow, we'll call him Joe, retired several years ago and was recently cleaning out some of his home office space. He came across some old pens that he was kind enough to box up and send my way with a note suggesting I use them for parts or traders.
Joe was an executive in our division scratching out a comfortable living and leading some great teams when he and I met. I was a supply clerk in the early 80's trying to prove the value of higher quality writing instruments over the popular plastic writing stick brand we were buying thousands of at the time. I was young and passionate and Joe helped me then, as he did many times afterwards, navigate through a lot of company decisions that I just did not understand. He listened to me and like many others before and after me Joe had the ability to encourage and funnel that passion and energy for the good and always made sure we didn't get jaded and burned out.
I rummaged through the box before me and noted these were not cheap pens and though used for promotional purposes Joe hung on to one and made it his everyday carry. I held and admired that pen, the promotional printing rubbing off from many hours of use and some slight character given to the nib through Joe's individual pen hold and pressure. I pondered all the decisions that pen put into motion over the years. One such example was a dear friend of mine that was affected by a local reduction in force. The nicey nice term for laid off. I didn't ask Joe for a lot of favors but I did on this occasion and the power of one of Joe's pens kept my dear friend employed. Neither of us will ever forget that.
Joe would probably tell you it was no big deal and then he would tell you the most important thing he signs these days is his fishing license. I suspect there are more charity checks and penned words of wisdom leaving his mailbox than he would admit.
To some it may not be a Winston Churchill but it remains the most valuable addition to my collection. Thank you Joe.
Remember: Write something nice……
Thanks for stopping by and if you enjoyed this post I would love to send you an email every time I have a new post. Click Here to Subscribe