I'm not a big disposable pen user but I recently picked up one of Staples' house brand pens as it was the only thing available. It's a much longer story as to why I didn't have at least one real pen on my person at the time but use of a standard plastic big box store ("SPBBS") pen was not as traumatic as I expected.
All the big box stores have their branding they use for their house brand. Office Depot using FORAY and looks like Staples uses SONIX for some of their writing instruments.
The Sonix I picked up was their retractable Gel .7 mm blue and it keeps company with a box of 11 identical twins on the shelf.
Overall Appearance and Shape
Like many SPBBS pens the body is the color of the ink inside. I like that simple feature for pens that are really grab and go and maybe never to be seen again. There is a pleasing shape to the pen that is comfortable to hold for longer writing sessions thanks a substantial diameter and a slight bump in the shape around the tip. A couple of styling touches are the chrome cone, the slanted knock and a translucent clip. Nothing to stand out from other SPBBS examples but certainly not ugly. It would easily get lost in drawer of others.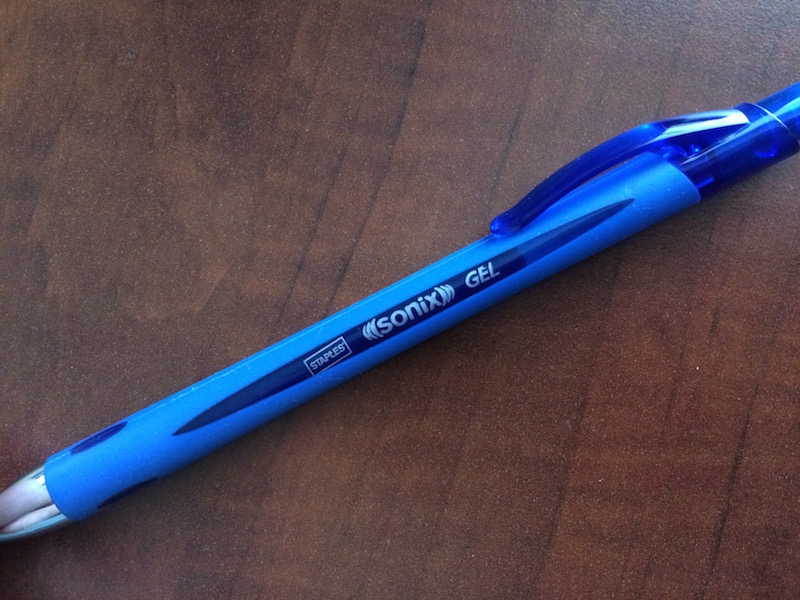 Clip
Nothing special, again typical SPBBS but it works and does it's job without a lot of fuss or fanfare
Writing
Writing with the Sonix is where I was really impressed and using the pen is what made me consider scratching out this review. The Sonix is considered a gel ink with a blue hue that is pleasing and very typical. The writing experience is smooth without being slippery and your finished sentences are blotch free. Most SPBBS pens in this genre try to make the ink to paper experience as slippery as possible to give the impression of SMOOTH. What I find is the result of those engineering efforts is like writing with motor oil on glass. Too slippery, puddling ink where letters stop just before you lift up the tip from the paper. Whoever is making these for Staples hit a home-run, none of that here.
Value
At $.71 each I put the Sonix up against a Uniball Jetstream or similar any day. I would not hesitate to skip the $3.38 Uni and buy 4 Sonix. Though I suspect the Sonix are by the dozen only.
A great writer with nothing that distracts the pen from being a good solid disposable. You would do very well if you need disposable pens in bulk for large groups, work or just need enough for every drawer in the house.
Remember: Write something nice……
Thanks for stopping by and if you enjoyed this post I would love to send you an email every time I have a new post. Click Here to Subscribe