When I was little one of the most exciting things for me was when my parents would tell me they have a surprise for me. One could argue this probably contributes to the commercialization of our youth and always putting so much emphasis on STUFF and consumption of same stuff but it never really mattered to me if it was a 10 cent thing, a project to work on or a fun field trip. The anticipation was always the high that invariably ended with a smile. Sometimes it was way over the top cool and other times it was just cool. With 6 children I have carried on this habit from my parents and admittedly some of my children are old enough that the gleam in their eyes lack a little luster unless I produce the latest Apple iGadget from my bag of tricks. My 9 year old and 12 year old still get it, and its fun.
A couple of weeks ago I got a message from Chris over at Paper-Oh, a division of Hartley and Marks. They have brought their Paper-Oh notebook designs over to the United States and they wanted to get some in the hands of reviewers. To me that's a "I have a surprise for you" tailored to my passion for pens and the stationery they write on. I didn't know what to expect, which is half the fun. Mail call last week delivered a super cool surprise of 4 different models of their notebooks.
Paper-Oh Company
I have reviewed and used a fair amount of notebooks and stationery. The usual options are size, cover thickness, how the pages are held together and what is printed on the paper, grid, lines or nothing at all.
Paper-Oh takes the notebook design to a higher level. Even the names are cool. They use the popular alpha numeric sizing conventions which seem to be have been universally standardized. Colors, binding, closures and covers are a big part of the Paper-Oh differentiators. Here is a link to a great marketing document that shows the colors and size combinations that are available. Maybe it's the analog in me but this approach seems so much easier printed out in front of me then online links of so many combinations.
Paper-Oh has partnered with Jenni Bick Bookbinding. If I have held your interest up to this point I would encourage you to go to the Paper-Oh website and read about how much thought and effort they have put into their product. Impressive.
The Paper
The heart of any notebook is the paper. The paper is what defines the experience and really controls how long you will use the notebook. Many cool, beautifully designed, notebooks are sitting on shelves or in drawers with just a page or two written on. Paper-Oh has put as much thought in the paper as they have the aesthetics. They market an 80 GSM and a 100 GSM weight. The notebooks I reviewed covered both.
Paper-Oh paper starts with 100% sustainable growth product. I don't claim to know all the green environmental buzzwords but I think I know what this means and I applaud the company for putting such an emphasis on it. Performance with gels, ballpoints and rollerballs is perfect. Fountain Pens fare very well. I am a wet gushy nib fountain pen user so that is hard on paper. The best paper for no feathering and absorption is challenged with drying time. Paper-Oh has struck a very good balance. Dry times are very respectable with 5 seconds for the 100 GSM and under 15 seconds for the 80 GSM. Feathering was barely perceptible but I did get some ghosting on the back side. Remember these are wet medium nibs so if you're a fine or dry nib writer I don't think you'll have any issues at all. I only write on one side of the paper anyway so it's not a problem for me at all.
Paper-Oh explains their cream colored paper has no added coatings and is run through the press a second time to give a smoother finish. I don't understand the technical piece of that but the result they achieved is a very smooth paper with no drag or sluggishness, regardless of the pen and very good drying time. I really like that combination.
Lines and grids are printed in a nice bluetone and consistent coverage across the whole page. Well executed.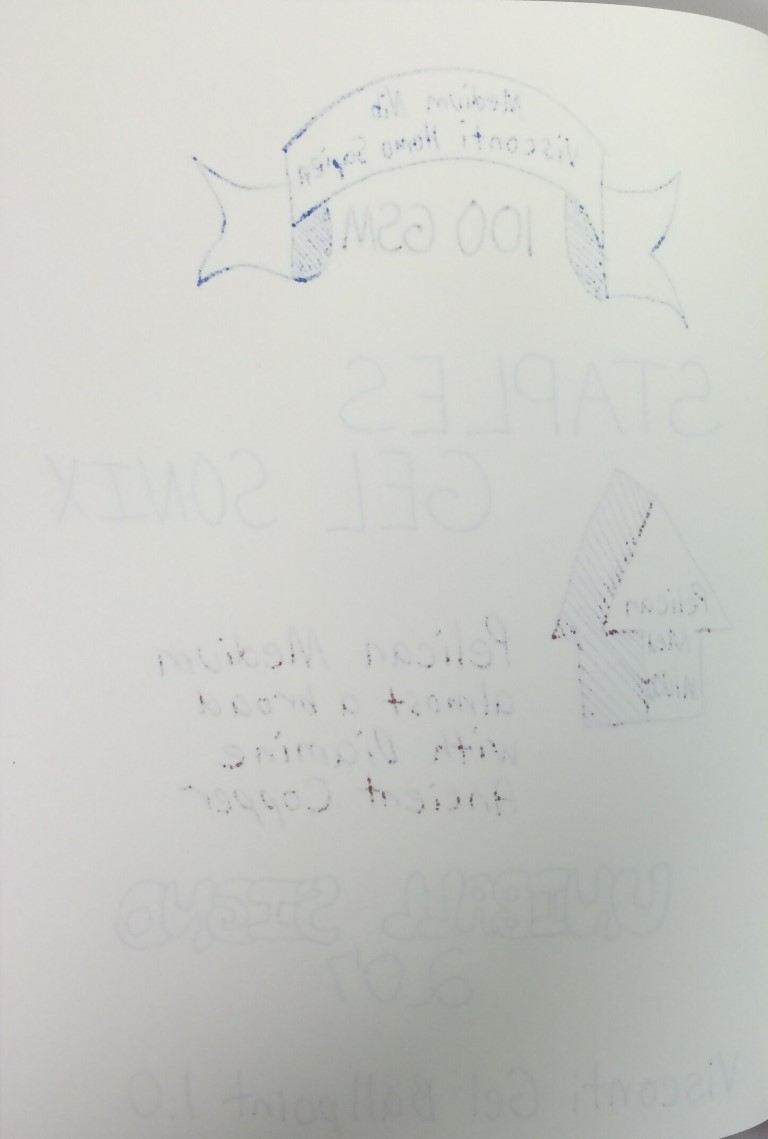 Bookmark
Even the bookmark is different. A bookmark is included with some of the notebooks and its use can be customized for the user's taste. This is the first bookmark I have ever received that comes with its own instructions. Not that it's all that complicated but the graphic explains the flexibility and the thought put into the design. I am still experimenting with the different configurations and so far I really like attaching it to the front page of the notebook then folding it over onto the page I'm currently using. This makes opening the notebook an easy thumb grab.
B5 Ondulo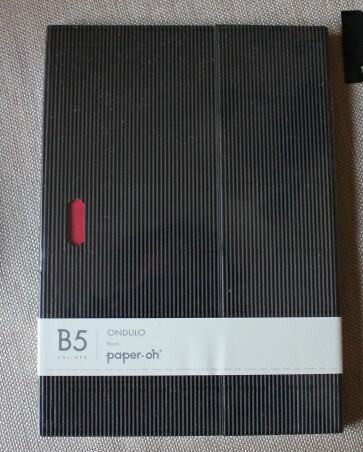 B5 Ondulo
100 GSM
Blank
112 Pages
7" x 10"
Corrugated Cover
Flexi Page Marker
Magnetic Wrap Closure
The Ondulo is a good meeting notebook and the cover has held up well with the running around that I've been able to put it through. The cover is corrugated and the best way I can describe it is imagine peeling the layers of a cardboard box apart and that rolled construction is corrugated. Now the Ondulo is much classier than a cardboard box and the resulting cover is easy to grip, unique and holds up well. Writing in the Ondulo is a pleasant affair with the pages lying flat and after a short amount of exercising the flap stays back out of the way.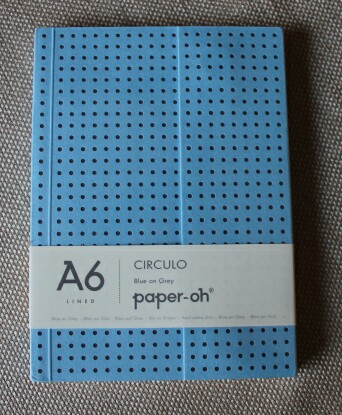 A6 Circulo
80 GSM
Lined
128 Pages
4 ¼" x 5 ¾"
Flexi Page Marker
Magnetic Wrap Closure
I feel in love with the Circulo. For many years I have carried a Field Notes style book in one of many leather covers I have collected over time. I was finishing up a book right about the time the Paper-Oh products came in and I started this little notebook as my daily to do manager. The magnetic cover has the right amount catch to make my constant opening and closings a breeze. I'm getting used to the bookmark which is ingenious and the paper is great when I need to jot down a note quickly on the go and I can close the book without worrying about smearing.
The most important criteria for me, after paper quality, for a daily notebook is how well it lays flat when I'm thinking and composing in my head. Paper-Oh does a good job there. As with most notebooks the first few pages are a bit of a struggle but after that it's among the best I've used. Reading the website they take great pride in the engineering and experience they have with book binding. I am certain it's more complicated than I think but for me the proof is in the use and I really like what they have done.
The cover is a unique two layer, two color, almost like an attractive pegboard look. I think it gives it a nice grip and quite unique in its style and look. This one will see a lot of use in my paper stable.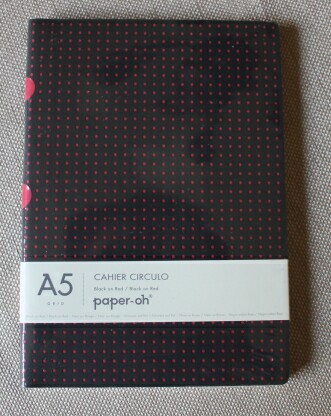 A5 Cahier Circulo
80 GSM
Grid
80 Pages per book
5 ¾" x 8 ¼"
Pack of 2 Books
The Circulo Cahier is a thin profile notebook with what appears to be a conventional center bound folded paper construction. Not my favorite for lying flat but that's not any design fault of Paper-Oh, it's just the price one must pay for the ultra slim profile.
With the Circulo Cahier they did a nice contrasting color with the dual layer pegboard design. Mine is a very attractive red and black. Want the Paper-Oh coolness factor in a form factor that can reside easily in full briefcase? The Circulo Cahier may be your choice.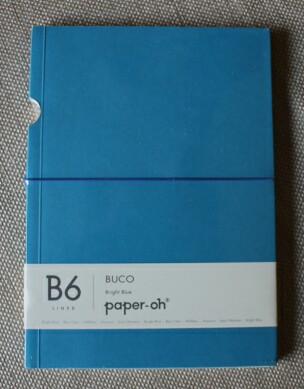 B6 Buco
100 GSM
Lined
112 Pages
5" x 7"
Elastic Band Closure
The Buco is probably the most conventionally covered notebook in the bunch that I reviewed but don't think its run of the mill boring. Where most default to black closure bands Paper-Oh includes a contrasting colored elastic band that runs horizontal with the book. Another aesthetic touch is the edges of the paper alternate between the cream color of the paper face and the color of the cover. All the paper is the standard cream offering but Paper-Oh has taken the effort to add a splash of color to the paper edges. Very Cool.
Great binding again that give you a very flat laying notebook. Another thoughtful feature is the tiny cut out on the covers that trap the elastic closure band. That made me smile as one of my personality defects would have forced me to spend way too much time making sure the band was perfectly centered if those notches weren't there.
This was a fun (Long!) review of some unique notebooks with great paper, a fair price, a splash of style and even some bindery engineering thrown in. Thanks Paper-Oh!
Remember: Write something nice……
Thanks for stopping by and if you enjoyed this post I would love to send you an email every time I have a new post. Click Here to Subscribe