I recently received a very thoughtful gift for my birthday that combined my love and pens, paper and my favorite TV Show The Blacklist . The gift giver knows I love the show and love my pens so opening the package put a real smile on my face. The journal is from the GIFT section of the NBC website and I'm sure they have similar promotional paraphernalia for the other major shows.
The journal made by JournalBooks, a companion division of the Leeds Promotional Products that market the slightly upscale commodities of the coffee mugs, key chains and pens variety that typically promote a service or product. Although I loved the gift, I did not have high expectations of the paper and expected the performance of a typical inexpensive giveaway. I'm happy to report I was proved wrong.
The Blacklist journal has a nice reddish brown faux leather cover that has a bit of padding to it that reminds me of a '80s era corporate padfolio vinyl legal pad holder.
The paper was not overly smooth or coated. Dry times were good with no bleed through. I did get a little bit of ghosting on the back and my really wet writers feathered just a tiny bit but I have definitely experienced worse.
The biggest drawback I've had is the journal does not lay flat when open, no amount of effort helps either so I think the binding is that tight and stiff. Not a huge deal for occasional meeting use but I couldn't use this one daily.
The Blacklist show is a favorite of mine. Though on hiatus for the season right now I found myself planning my days and weeks around the premiere of each episode AND I bought the season on NetFlix just in case. James Spader is just a really cool character as Raymond "Red" Reddington. The story lines and the characters' abilities are a little far-fetched but I think that's what makes it entertainment. The show carries a little bit of human bodily injury that can make me grimace occasionally but no overt violence or sexual overtones. The joke when opening the gift was I was afraid to open the journal in case it had the names of the next 20 targets on the BlackList for next season, thereby putting my life and family members in grave danger. (You'll have to watch the show)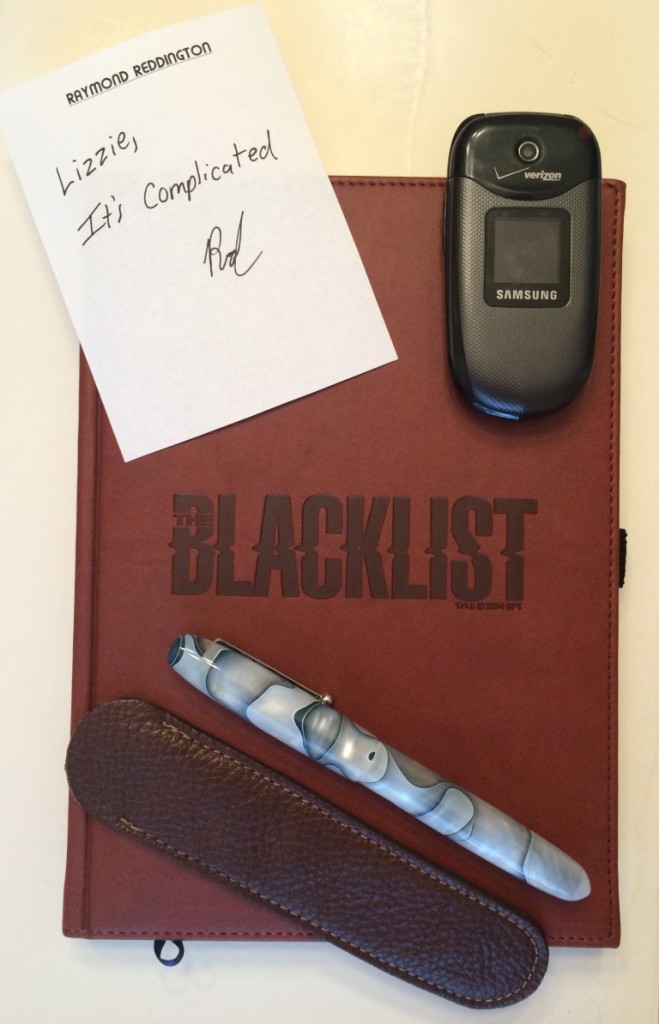 So if you're in the market for some promotional products to buy for your company or want to buy something for your favorite brand or product look for the JournalBooks brand on the back. I think you'll be pleased.
Remember: Write something nice……
Thanks for stopping by and if you enjoyed this post I would love to send you an email every time I have a new post. Click Here to Subscribe