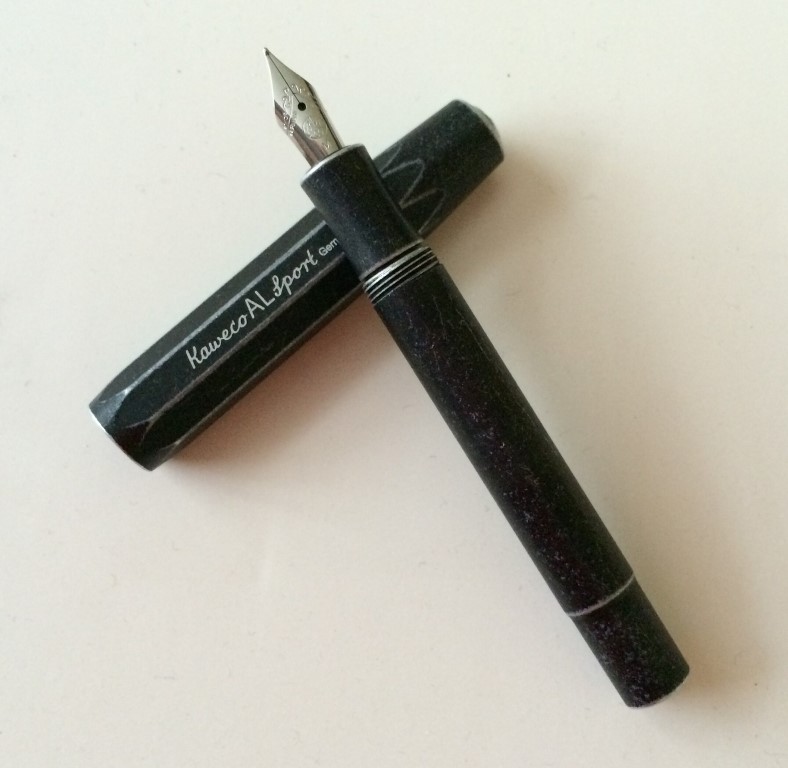 Kaweco products and I have built a pretty good relationship over the past couple of years. I have invested in the SPORT line to compliment my pocket rocket pen collection and typically my pushbutton retractable model is nearby in a variety of pockets. About a year ago I acquired an AC Sport in the red aluminum with carbon fiber inserts. The medium nib is a joy but I find myself always carrying it in my One Star Leather pen sleeve as I'm paranoid to scratch it up, it's that pretty to me. That works but quick deployment is not a strength for me when carrying my AC. Remove from pocket, remove from sleeve, remove the cap, and apologize to wait staff as they wait for me to sign a receipt.
My first Kaweco was a rollerball Sport. It's a blue plastic model with lots of pocket patina but I miss that Kaweco nib so I yearned for another fountain pen.
Enter the Kawceo AL Sport Stonewashed Fountain Pen. I don't own a farm but I suspect my recent acquisition is like shopping for a pickup truck for one's farm duties. You want something that drives well and low miles but I would think you want some evidence of scrapes with low tree limbs or other minor paint battle scars and bumper dings so you don't worry about inflicting the first scratch or bruise on the tailgate while unloading feed at the barn.
The Kaweco AL Sport Stonewashed is my farm pen and I love it. It writes superbly and I just throw it in my pockets with any other paraphernalia or EDC items and I don't worry about. At All…….
This is not a show pen, it's a user and it shows. I don't know how they accomplished the finish. It looks easy with a steel file and some sandpaper but I'm sure it's more complicated than that. It looks comfortable. It looks well used and inviting as the Kaweco website describes, like a favorite pair of jeans. Buying a scratched up pen is new for me but so far I like that.
The Pen:
Kaweco AL Sport Stonewashed Fountain Pen
Stainless Steel Iridium Tip Medium Nib
Comes in black or blue
Street Price: $90.00
4.25" capped
4" uncapped
5.2" Posted
21.5 grams with ink cartridge
PHOTO
Overall Appearance
The AL falls in the middle of the Sport Line. It joins the mechanically similar siblings of:
Classic Sport – Plastic resin body
ICE Sport – Same as Classic but with a see through body and cap
AL Sport – Aluminum body
AC Sport – Aluminum body with carbon fiber inserts
I hear even a brass body is now in the works.
The cosmetics that set the AL Sport Stonewashed apart from the rest of the family is the stonewashed finish body. Kaweco likens it to the stonewashing process for jeans. The rest of the pen is all Kaweco Sport with anti-roll octagonal cap and the Kaweco button logo on the top of the cap.
PHOTO
In my review of the AC Sport I confessed my disease of scratch paranoia; it really is a beautiful red finish. Kaweco has solved that problem for me. Pocket Patina is built in on the Stonewashed and I don't think this one has left my pocket yet. I just don't care what else is banging around in there with it.
Ergonomics / Writing
The Sport line are small pens. A great EDC size and with the stonewashed finish there is no fear of scratches caused by posting the cap on the body of the pen, they are already there! Posting the pen makes it a much more comfortable size for my big paws. Works well for all but the longest of writing sessions. My fingers fall naturally at a good distance the nib. The octagonal shape for the cap is what fills most of your hand and its octagonal shape is neither obtrusive nor uncomfortable. The aluminum and stonewashed finish bring a little texture to the natural smooth aluminum. I find it comfortable as well.
My AL Sport was the fastest priming pen that I have ever experienced. I started out with a Kaweco ink cartridge and ink was flowing to the paper immediately upon screwing the body back together and testing the pen to paper. I don't know how they do that but I am glad they figured it out. The nib is smooth with just a touch of feedback. I enjoy writing with it without any skips or hard starts right out the box.
Construction and Quality
The build quality is as high as I have come to expect from Kaweco. I'm not real sure how to review the finish. It's well executed with a certain textured feel to it that is not uncomfortable at all. I would say it even enhances the grip to a minor extent. There are no sharp edges and all the contours are consistent.
Cap threads start easy and it threads on very smooth with a definitive stop when tightened.
Cap

The cap covers most of the pen when installed so it's a big part of what you see on first look. It's an 8 sided design with nice tapers transitioning from the octagonal shape back down to perfectly round at each end. The top is capped off with the familiar Kaweco medallion.
Clip
By default the Sport series does not come with a clip. For me it's a deep pocket pen so the default of no clip pleases me. The 8 flat sides act as the anti-roll feature. There is a clip available for the Sport line. It's functional and a simple add on.
Filling System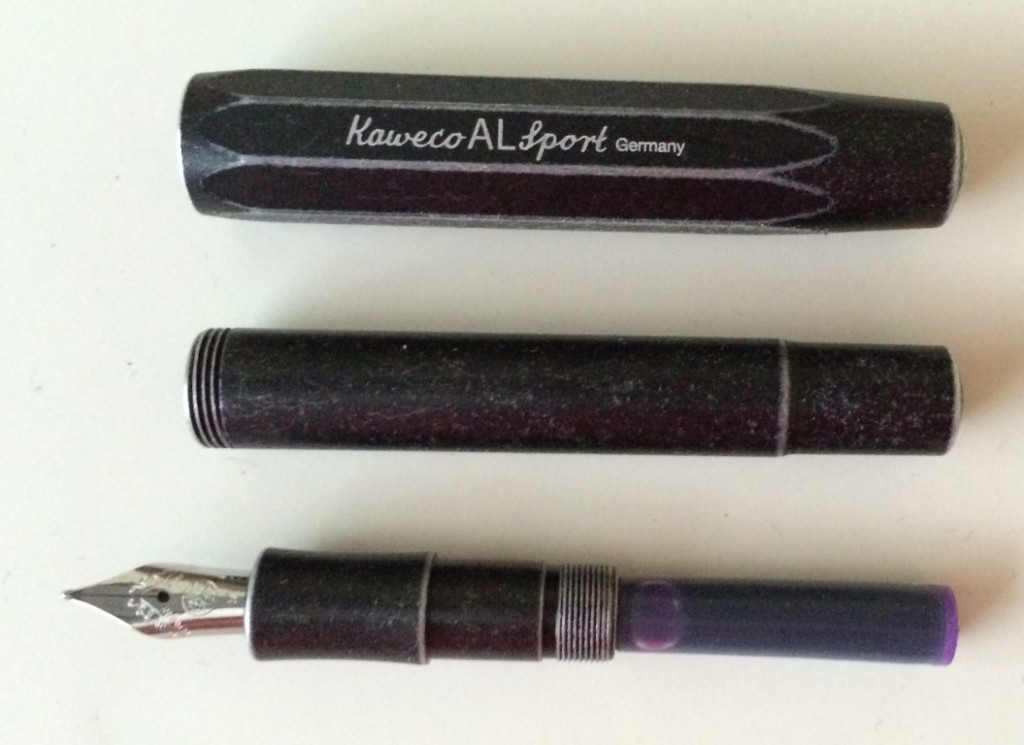 The Sport accepts cartridges or a converter is available. I like the Kaweco cartridge ink and that's what I've been using so far with no leaks, good color and flow.
Converter
There is a converter available for the Sport series. I have not tried one yet but they are widely available with no bad reviews that I can find.
Nib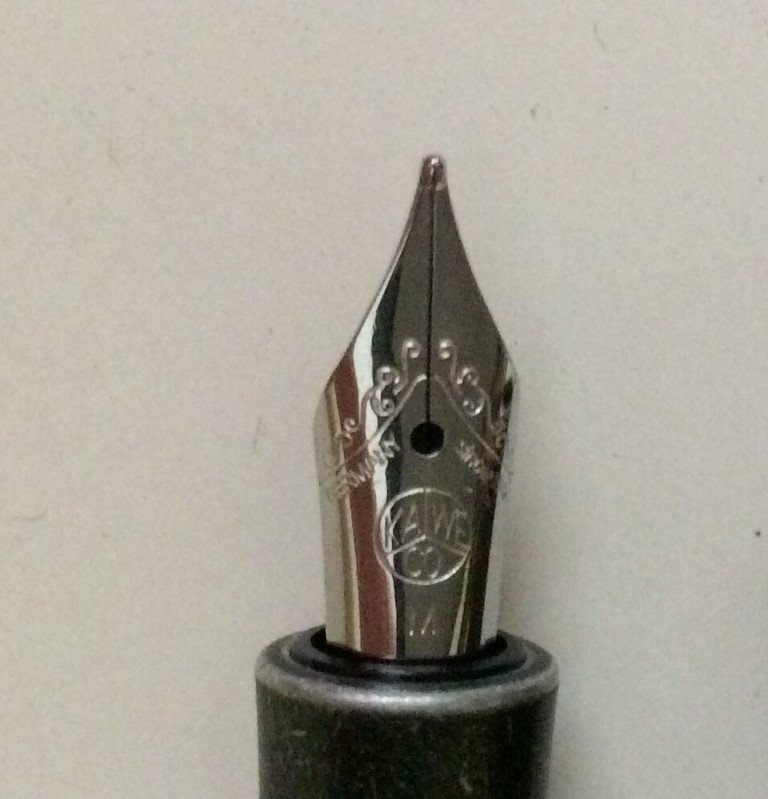 Stainless steel and sized proportionately for the rest of the pen. Ornamentation is nice and most importantly the tines were aligned and it's a very smooth writer out of the box.
Cost and Value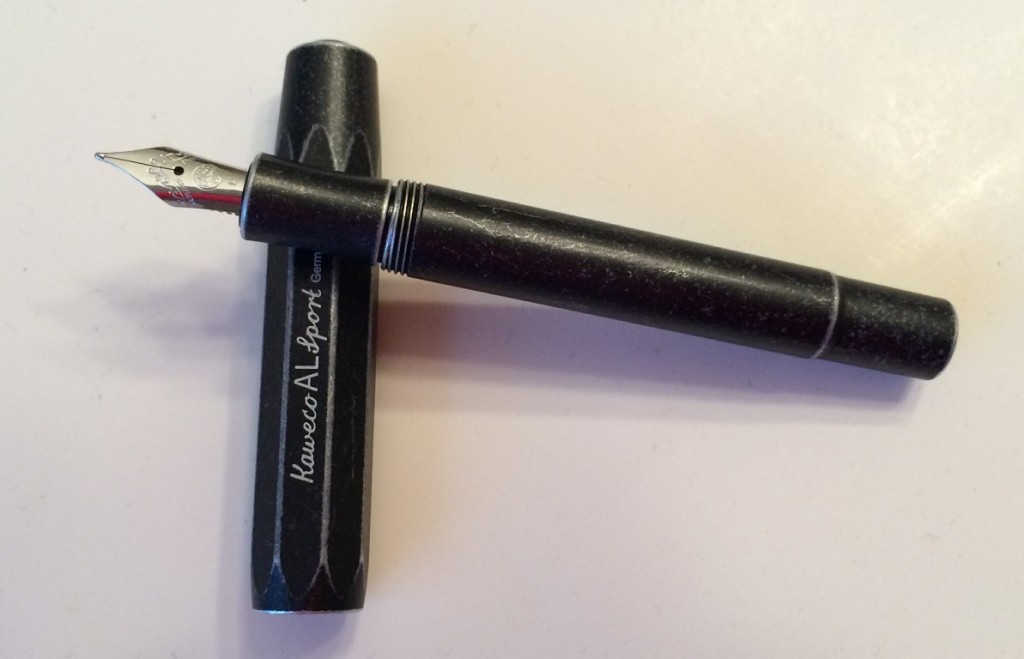 Kaweco provides a lot of value for the money. Just in their Sport line you can get the same nib and writing experience with a $25 Classic Sport then travel to north of $100 for the AC Sport showing off carbon fiber inserts. Everything in between is the buyer's choice on what the aesthetics and material are worth to them. In every one of my experiences I got a high quality pen that wrote very well right out of the box with no adjustments or tuning needed. The stonewashed finish makes me smile every time I put it in my pocket with zero worries.
Conclusion
I like this pen. The finish is a great idea that I wish other manufacturers would offer. I applaud Kaweco for giving it a try in the market. The Sport line is a long term proven winner and the stonewashed finish adds another option to the aluminum AL version.
Other reviews:
Fellow Blogger Mike Dudek gave it a spin here
Do you like the ready-made pocket patina idea or prefer to make your own from the start?
Remember:…. Write something nice……
Thanks for stopping by and if you enjoyed this post I would love to send you an email every time I have a new post. Click Here to Subscribe
There are no affiliate links in this post. Links to retailers are chosen at random from the various online suppliers that have provided me great customer service over the years.