Still a few pens for sale here
I'm not a big advocate for goods manufactured in any one particular country. I'm a big fan of quality and I know there are highly talented people in most countries of the world that can make a high quality pen if given the resources and direction to do so. Now I'm all for supporting the workforce in one's own country but that's a topic way out of scope here, and yes I go out of my way to search for USA made goods but that's not because I believe same goods from other countries are any less quality. The fact is some countries of origin get a bad rap for cheap pens when in fact, relatively speaking, they are quite good for the price charged. The most inexpensive fountain pen I have ever used is the Pilot Varsity at around $4. It's a big box store disposable pen but that's fine, every one I've picked up is a competent writer that starts every time and produces no skips. Aesthetically it screams cheap disposable pen but that's ok, a reliable fountain pen for $4 ? I'm still impressed with the value.
On a recent keyboard shopping excursion to my loved Jet Pens I needed a few more dollars to reach the magical free shipping minimum order level. One of the side bar advertisements was promoting the Jinhao line and specifically the X750 that would put my cart over the top to ride free on the USPS railroad.
I have read about some inconsistent quality control on the Jinhao line but I decided to take a chance and worse case I could break out all that nib tuning and smoothing supplies I have bought over time and been scared to destroy any nibs. I'm sure at this price point it's nearly impossible to guarantee the highest level of consistency and quality control but I have penned here many times about expensive pens I've received with lousy nibs. I got exactly what Jinhao strives to put out and I applaud them. I'm very pleased that I've done nothing to the nib but write with it and thus far I have enjoyed the value.
The X750 came to me in gold, I'm not sure how I picked that color as it's not a norm for me. It's plastic with a little bit of metalflake in the paint. Not a real blingy gold but just kind of gold. Not unpleasant but not a color I would usually pick. The chrome furniture and accents are pleasing to the aesthetics of the pen. Honestly it doesn't look or feel like an expensive pen but it's no Varsity either. In a meeting with non-pen people I'm sure you'll get more credit than 8 bucks.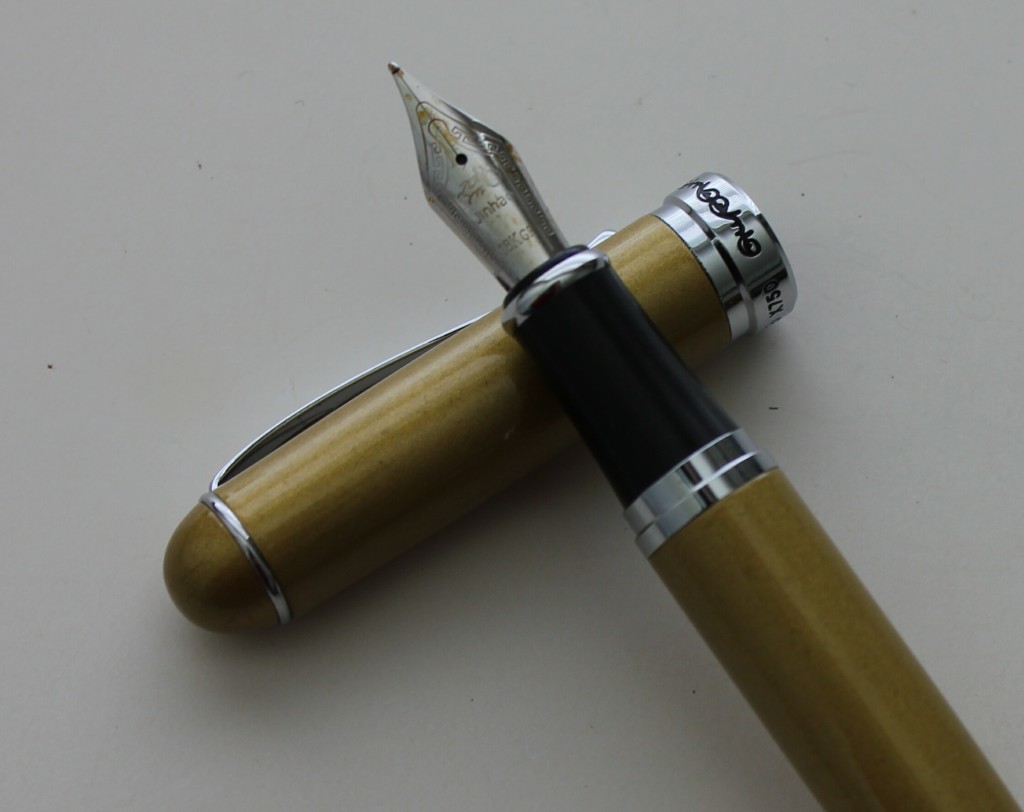 The cap is of the snap on type and it functions well. I'm not a poster but the cap seems to sit on the other end of the pen quite well. Clip is nothing special just does its job with no complaining. Fit and finish are both good and I found nothing specifically wrong with the pen or anything I would do different. Especially considering its target price point. The X750 comes with a converter which is a real bargain at this price. It works well and pleasantly does not have that annoying rattle while it sits in the pen like I have experienced with other , much more expensive pens.
The nib looks like a standard #5 medium, it appears to have some hyperbole marketing etched on it calling out some 18Kgp, but I'm suspect of the gold content. Right out of the box the ink flowed to the nib quickly, I got a smooth writing experience with no skipping or hard starts. Impressive. The Private Reserve Orange Crush ink creep is courtesy of the author.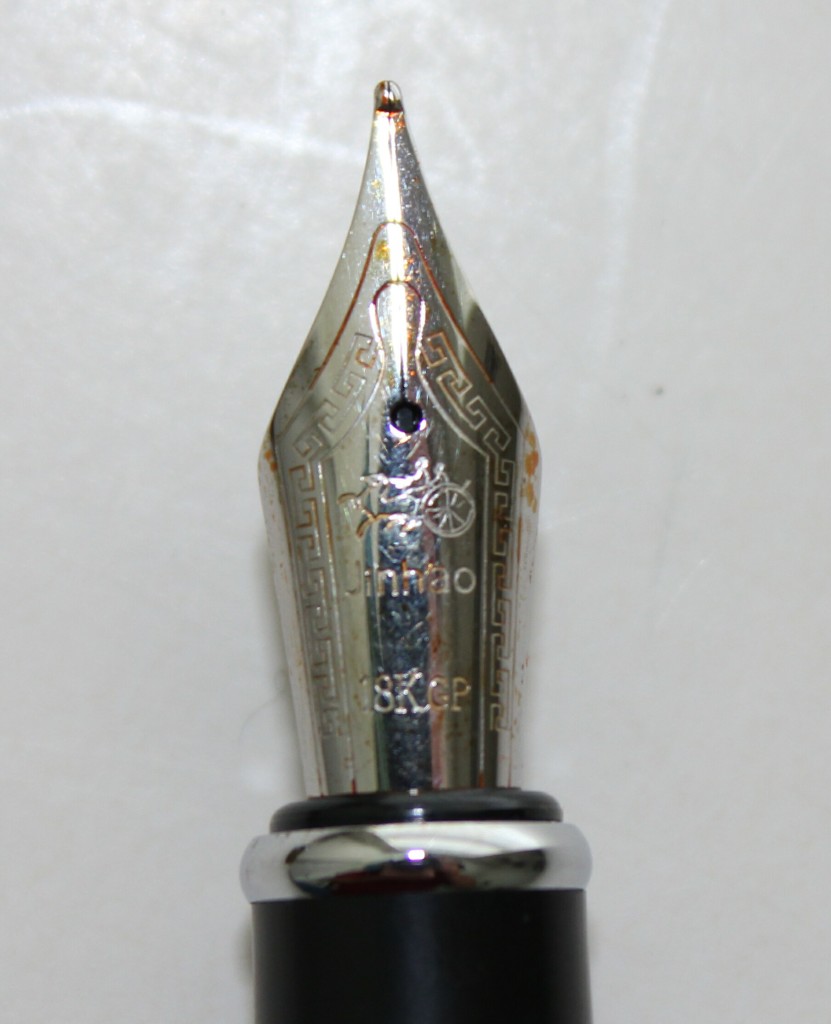 At this price point you don't get any packaging which is fine with me. I've seen listings on ebay for as low as $2.99 including shipping for standard black if your patience will allow you to wait for an overseas delivery. At less than $5 shipped you get a whole host of color choices. THAT would uproot my Varsity as my favorite budget throwaway in a much nicer appearing package.
I may read up on how the different Jinhao models differ and maybe even pick up a few of the X750s and hold them for giveaways to those I encounter that express an interest in fountain pens. I don't know if there is a lot of Jinhao in my daily rotation but I am super happy with this purchase.
You have any Jinhao experience?
Remember: Write something nice……
Thanks for stopping by and if you enjoyed this post I would love to send you an email every time I have a new post. Click Here to Subscribe