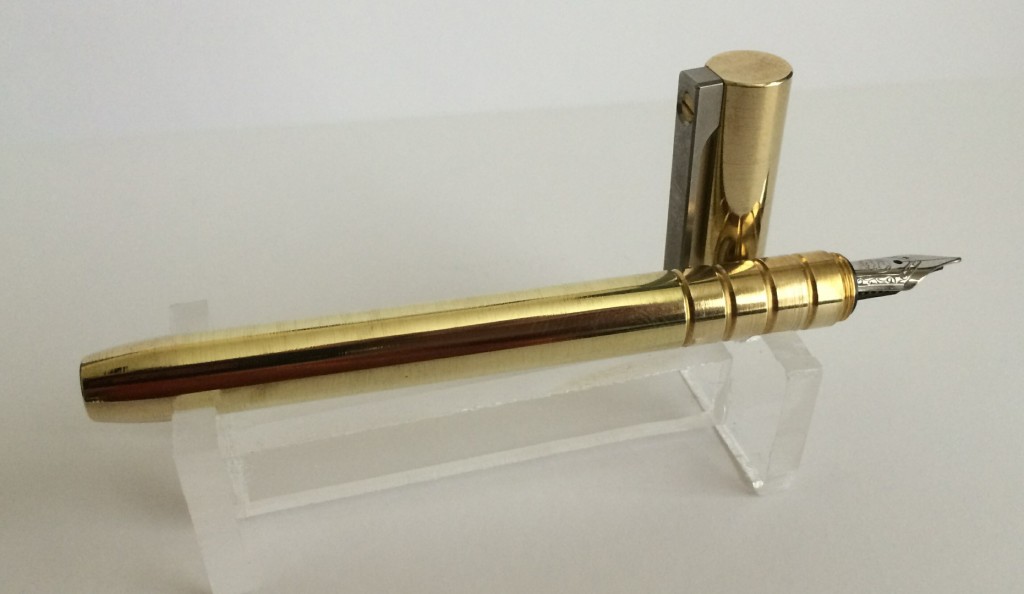 I am not a real active business traveler. Monday through Friday I go from my home to my office and return the same route home at night and then get up the next morning and do it all again. When running errands and weekend jaunts I carry a lot more pocket candy, ok EDC, than most roadside emergency trucks carry in a tool box. For this reason I prefer my pocket pens to be small enough for deep front pocket carry while avoiding the dreaded thigh puncture wounds. Full size pens clipped to my pocket don't really work for me as I'm out of pockets after two pocket knives and a flashlight.
I have a fair collection of pocket rocket writers but always get a bit excited when an opportunity to try out another one presents itself. Kelvin from One2tencnc contacted me the other day and asked if I would like to try his new TiScribe that he is funding on Kickstarter. It took me a bit over 10 seconds to respond with a definitive yes. Kelvin sent me a brass version of the fountain pen model to try out.
The Pen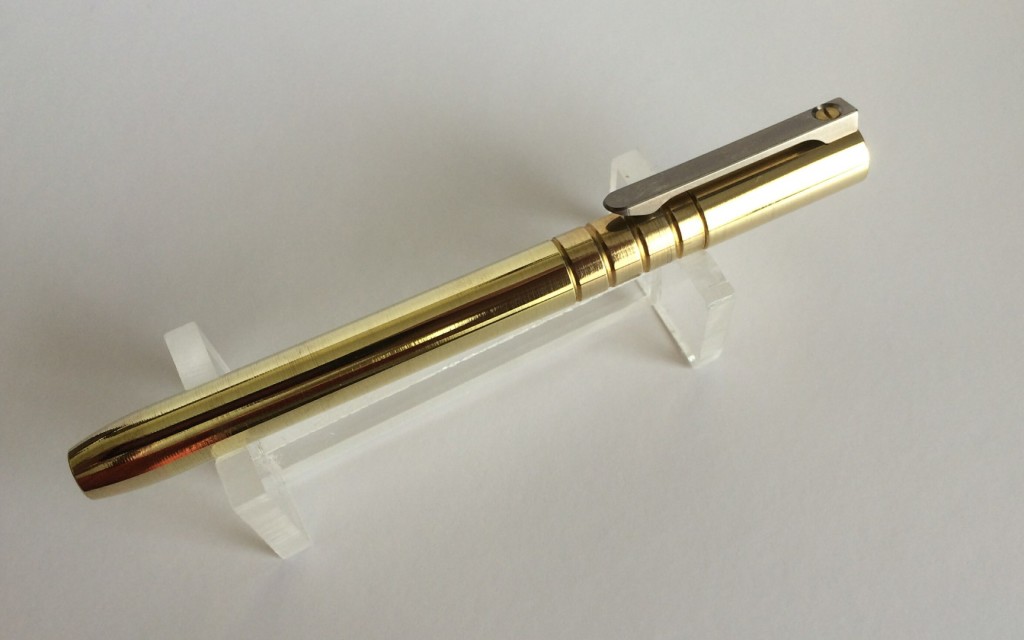 Also Available as a G2 refill ready rollerball
Stainless Steel Medium Nib (Bock)
Available in Titanium, Brass and Copper
Kickstarter sponsorships starting at $60.00
4.37" capped
4.12" uncapped
.374″ Body Diameter
.394″ Cap Diameter
34.5g / 1.2 oz Weight – Brass with cap and ink cartridge
Overall Appearance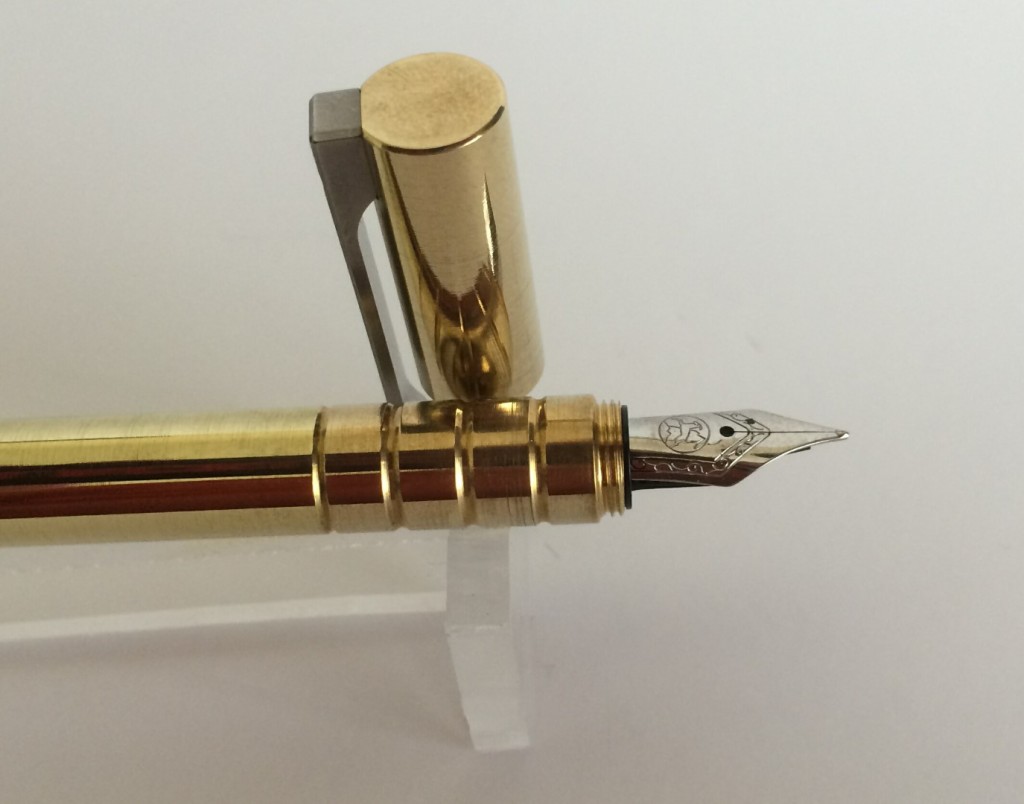 I love the highly polished look of these brass and copper pens when they are brand new. I equally enjoy watching them patina nice as they get used. Sitting on the desk the TiScribe is a nice looking pen. At just over 4 ¼" the size is right for my pocket carry and the clip length is well proportional while still being functional.
The body has four rings cut into the body near the top of the pen that provide great aesthetics, a good gripping surface and ingeniously hide the body threads.
The tail of the body has a slight bullet taper that I find pleasing. To my eye the taper keeps the pen from looking just like a straight rod of brass off the lathe.
Ergonomics
The TiScribe is a pocket pen. Ergonomics are not going to be its strength but as pocket pens go, it's good. The rings near the tip of the body help with grip and the tapered tail prevents any sharp edges from digging in to the web of your forefinger thumb grip if that is your preferred grip.
Cap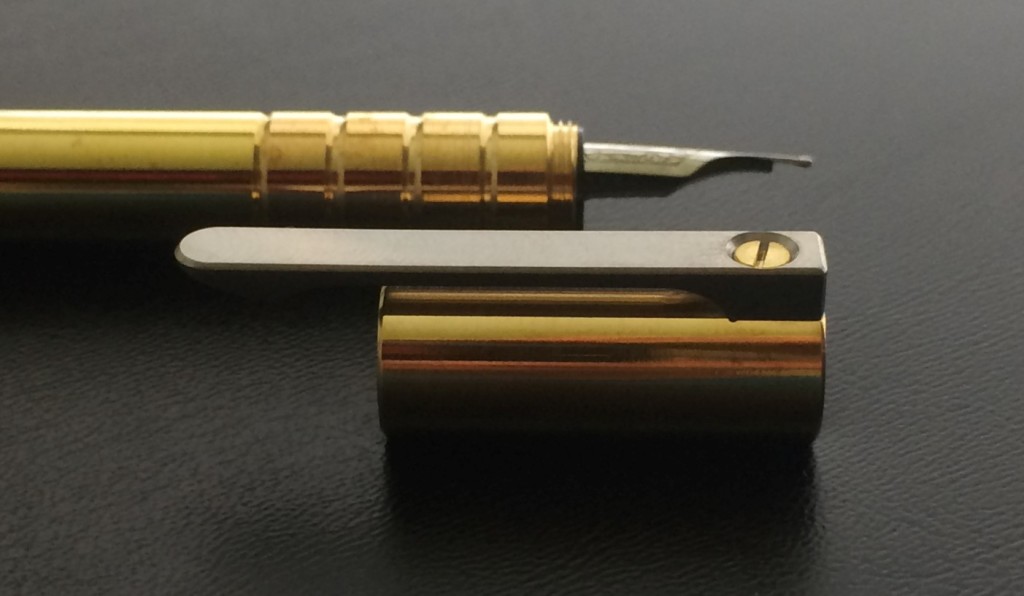 The cap is short and a tiny bit larger in diameter than the rest of the pen, barely evident to the naked eye. Threads are quite smooth and on my prototype take a little attention to get started but after they engage, it's silky smooth. Kelvin told me he has already addressed this on the production pens.
The cap is threaded which makes deployment a two handed affair but I find that more secure as they get knocked around in my pocket and best for avoiding pants pocket ink bombs from a dislodged cap.
Clip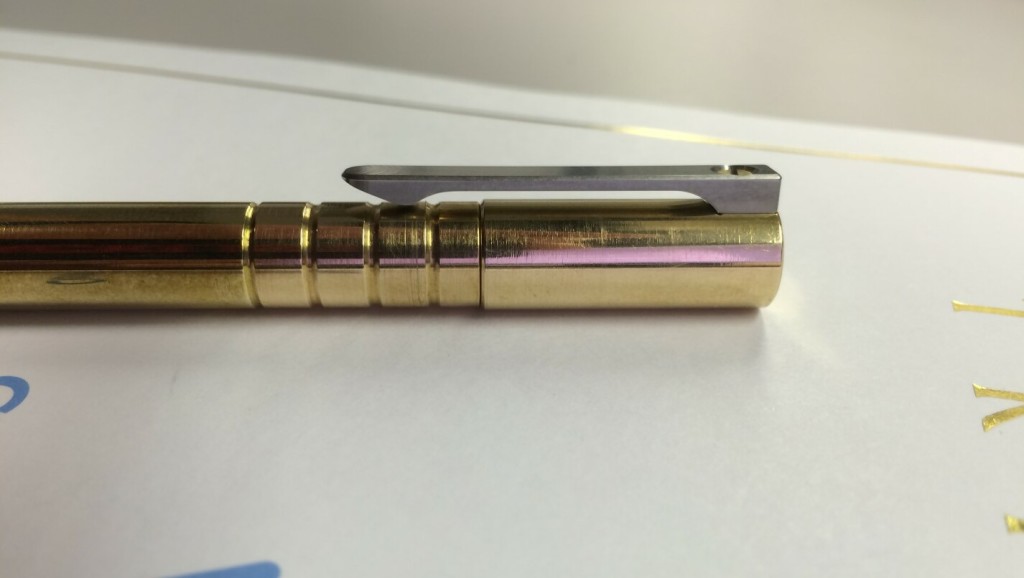 The clip is beautiful. Probably the best looking clip I have seen on a pen in a long time. Functionally good but not great. It's formed from a solid block of grade 5 titanium which doesn't make it flexible in a conventional pen clip kind of way. Clipping it to a notebook cover works but something thick like my jeans pocket I had trouble with. The clip is attached to the cap with a stout looking single screw that gives a really cool industrial look to it. Pretty sure you're ripping clothing if you catch this one on something. It is a pocket pen so I'm not sure a perfect clip is a showstopper but Kelvin did mention to me he has addressed the flexibility with a slightly thinner final clip design in the production pen. It is gorgeous and does keep the pen from rolling off your desk. I'm not a pocket clipper so it works for me and I love the aesthetic appeal.
Nib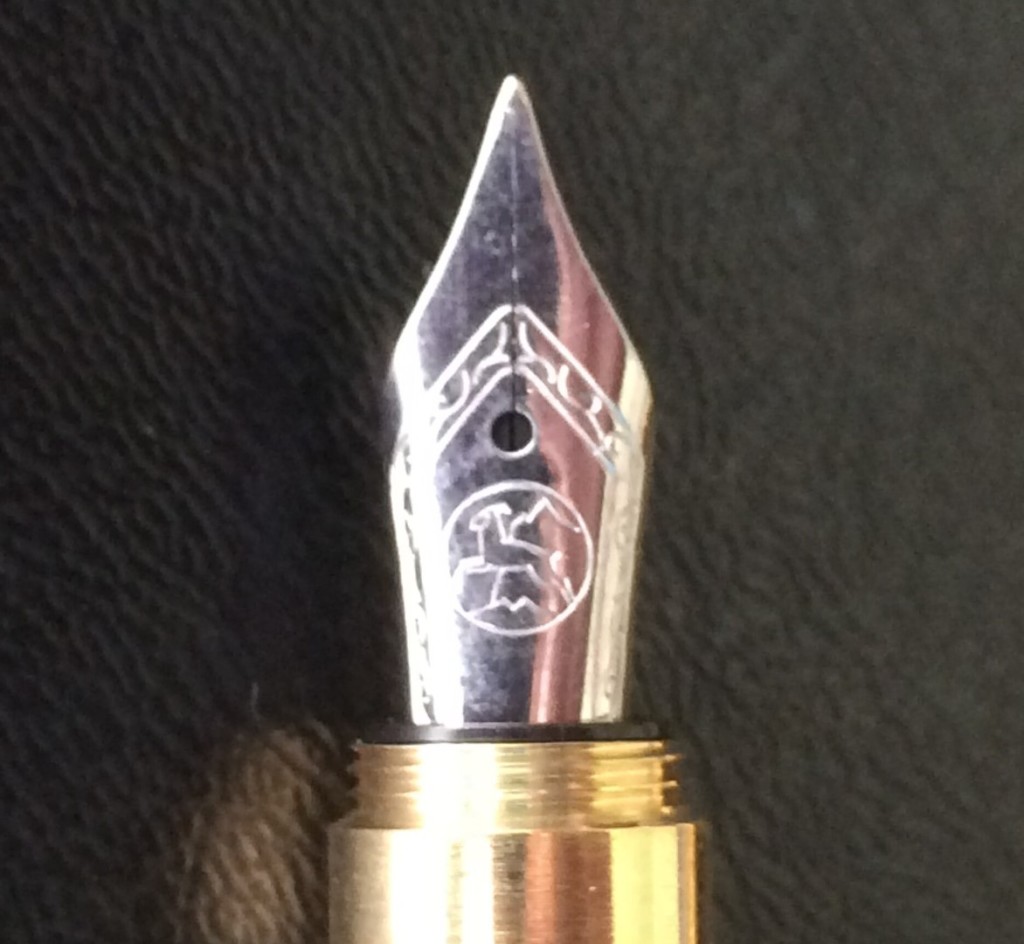 Nibs are supplied by Bock. I applaud Kelvin and the team for choosing a quality component that can make or break a quality writing experience. You'll recognize the nibs from the Kaweco line also, good company to match components with. The fountain pen comes with a medium nib and my example wrote smooth with no skips or hard starts.
Ink Supply
Ink is delivered by a standard short cartridge. Lots of ink options are available today by cartridge and One2tenCNC provides a cartridge to get you started.
Conclusion
I really like what Kelvin has done, with the thread modifications and the Executive series funding his small line of pens is off to a great start. His Kickstarter campaign runs until 8/31. Get on over and pick up one of these.
Follow One2tenCNC on Instagram for updates on their campaign and spy shots of the Executive model. Follow Kelvin and the team on Instagram at http://www.instagram.com/one2tencnc .

What is your pocket rocket of choice?
Remember: Write something nice……
Thanks for stopping by and if you enjoyed this post I would love to send you an email every time I have a new post. Click Here to Subscribe
Click here for some great deals on pens and ink I have for sale