I went to our kitchen pantry the other day and retrieved the last two tea bags from the box. Customary in our household is everyone helps draft the shopping list for the next grocery store run. This mundane domestic task is completed with a sticky note pad in the drawer next to the silverware. Usually right next to the sticky pad is a disposable pen that is required to complete said task. This particular time I picked up a Papermate ComfortMate Ultra 1.0. An inexpensive, poor writing, rudimentary click disposable pen.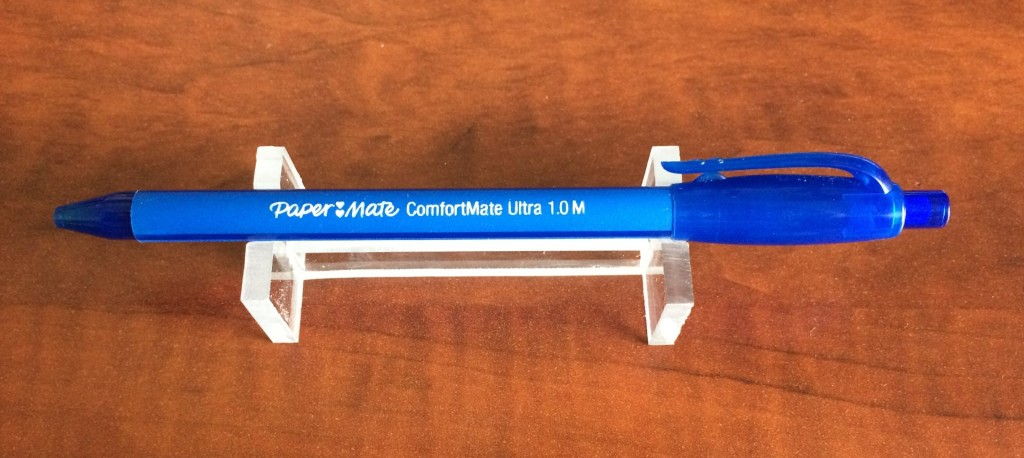 Now I love my pens but I'm not so in love with them that I need to debate whether I write TEA BAGS with a wet fine nib or go up to a medium. I don't have any idea how this Papermate pen ended up under my roof so it got me thinking and I set out on a quest to collect all the disposable cheap pens around the house. I gathered this eclectic representation of the disposable gel, ballpoint and rollerball pen industry and a few advertising freebies.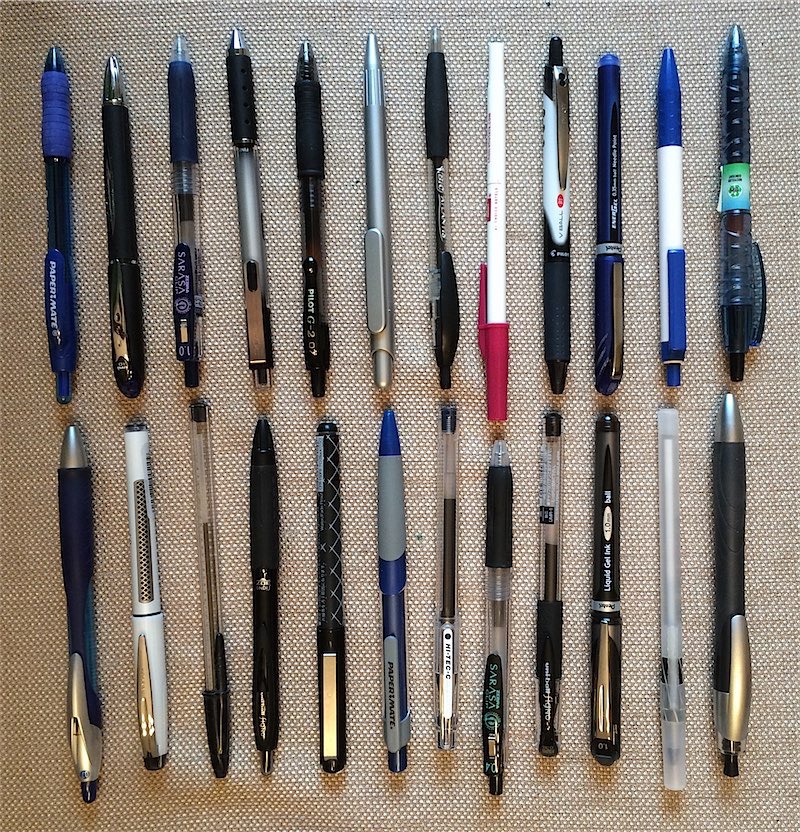 I often wonder about how non-pen people go about choosing what writing instruments to buy. I realize there a lot of pharmaceutical and other advertising pens going around so those probably reside with a good part of the population. I suspect a lot of the above were collected by trying to reach the $25 free shipping minimum with my friends at JetPens. Even without JetPens there is such a wide variety of brands and models in all the retail outlets. Recently while browsing in Walgreens, a local drugstore chain, I was impressed with the breadth of the writing instruments aisle. Standing there I surmised a couple of drivers that might prompt a trip home for any of these pens.
Price
End Cap Product Placement
Packaging / Marketing (New & Improved, Smoothest Ink on the Planet, etc)
Aesthetics (that's a cool looking pen!)
Brand loyalty
I'm sure there are others. I recall as a corporate office supply buyer when I purchased at least a million Papermate stick pens for $.72 a dozen. Granted that was back in the 80s but they worked and they were cheap. During that same period I also recall rummaging through the supply cabinet looking for the cool pens for my desk. You could sometimes even sweet talk / bribe the department administrative assistant in charge of supplies to buy your favorites if they came by the dozen and could pass the test as a cheap disposable.
Most of the disposables I've used over the years write well enough to get the task at hand completed. Today's example, the Papermate was a disappointment with its skips and uneven flow. In contrast a similar looking pen I recall, and actually wrote a review on, was a Staples branded Sonix rollerball. I was very impressed with it and if I had a need for pens in bulk I would not hesitate to try and work a deal on those.
Have you ever bought pens in bulk or for your business? What is your selection criteria?
Remember: Write something nice……
Thanks for stopping by and if you enjoyed this post I would love to send you an email every time I have a new post. Click Here to Subscribe
Click here for some great deals on pens and ink I have for sale