I seem to carry a lot of stuff every day. I follow a couple of EDC sites and I guess I carry more than some and not as much as others. I'm sure it depends on the line of work one is in or at least how one fills their day. The below is my normal Monday through Friday Pocket and Bag Dump. Weekends probably see all the pocket stuff but I rarely carry my briefcase anywhere except the office or off site meetings. Only thing not pictured is my MacBook.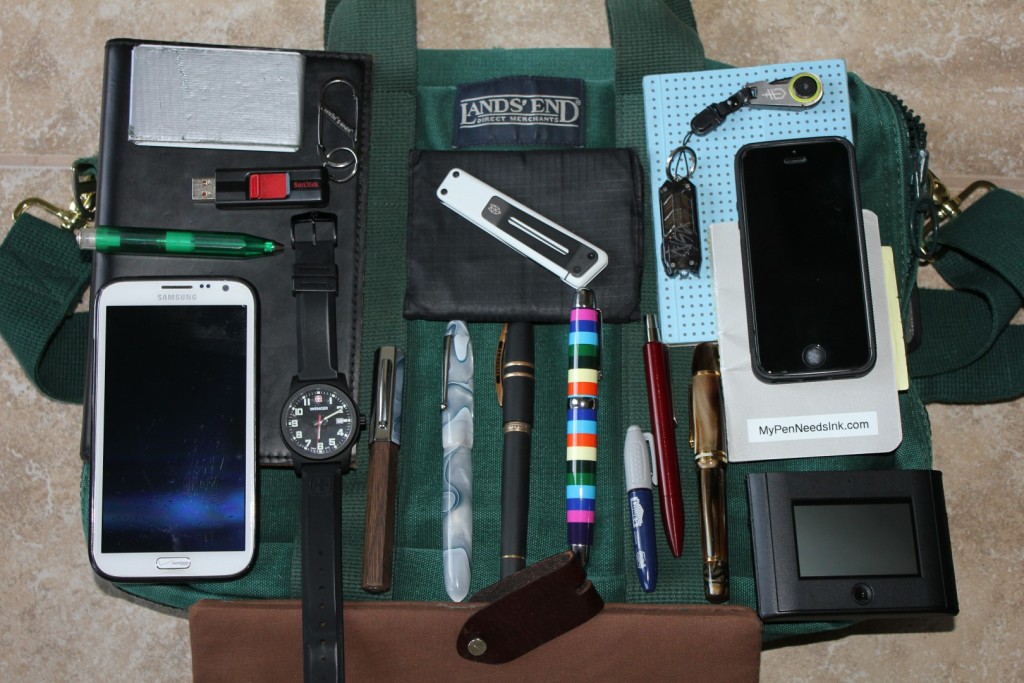 To Write With (It is a Pen Blog)
Bexley and Edison have risen to the top of my daily carry rotation. Smaller makers that make high quality affordable pens that write wonderfully out of the box. My Poseidon is a sweet writing medium.
Ditto, but I have a fat wet broad in my Collier. My Review
My newest acquisition so by default my current favorite pen. I really love how this wood feels in hand and the broad nib is smooth with the right amount of wet. My Review
I just love the Sherpa concept. You buy the body of a pen and multiple inserts fit inside it to dress up or fun up your normally mundane disposable. My candy stripe edition is rocking a plain old black Sharpie. Some of the other inserts that work are:
Sharpie Accent Liquid Highlighter
Sharpie Fine Point Permanent Markers
Papermate Liquid Expresso
uni-ball Vision
Pilot V Razor
Pentel EnerGel
Lowes Mini Permanent Marker (Sharpie Clone)
Not a lot to review here. I think it was a giveaway but its featherweight and I have it in my pocket all the time. I use it more than I thought I would.
When I need a rollerball there are arguably few better than Will's stuff. I'm grateful to get one of the last red anodized versions which I really love the color and finish.
One of my first big pen purchases and I have been very happy with it. The bronze accents have grown some nice patina. The lava material is a joy to hold and I'm not even sure what Palladium is but this medium writes wonderfully right out of the box. This one has a permanent parking space in my daily rotation.
A favorite pocket pen that's light and quick to deploy with its push button retract. Mine has seen a lot of mileage as evidenced by the scratches and love. I experimented with a couple of D1 size refills in it and I think I'm currently using the Lamy.
A handmade gift from my beloved sister. Nothing fancy but we sat over lunch and designed it for my specific needs. I don't travel outside of home to office and back so I wanted something I could remove from my briefcase and just set on the desk without a lot of fuss to get to my pens. Not for everyone but fits my needs perfect.
To Write On
In the pleasent blue on gray this serves as my daily to do list manager that has really held up well for the past 5 months. Lots of pages, good with fountain pens in the FINE or smaller sizes and the best bookmarking system I've seen. My review
When I started my daily life journal habit back in 2012 I tried most of the major brands starting with the Moleskine. After many pages of writing in various brands I landed on the popular Rhodia Webbie. When TWSBI released their journal line I got one right away and fell in love with it except for one thing, the cover. The paper was great with fountain pens, large page count which made it a good value, stayed open very flat and it was less expensive than the Rhodia mainly because of the cover. The Rhodia is the better LOOKING journal.
The only thing I don't like about the TWSBI notebook is the thin cover. I'm sure there are cost benefits but in my mind Rhodia has them beat on the cover. There is nothing inherently wrong with the TWSBI cover I just like something thicker for my every day use. Enter my friend Ed over at The Hide Shop at Hellbrand Leatherworks. I had purchased several pocket notebook covers from him and love his work so I asked him to make me a cover from my favorite TWSBI notebook. The end product makes my journal perfect for me. Ed does really great work and is a joy to work with.
Pocket Notebook for quick notes. This one gets beat up in my back pocket every day and it's held up well. I have a draw full of all the competitors in the flooded pocket notebook market but I like the slightly smaller size of the apprentice. It holds up, takes ink well and just works.
General EDC
I'm a watch guy, or better description I have more than I need but maybe not enough to call it an obsession. I lean to clean analog faces with all numbers on the dial present. This one caught my eye on a recent vacation and after a trip back to Wenger for an out of sync movement I have enjoyed it a lot.
I like it and I got roped into the hype when it was released. It's a beautiful knife that I carry often outside the office. Fit and finish is top notch and available in a nice selection of finishes.
I have been a fan of this wallet for many years. It's made from what I would call parachute material. I have only replaced it once and it's good for carrying about 12-16 cards and some light cash. Profile stays really thin and light. I hope someday my Wocket will replace this.
I've had this about 3 weeks and I really want it to work. My scan success rate is about 80% (Yes I track it). The concept is you carry 1 plastic card that is written to with the information from the account you want to use. Mastercard Debit, Visa Credit, Sears Credit, etc. The concept is great if you carry a lot of cards. Execution is still about a 7 on a scale of 1-10. You don't need a cell phone for it to work and no data is stored on the cloud but for now I'm still carrying my wallet as backup.
I have invested lots of research and a substantial percentage of my toy budget in tools that make light. This little guy just keeps drawing me back. Light weight, bright enough for most daily office environment and around the house tasks and rechargeable by micro USB. Now why I would take a $13 flashlight and send it off to a customizer for the V54 package? Well you'll just have to read up on Vinh Nguyen's work. My Tube is always with me even if a larger light gets carried that day.
My office is not a great environment to walk around with my favorite types of knives clipped to my pocket. Anything more intimidating than a swiss army toothpick or a serrated butter knife can yield you stares I would rather avoid. BUT, I still find myself in need of opening boxes, trimming and other sharp object duties. This little gem popped up on my Amazon suggested buy list about a year ago so for $10 I took a gamble. Yes it's small and stiff to open but I always find it in my pocket every day. I could suggest design changes but again for $10 not much point.
About 4 feet of duct tape wrapped around an expired credit card. I don't know why.
Not much flash here (see what I did there?). The 128 gig capacity finally came down low enough in price for me to upgrade and have plenty of room. My only silly criteria when shopping for one was someplace to attach a clip to the device. The Sandisk also retracts which is nice protection but I rarely do it.
Not much to say here. Maybe there is a 6S in my future. This phone just works.
Ancient by today's standard but my workhorse work phone that has served me well.
My pockets are usually full each day but to carry everything else I have relied on this faithful companion for the past 18 years. It has seen a lot of love and a lot of cities. I have temporarily replaced it multiple times with the other options but always come back to it. I even bought another one just like it as a backup. I never realized I would carry it for nearly 20 years. The eventual replacement that currently has my interest is a Duluth Packing briefcase of very similar design but I'm in no hurry. It's a simple, minimal pockets design made from heavy canvas that has held up exceptionally well minus maybe the handles.
None of the links above are affiliate links I'm just trying to spread some love to retailers that I enjoy doing business with.
Remember: Write something nice……
Thanks for stopping by and if you enjoyed this post I would love to send you an email every time I have a new post. Click Here to Subscribe
Click here for some great deals on pens and ink I have for sale