Some things related to this hobby I just don't like. 1) Full size pens in my pants pocket and 2) A lack of refill choices in my non-fountain pens. Both equally easy to avoid individually with a multitude of high quality mini size pen choices and the variety of full size rollerball / ballpoint refills available. Where I used to run into trouble is combining these two. A mini pocket size pen is usually restrictive on refill choices due to manufacturing limitations of the size. Most pen manufacturers just don't make a lot of variety in mini refills. One ubiquitous refill is the somewhat universal D1 size used in many different pens. My Google box search did not yield the original origin of the D1 but I did get many hits for pens that use it, including my current every day carry.
One of my favorite pocket pens is the plastic Kaweco Sport Classic with the push button retract and you guessed it, D1 size refill. Here is my battle scarred, ever faithful, Kaweco Classic Sport Ballpoint in Green Ice. Probably more pocket love than any other pen I own. It's light, plastic, won't scratch up other EDC goodies in my pocket, deploys quickly and works every time.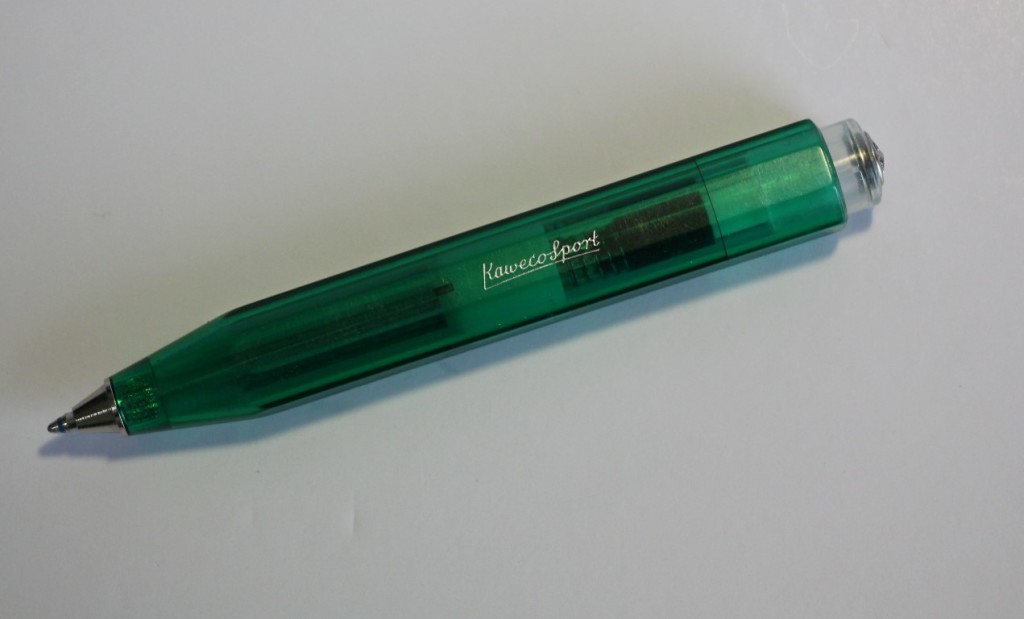 The refill that Kaweco provides is good but to my #2 point above I like choices. Fortunately the ever resourceful Jet Pens carries no less than 75 different D1 refills. I was surprised. Now granted many of these are the same refill with different colors and tip sizes but still with 75 choices you're likely to find something you like. I discovered one I like, but more on that later in the post. Some good companies represented and putting out D1 refills:
Retro 51
Monteverde
Uniball Jetstream
Zebra
Pilot
Staedtler
Kaweco
Platinum
Ohto
Pentel
Tombow
The D1 size is also very popular with the multi-pens that pack more than one color in a single stick. So you can have a blue, black or red line of ink and carry just one pen. Most of that is accomplished with three D1 refills of different colors in a slightly larger than normal pen body.
Jet Pens was kind enough to send me over 12 examples of the D1 genre refills available. I think that represents a great cross section. Please don't expect an in-depth review on each one but I'll comment briefly on my short experience with each. I figured a picture of each one is a waste of bandwidth due to the similarity of the design. Not much variation can be managed and still fit such a wide cross section of D1 toting pens on the market. Here's a group shot before unpacking started and ink began to flow.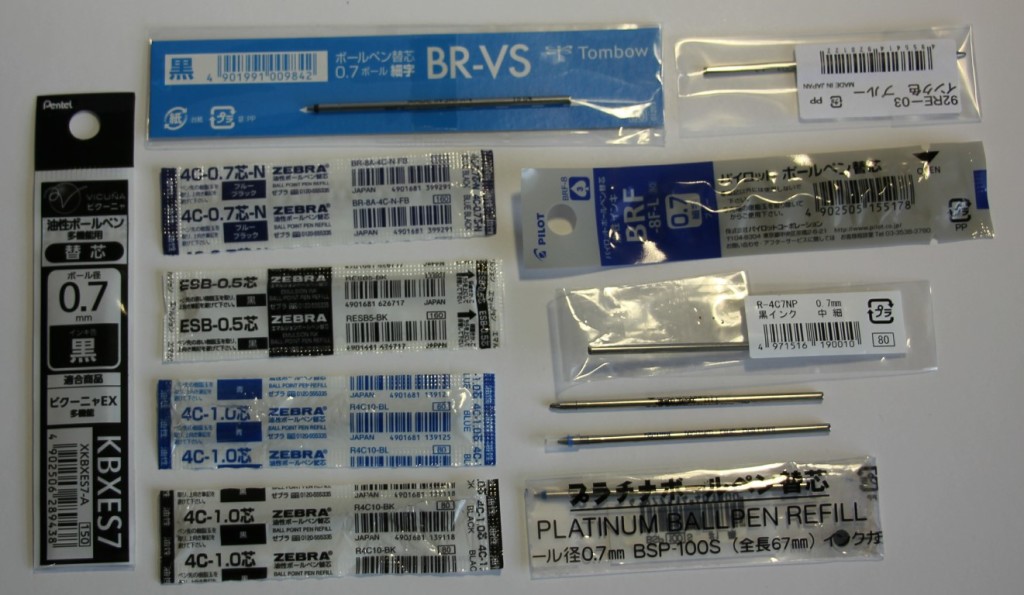 Monteverde Soft Roll Ballpoint Pen Refill – D1 – 0.7 mm – Blue Black – Pack of 4
$6 Pack of 4
The first sample I loaded up and not surprisingly very ballpointy. I would prefer a little more consistent darkness and saturation but I think that is the nature of the ballpoint. Solid performer.
Ohto R-4C7NP Needle-Point Ballpoint Pen Refill – D1 – 0.7 mm – Blue
$1.20
Smooth writer with no skips or blotting but seems thin for .7mm. I would call it more of a .5mm. At a $1.20 this ties with the Kaweco for best value.
Pentel Vicuna XKBXES7 Ballpoint Pen Refill – D1 – 0.7 mm – Black
$2.50
I got a little bit of dragging on this one. Seemed to need more effort and the line was a little blotchy at times. At $2.50 it's comparatively expensive so I think there are better options.
Pilot BRF-8F Ballpoint Pen Refill – D1 – 0.7 mm – Blue
$1.30
I found the end and start of strokes were sometimes lighter. It seems to be more sensitive to pressure with my writing style. Pass
Platinum BSP-100S Ballpoint Pen Refill – D1 – 0.7 mm – Blue Ink
$1.65
This one was a bit too slick for my tastes. Not smooth but slick like I had to slow down to write neat. There was no skips or blotting and the line looks more .5 rather than a .7
Rotring Ballpoint Multi Pen Refill – D1 – 0.7 mm – Black – Pack of 5
$16.50 pack of 5
Great starter and more saturated than others. I would say this is one of my favorites but at $3.30 it's the most expensive in our lot which knocks it off the perch as my top choice.
Staedtler 92RE Multi Pen Ballpoint Refill – D1 – 0.7 mm – Blue
$1.65
Nice writer, I found it needed a bit more pressure to perform but the line was consistent though a bit light.
Tombow VS Ballpoint Pen Refill – D1 – 0.7 mm – Black
$1.35
Good, thin line, no skips, a little bit of globbing when you stop writing before you pick up the tip. Kind of like turning off a water hose and that last bit of water in the hose. May not be a big deal to some and I didn't spend a lot of time with it so there may be a technique that minimizes it. For me, there are better choices.
Zebra 4C-0.7 Ballpoint Pen Refill – D1 – 0.7 mm – Blue Black
$1.35
Required above normal pressure to attain a consistent line. I really wanted it to be darker. The Blue Black was extremely light and no saturating. I also got some skipping at the start of letters. Pass
Zebra 4C-1.0 Ballpoint Pen Refill – D1 – 1.0 mm – Blue
I could feel the 1.0 width and with more ink flowing it felt smoother. It gave me a wide consistent line. (spoiler alert) This one returned to my pen after all the testing of the others.
Zebra ESB-0.5 Emulsion Ink Ballpoint Pen Refill – D1 – 0.5 mm – Black
$2.65
I'm not sure what the Emulsion ink difference was but this was a very good writer with no blotting or skipping. The .5 in this one was a little too thin and that kept it off my top pick list.
$6 for a pack of 5
No real need to change out this factory choice. Not as saturated and consistent as some of the others but at $1.20 these are a tie for the value winners and a very respectable writer. I didn't replace mine until the original refill ran out.
Many of these are winners in my book and it's unfair to rule any out just based on my own personal tastes. I'm just not a big ballpoint fan for extended writing. They have their place in an EDC arsenal for sure and I carry one almost every day. My preferences for any pen are hard for the design mechanics of a ballpoint to even attain: Medium to broad line, no skips, easy start, saturated dark colors. Many of these are good but of course in a shootout one has to rise to the top. My favorite D1 refill:
The Zebra 4C-1.0 with the Ohto and Rotring close behind.
Your taste may vary but I hope I have given you a little more information on each one to help with your D1 refill shopping.
For additional reading I found my friend Ian over at Pens! Paper! Pencils! did a compare back in 2014 and I think I saw a refresh in 2015.
Conclusion
I've always wanted to use the word Shootout in a blog post about pens, it sounds exciting. This post was exciting as I anticipated each new player while reassembling my trusty Kaweco over and over. It was fun to do, more work than I expected but I so enjoyed the pay off. Big thanks to Elaine and team over at Jet Pens for supporting what I do and specifically making this post possible.
Do you have a favorite D1 pen and refill? I do now!
Remember: Write something nice……
Thanks for stopping by and if you enjoyed this post I would love to send you an email every time I have a new post. Click Here to Subscribe
Click here for some great deals on pens and ink I have for sale