The entry level fountain pen market is not overly crowded but I would call it dominated by two pens, the Pilot Metropolitan and the Lamy Safari. TWSBI has a reputation for playing a little above that entry level field but offering a true bargain in a real piston filling pen. Namely the ever improving 530/540/580/580-AL series. In July of 2015 TWSBI's back room may have just put a bulls eye on Lamy and Pilot for the entry level market and I'm glad to report there is a solid third player in that niche field now. The Eco is a demonstrator piston filling fountain pen for under $30. I had no need for another pen and my daily rotation was humming along good but my curiosity won out so I ordered an Eco to see how well TWSBI could do for less than three ten dollar bills. The Eco has been out for several months now and it's been reviewed by several of my blogging colleagues. My findings are similar to others but I will add my personal taste comments and preferences.
The Pen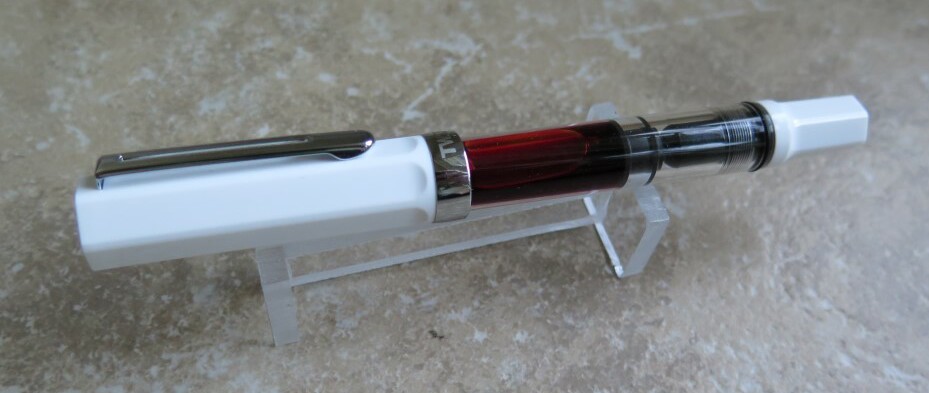 TWSBI Eco Fountain Pen
Steel Broad Nib
Price: $29
5.5" capped
4.15" uncapped
6.55" Posted
22.8 grams, with ink
Packaging
The packaging belies the price point for this pen. I think thatmakes it an exceptional bargain for gifting as the whole package looks more expensive than it is. Not quite to Apple'istic level of the 580 but pretty darn impressive for a $30 pen.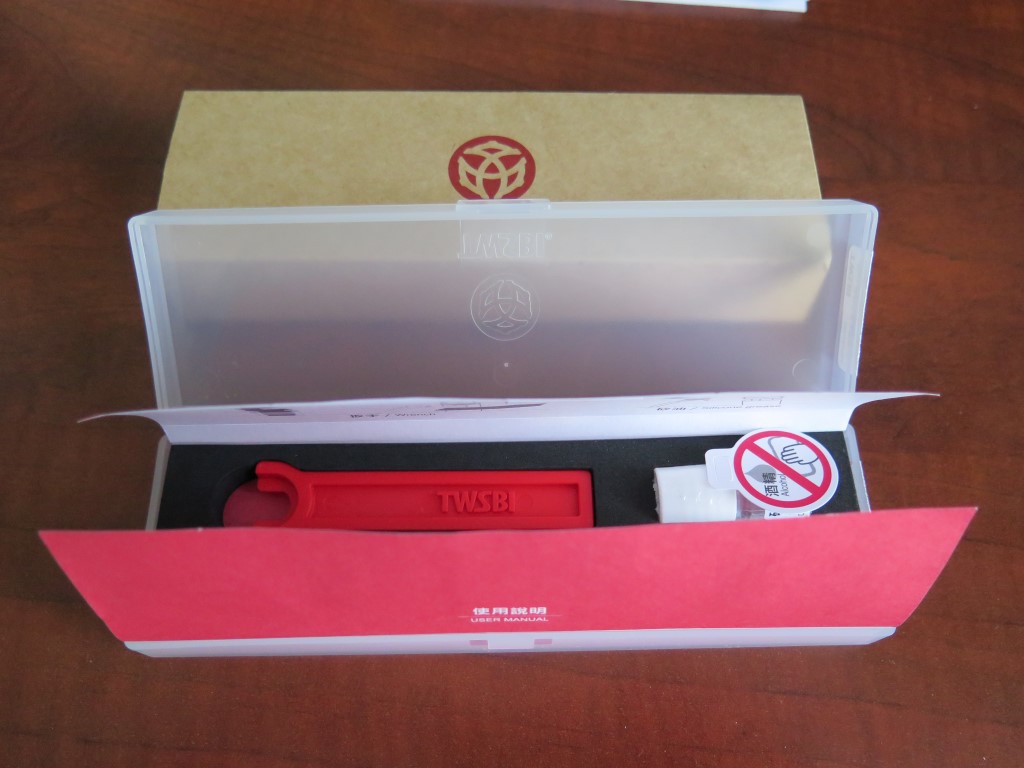 What's In The Box
Pen secured and well-presented
Wrenc h for disassembly / maintenance
Silicone for maintenance, mostly the piston seal after many flushes with flushing solution.
Overall Appearance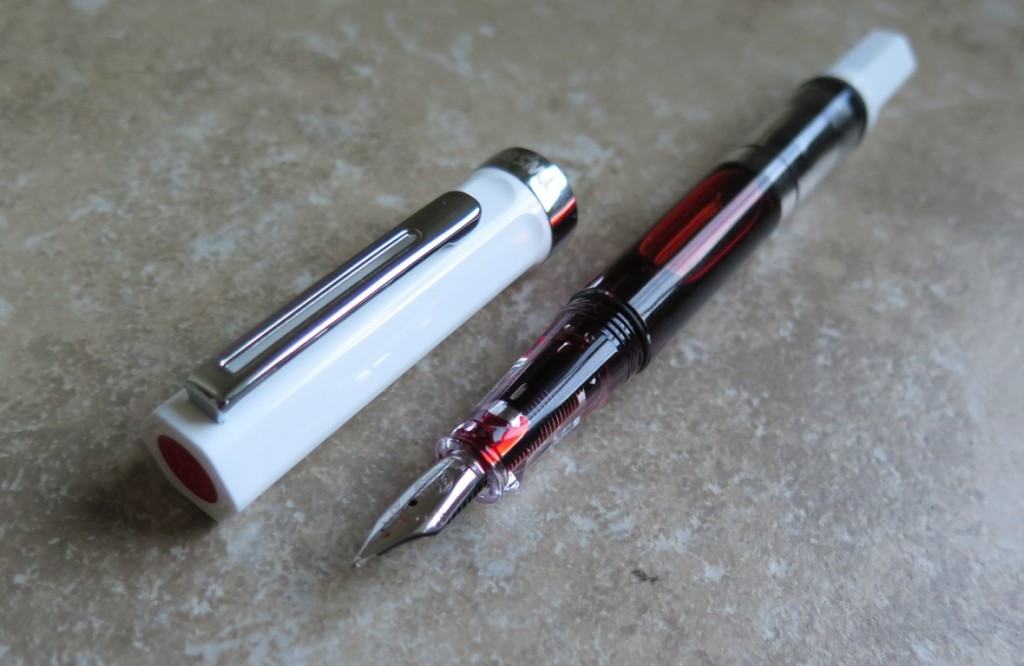 There are two models of the Eco differentiated only by the color of the cap and tail. Both models (colors) of the Eco are demonstrators, love them or not. You can get a white or black cap and tail. The cap and tail have a hexagon shape that tapers into the round clear plastic body of the pen. The clip and the band at the bottom of the cap or both chrome, the clip being metal and the cap band is plastic with a chrome finish. Another nice accent is the red TWSBI logo inset in red on the very top of the cap.
The whole design is unique which does open it up for honest critique. I'm not really a demonstrator pen person but right now I have the Eco and a 580 AL inked up and I'm enjoying watching the ink slosh around, my mood varies.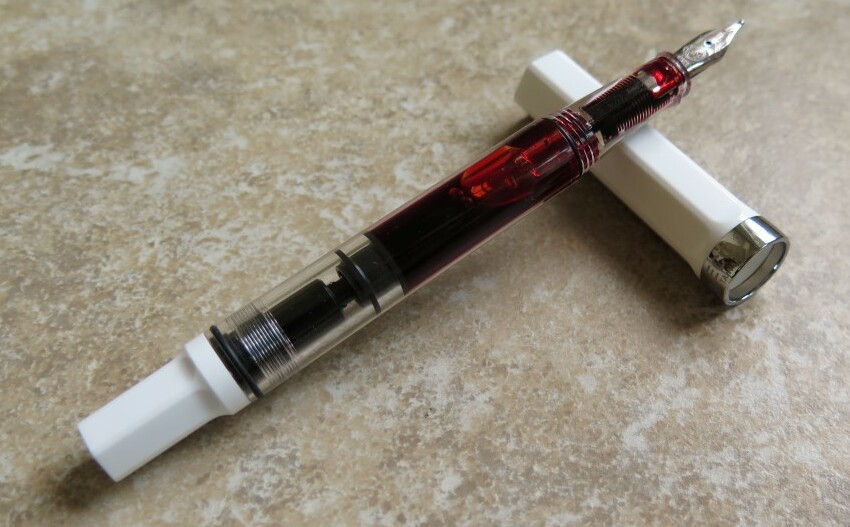 Ergonomics
I don't think any of the aesthetics of the pen detracts from it being a normal handling pen. Round barrel, average size with a good tapered section down to the nib. With the mostly plastic construction weight is light and I like the balance of the pen unposted. I do not post my pens so I'll refrain from opinion on using the Eco posted. The cap does post but I have no basis for comparison of the writing experience as a poster.
Section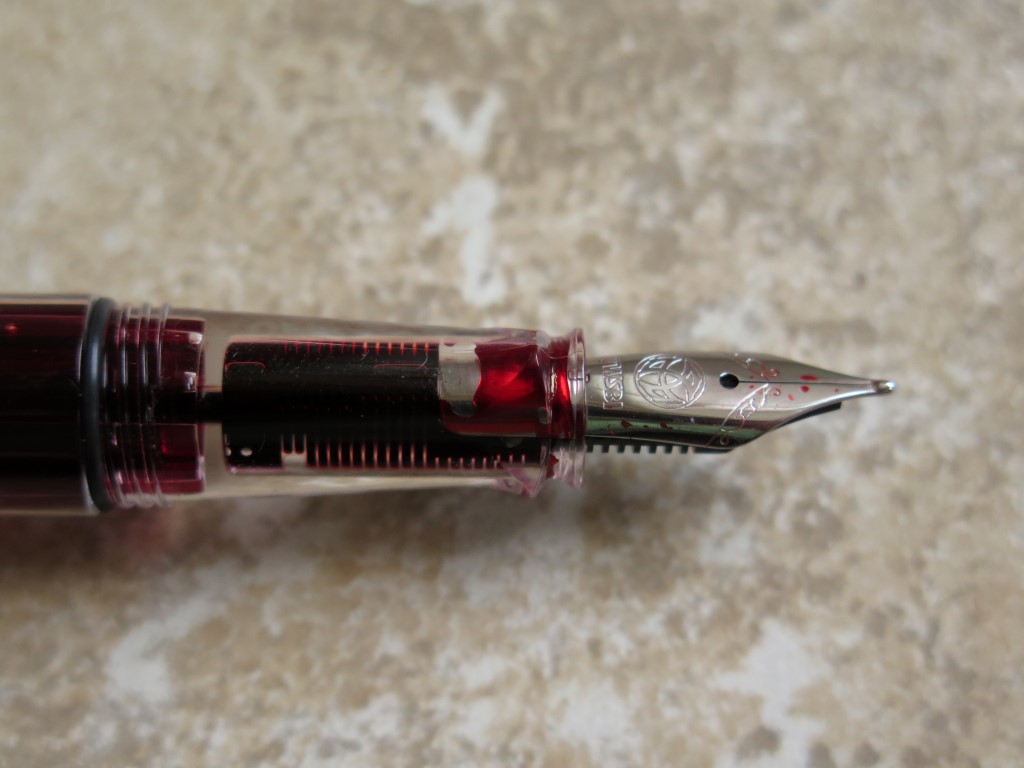 The section is smooth and reminiscent of other TWSBIs. I personally don't like the ink seepage around this area where it goes into the feed but I'm told it doesn't hurt anything and I've had no mishaps with it. Your annoyance factor may vary.
Cap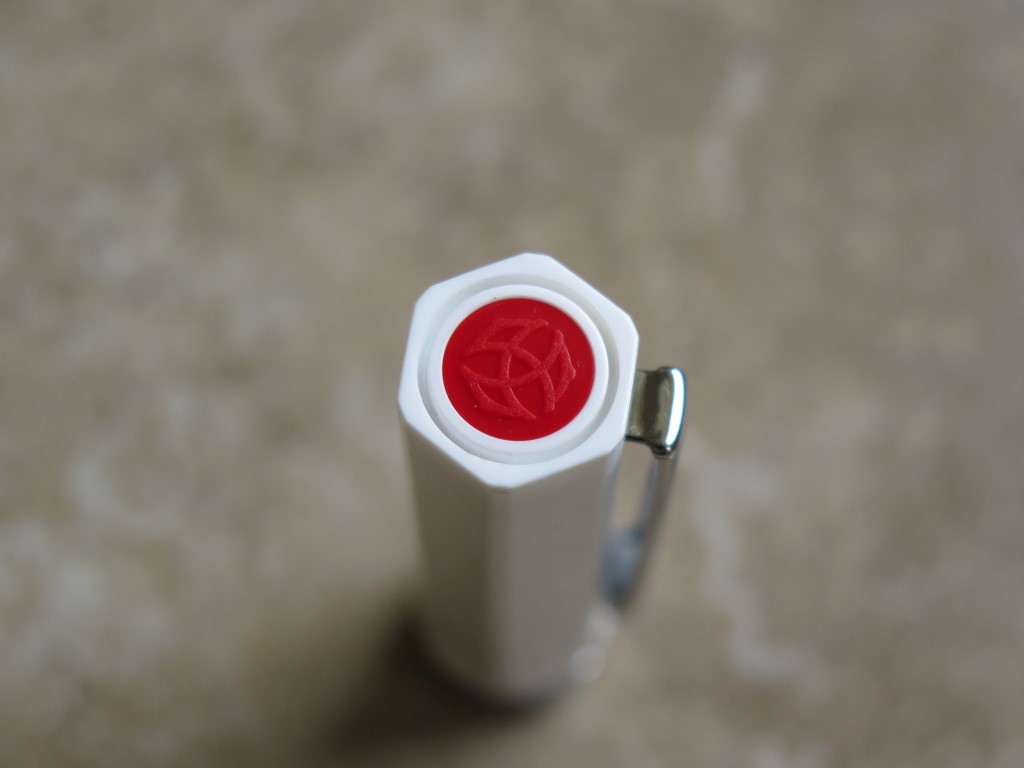 The hexagon shaped cap is topped with a red TWSBI logo inset. I don't think I would call it a finial but it gives character to the pen and displays its lineage proudly as does the ECO and TWSBI printed on the chrome band at the bottom of the cap.
Clip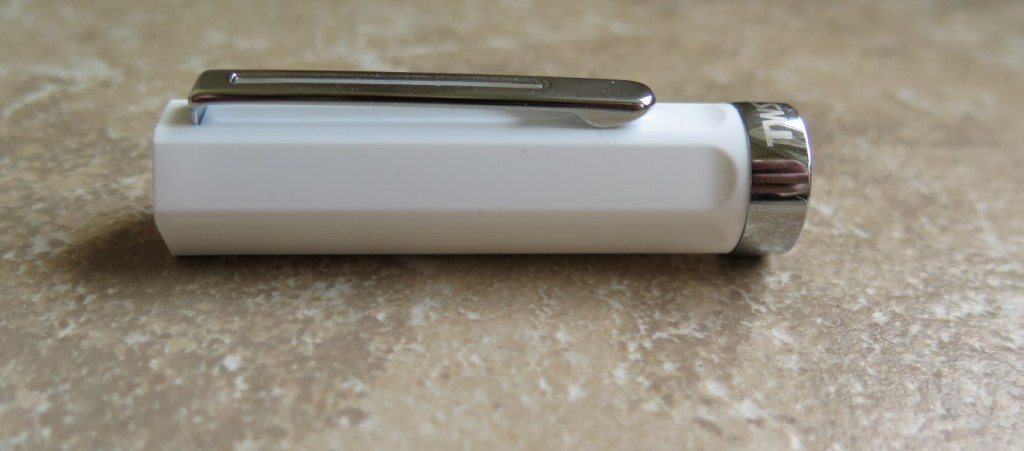 There is nothing special here but nothing wrong with it either. It's a flat, straight design that fits with the overall design of the pen. Ramp is good so it catches well on a pocket or pen case. Tension is about average and seems adequate.
Filling System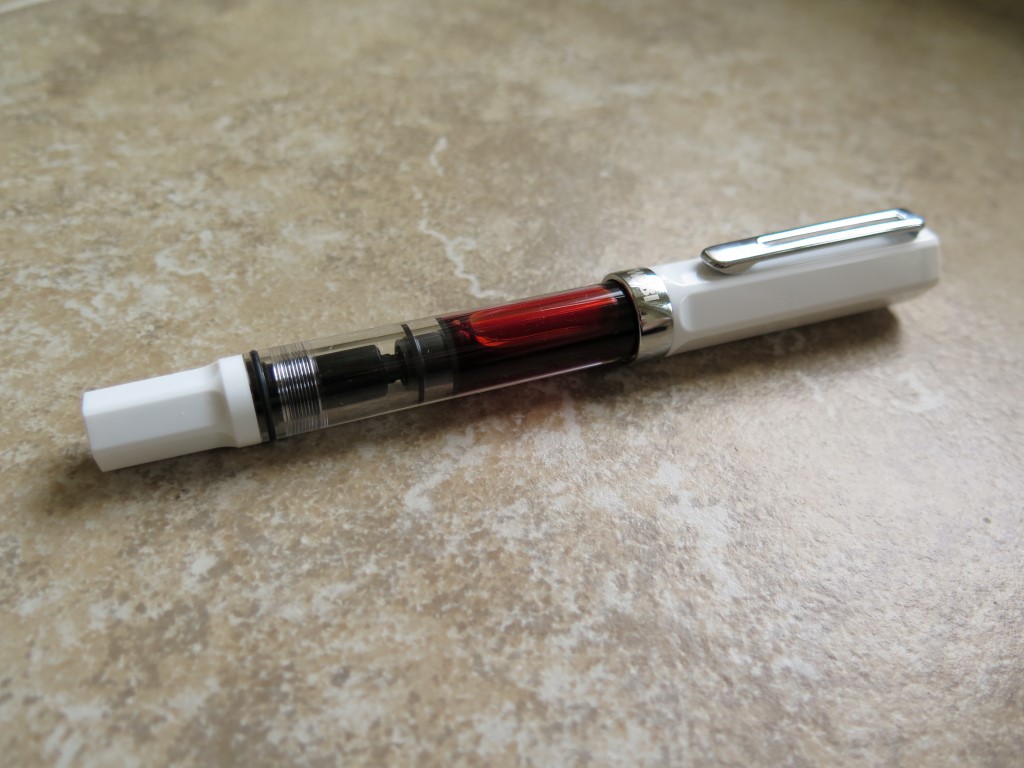 The filling system is the most amazing part of the value proposition that the Eco delivers. A true piston filler that uses the majority of the pen body as an ink reservoir giving you nearly 2 ML of ink capacity. That should keep you writing a while even in broad nib mode. The piston worked smooth and is even user serviceable with the included wrench and lube. Now TWSBI has been doing the wrench and lube inclusion for years but at this price point I was surprised. Probably another note on ergonomics is the hexagonal shaped tail makes for a good grip for the piston movement.
Nib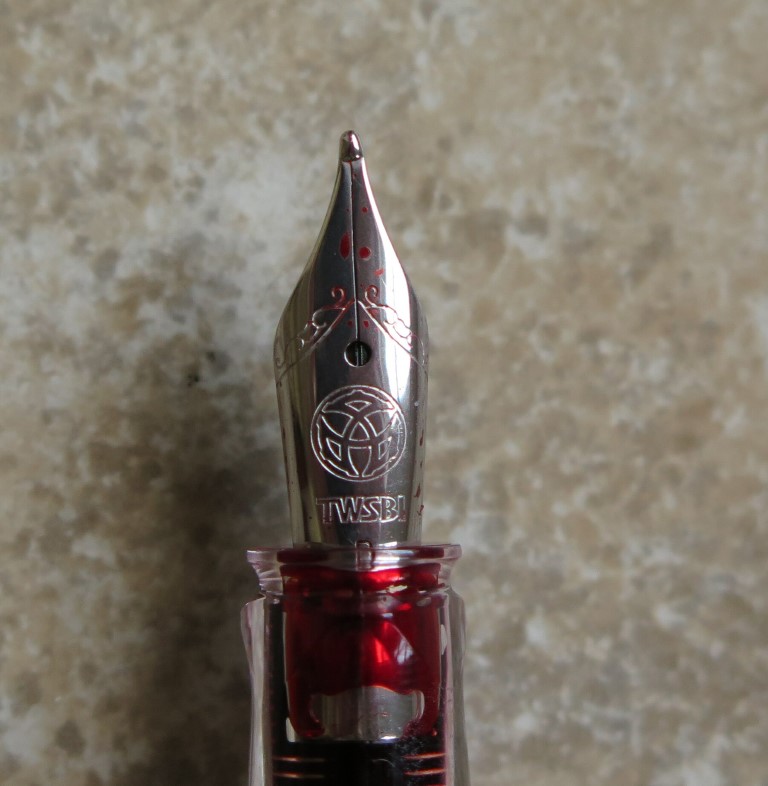 I'm sure the nib is made by one of the major players, Jowo, Bock, etc. TWSBI does a nice job engraving the nib and mine was perfectly aligned out of the box with every measurement I could see with my 10x loupe.
Writing
With its well aligned nib and consistent flow the writing experience is wonderful. Not glassy smooth so you definitely interact with the paper and pen contact. I would call it smooth, with feedback, for good control but not slick. The broad I purchased is maybe a little on the smaller size of broad but I tend to like Magic Marker size lines from my broads. Wetness falls just to the wet side of the scale and I have not experienced any hard starts or skips even after a thinking session with the cap off. I have come to appreciate my pens that are solid starters and performers. Every time I put nib to paper I just want ink to be there, simple request and many more expensive pens have not delivered. Superb job here TWSBI.
For less than $29 . The only thing that would keep me from recommending this pen every time to a new user is the frequent reluctance of new fountain pen users to use bottled ink. I don't blame them, I started with cartridges myself but as soon as one is ready to try bottled ink this should be your first pen. Very impressive TWSBI.
Some other reviews
Are you a TWSBI fan?
Remember: Write something nice……
Thanks for stopping by and if you enjoyed this post I would love to send you an email every time I have a new post. Click Here to Subscribe
Click here for some great deals on pens and ink I have for sale