When I returned from the Atlanta Pen Show I was a good pen steward and immediately flushed my pre Atlanta pen rotation. I put those pens back into storage as I knew I would be using my new purchases. I settled back into normal pen life and decided 2 of my new pens needed to go back for work. One was a manufacturer defect and the other was a chance I took on a vintage pen and was unskilled at checking it out.
In my hotel room the Saturday night of the show I tried all of the pens with the hopes if something was wrong I could go back Sunday morning for a possible fix. Neither of the problems appeared but maybe my adrenaline and excitement just made them write better.
The vintage is going to my favorite pen repair guy Danny Fudge at TheWritePen.net. He always delivers so no worries there. The other pen is going back to the distributor and possibly overseas to the factory so besides the wait I'm sure it will come back good as new and I can't want as it was a beautiful writer. I'm a little bummed about it but not all that surprised since several of my past pen purchases have resulted in returns to have something fixed. I have always been happy at the end but the delay to utopia writing is sometimes disappointing.
What this has caused me to do is move to a single inked pen in my daily carry. Above is my daily pen carry case. My dear sister made this case for me after she and I thought through the design together. It's not only functional for me but carries a great deal of sentimental value. What you see peeking out is my Shawn Newton Shinobi.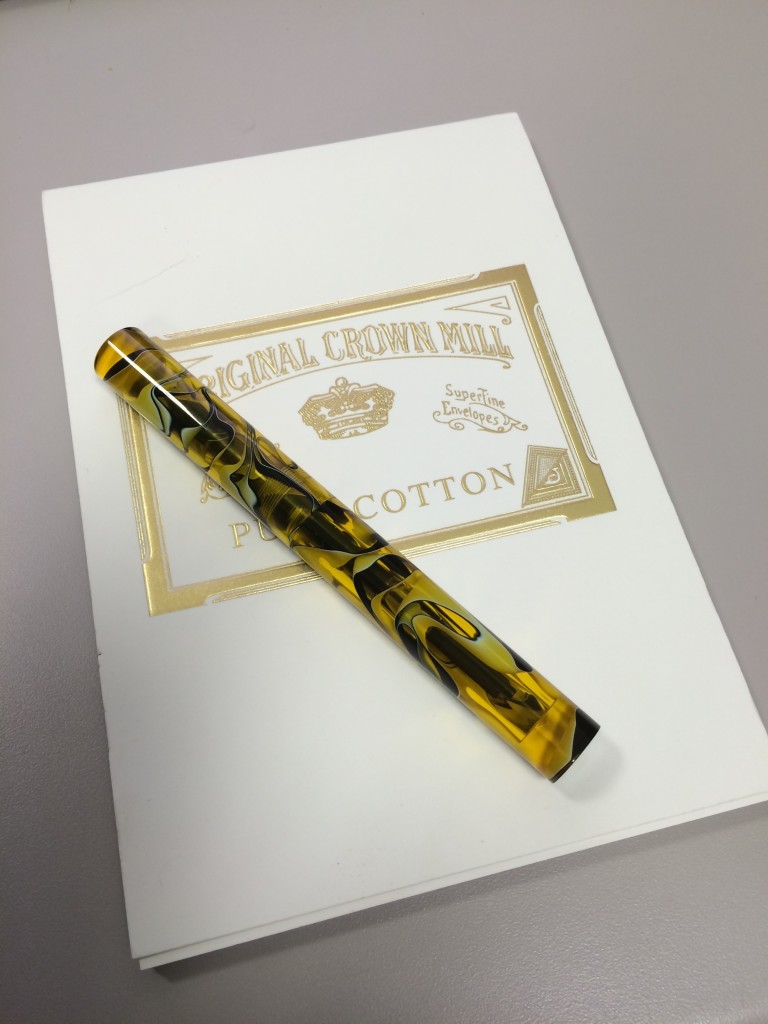 For the past week that has been my only Fountain pen and we're really bonding after a lot of use. It's different for me to not pause for that micro second each time I need to write something at my desk and think about which pen I want to use. Sometimes the decision would be based on ink color, nib width for small spaces or just I like that pen right now and I want to write with it. My Shinobi is a broad nib so small medical forms are out, of no fault of the pen but for everything else it's been fun, grab one pen sitting on the desk, it's always there in the same place and writes every time. We're getting to be really good friends.
I look forward to my new two coming back and I'm sure they are going to be as great as I had hoped for. I'm considering carrying each of them as my only fountain pen for a period of time and maybe nurture a similar the bond I've experienced with the Shinobi.
How about you, have you ever carried just one inked up fountain to use for everything?
Remember: Write something nice……
Thanks for stopping by and if you enjoyed this post I would love to send you an email every time I have a new post. Click Here to Subscribe
Click here for some great deals on pens and ink I have for sale