I ended up with two similar Kaweco pocket pens about the same time. A couple of weeks ago I reviewed the The Classic Sport Gel Roller in Black Chess Pattern so I won't bore you by repeating much of what I've penned in the past about the Kaweco Sport line and I will spare you the duplication on my commonly written philosophy on the pocket pen genre. Most all of it was summarized in my review of the Gel Roller.
Today I want to share with you about my time with the The Classic Sport Ball Pen in Black Guilloche 

Length: 4.15″
Weight: .4 oz
Uses D1 Size Refills
APPEARANCE
The Guilloche variant features a black octagonal barrel with a subtle guilloche engraved effect and gold colored metal decal on the push button. Manufactured from ABS or sometimes called macrolon plastic, the guilloche is small, light and attractive.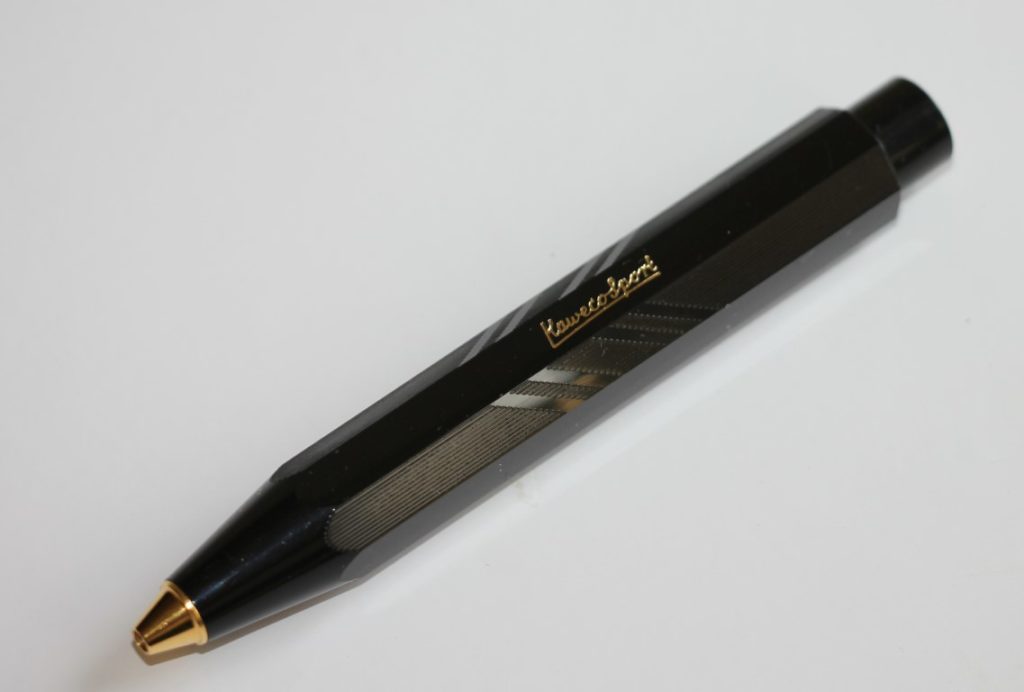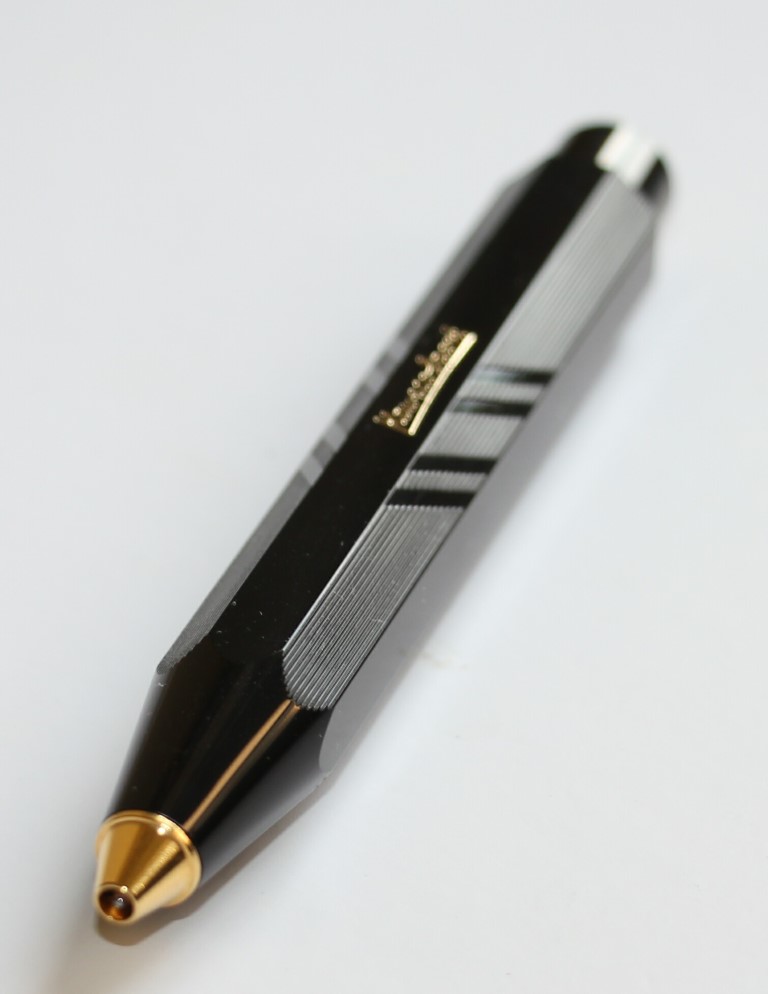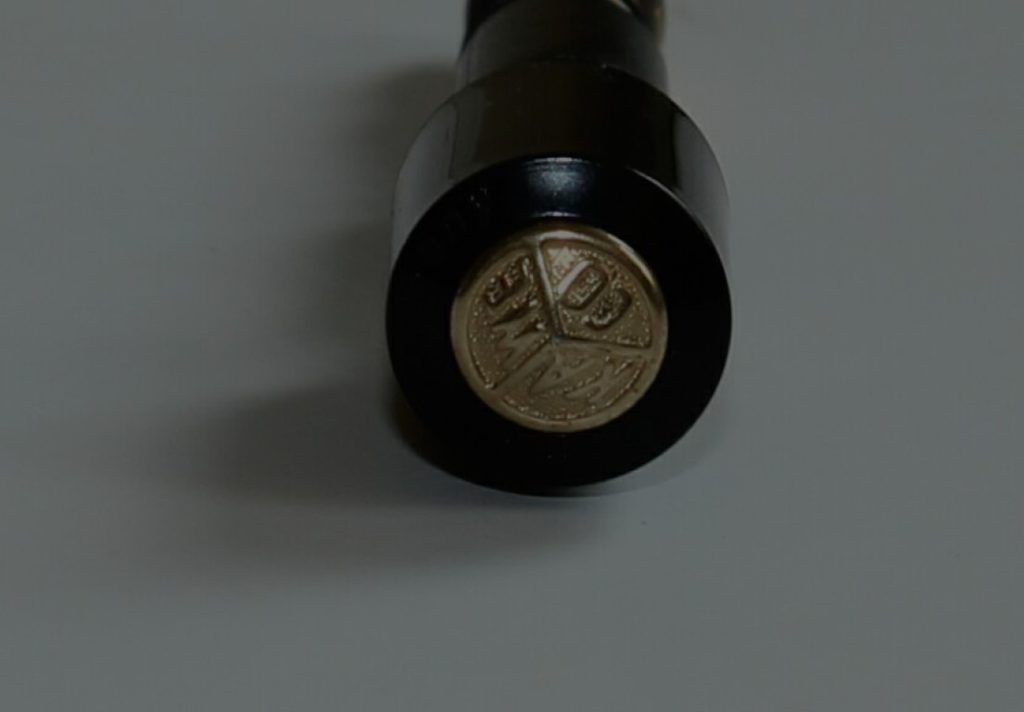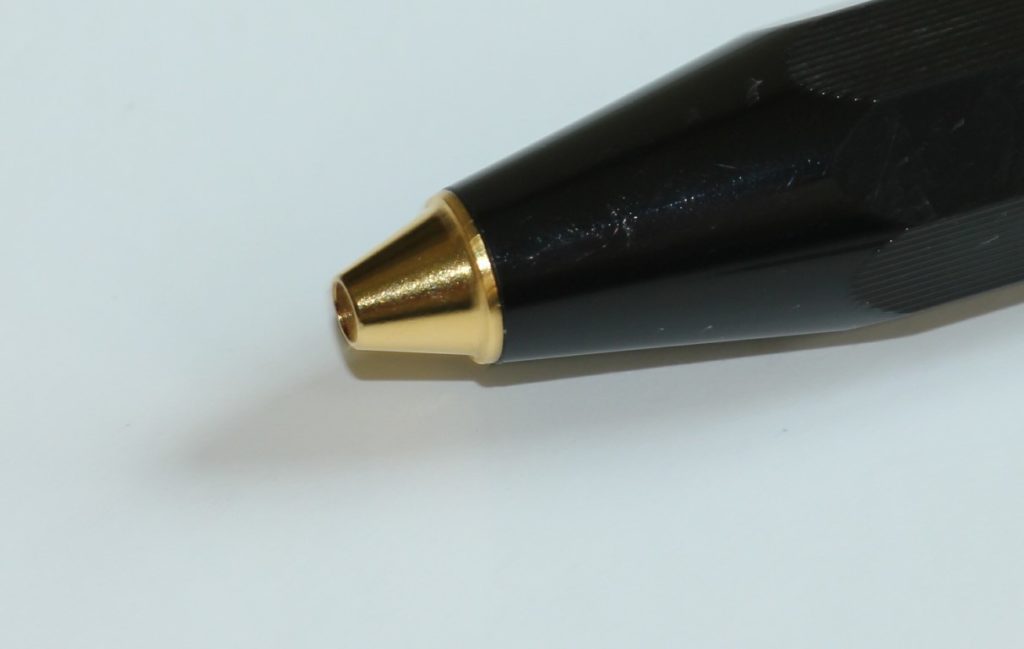 Black pens are hard for me to photograph well but in the pictures I hope you can appreciate the creative design Kaweco has added to this one.
ERGONOMICS
The Guilloche is a close cousin to an Ice Sport I have carried and abused for several years. So no get familiar time was needed for me.
Where the ballpoint excels over the gel roller in my mind is speed to deploy. The knock push button is one handed and just faster than two hands needed to remove a cap.
The downside is there is no cap to post. The cap of the gel writer makes it a more comfortable pen to write with, you just can't pull that feat off with the ballpoint design. Where the ballpoint shines is convenience. Receipts or signatures are a quick and efficient execution, unpocket, click, sign, click, repocket, done.
REFILL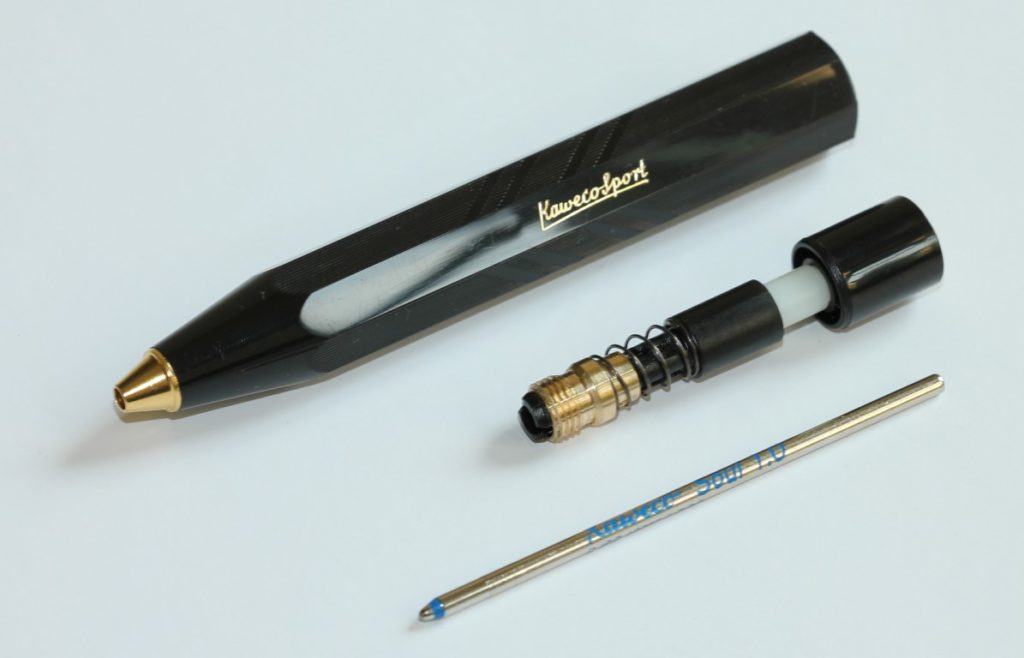 The D1 refill scared me at first as there is an obvious trade off with size and ink capacity but there is a bigger variety of D1 refills than I expected. With these manufacturers producing the D1 size I'm sure you can find something you like.
Retro 51
Monteverde
Uniball Jetstream
Zebra
Pilot
Staedtler
Kaweco
Platinum
Ohto
Pentel
Tombow
I don't worry about proprietary refills with the Kaweco. The Soul 1.0 that ships with the pen is worthy performer or if you prefer another here is a review I did on a wide variety of these D1 refills. I found a favorite.
CONCLUSION
The two newest Kaweco Sports to my collection are a really hard toss up on which to carry. I really like the quick deploy of the knock push button on the ballpoint but the writing comfort (posted) and Parker refill of the gel writer makes for a nicer writing experience. Either one you pick, or both, I think you will enjoy the Kaweco quality and know it's going to work for you every time you call it to action.
Remember: Write something nice……
Thanks for stopping by and if you enjoyed this post I would love to send you an email every time I have a new post. Click Here to Subscribe
Click here for some great deals on pens and ink I have for sale