A pen hobby can only be enjoyed if you have pens with you. Depending on your activities during waking hours many of us will have different needs for pen carry. This could be a shirt pocket, pants pocket, bag or purse or any number of options for a single pen. Being pen nuts most of us carry more than 1 pen so besides integrated pen sleeves in a briefcase or bag the pen case business is growing with many options for us.
I have eyed the Visconti line of cases for several years now but never pulled the trigger. I recall once even adding it to my online cart but before checkout something else got priority funding and I went without this Italian version of a classy carry.
Recently The Pen Company sent over a 3 pen version for me to try out. Now my daily commute is quite utilitarian so my pen carrying needs have been adequately cared for with an open pen case that my sister made me some time ago. I go from my house to the car, drive to my office and have very few needs to leave the office until the end of my work day
I have been carrying the Visconti case now for a few weeks and I have really grown to like it.
Available in Black, Black or Black
Available in 1, 2, 3 or 6 pen capacity models
$73 (3 pen model)
2 7/8" wide
6 3/8" long
1 1/8" thick
My Shawn Newton Shinobi, Visconti Home Sapien Maxi and Visconti Divina, all larger pens, are currently in residency. The Shinobi is probably the biggest pen I would carry in it. Coming in right at 6", I consider it a big pen. I think you get a tiny bit more room from the middle slot due to the slight corner curves in the body of the case. The Shinobi will fit in all three slots but I reserve the middle slot for it. Toothpick not included.
Visconti never disappoints here. A smooth black leather outside with a tight black felt on the inside for all surfaces that touch your pens. The interior has three slots with two full height dividers that keep all three pens away from each other. The clip on your pen is not utilized for the encasement..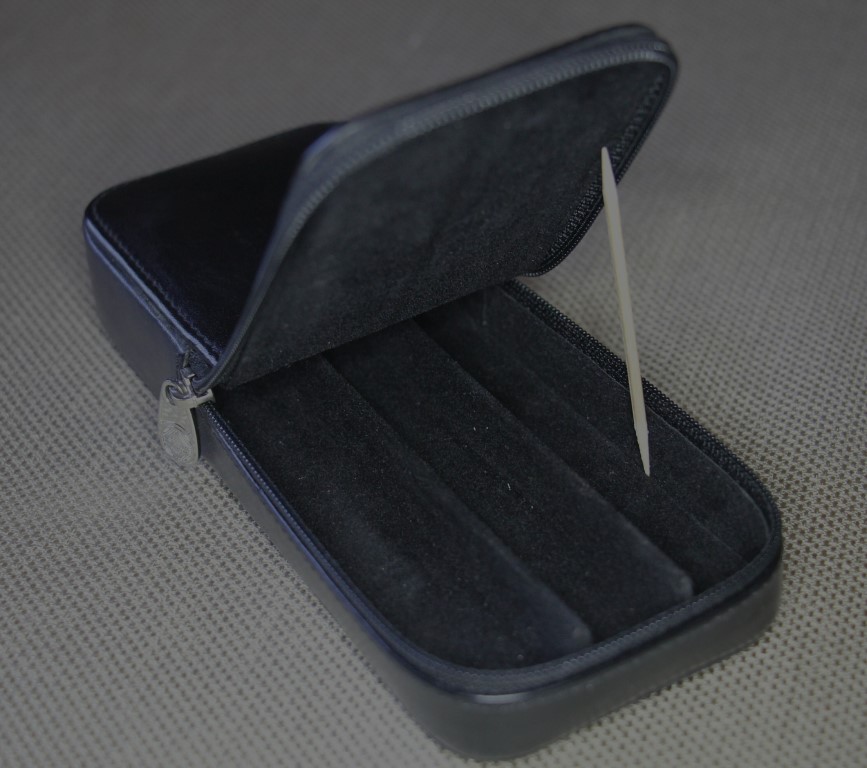 A chrome zipper pull, chrome V medallion on the front and the Visconti logo embossed on the back of the case wrap up a very attractive package for work or play. Tasteful without being in your face gaudy.
The zipper is smooth and extends about 2/3rds of the way down both long sides and across the top. Fully unzipped your access to the pens is easy without requiring any balancing act to prevent any of the pens from falling out.
The opening is the coolest part to me. Visconti has creased the front cover somehow to make a natural bend point in the case and it opens almost like a car hood. After opening the hood the pens are easy to remove and even easier to put back in. Here again the 6" Shinobi is probably the maximum you want in here. 6 1/8" would probably fit but the removal is going to get slowed down with anything over 6" as the pen needs to be angled slightly to get it out.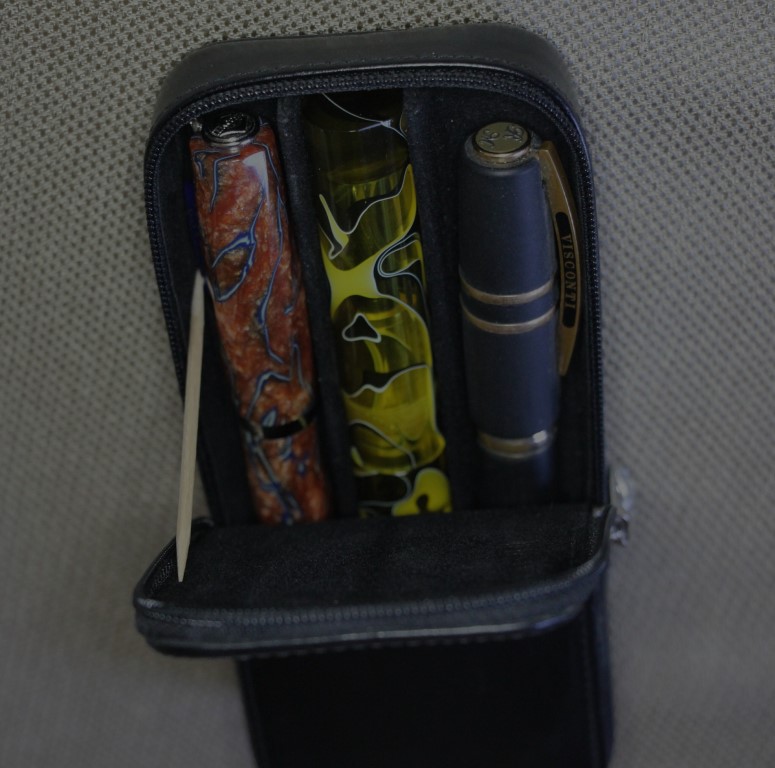 Conclusion
Many thanks to The Pen Company for sending this great case over for review. I will probably own a 6 pen version one day as I find myself wanting more than 3 pens inked up at a time. I lasted a month carrying a single pen but I find more enjoyment throughout the day with a variety.
Remember: Write something nice……
Thanks for stopping by and if you enjoyed this post I would love to send you an email every time I have a new post. Click Here to Subscribe
Click here for some great deals on pens and ink I have for sale