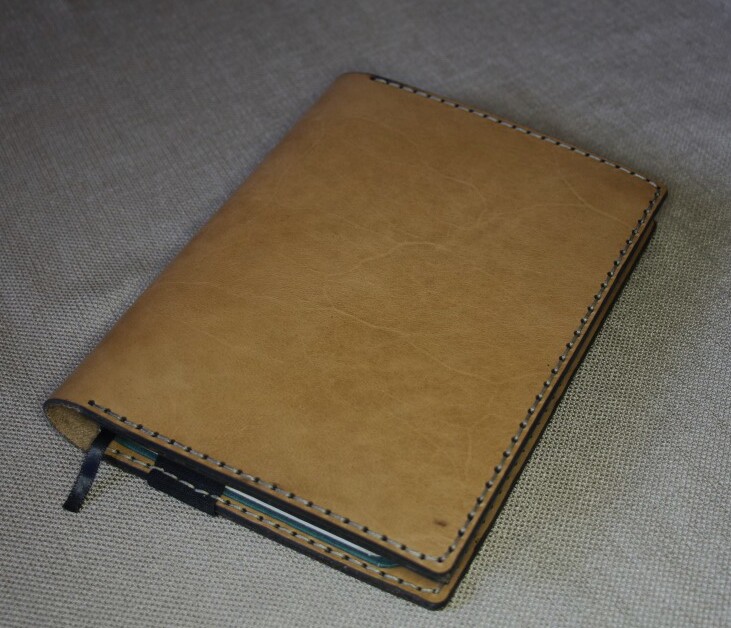 I have never traveled outside the United States. My leisure time and resources available usually keeps my travel focused on many places in the US that I still want to visit. I know that limits my outlook and experiences and nothing proves that more than the pen hobby that many of us share. Such an international scope of enthusiasts of all things writing related. Recently a brother and sister team of leather artisans that make beautifully products under the Galen Leather name contacted me from Turkey. I was elated they found my little spot on the internet.
I became a fortunate recipient of their recent marketing blitz to promote their products that they have marketed through various outlets for several years. I have one of their Large Moleskine Covers that I would probably call a notebook cover as it works with any A5 5×8'ish notebooks that I tried.
Made from veg tanned bridle leather
Available in 13 colors, yes one three!
Overall Size is 6.7 x 9.1 inches and more on that later
$65.00
Packaging
Galen Leather went an extra mile on the packaging. They subscribe to giving the customer a wow moment as you open up any of their products. Gifting of a Galen Leather product would be a great experience for the receiver and giver. You get a little bit of the company's story and a card filled out with the information on your product. All in a heavy weight box with tasteful printing on the outside that gives you the first impression that Quality is on the inside. That first impression is right.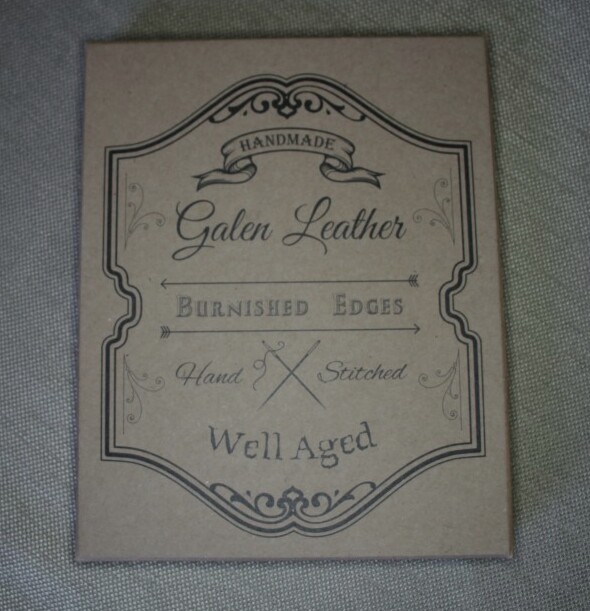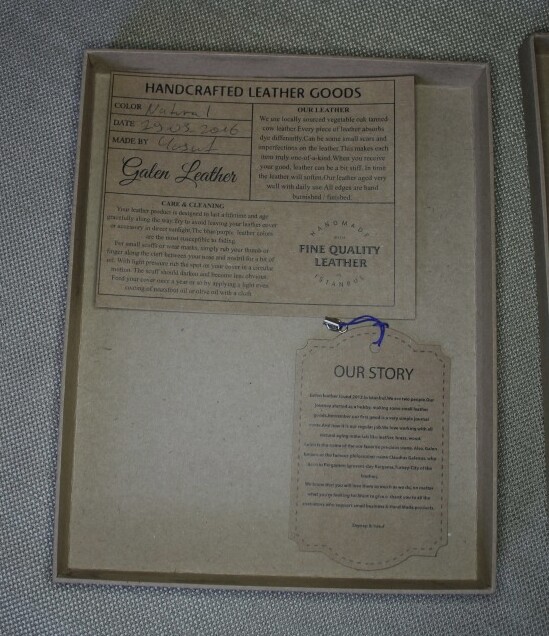 Overall Construction Fit and Finish
Galen Leather uses thick leather, really thick. I was surprised that even as thick as it is it's not stiff or rough. This is not a minimalist notebook cover, you know what your holding is built to last. The finish is beautifully uniform, the stitching is even and matches the strength you feel in the overall notebook. Burnished edges give a very finished look to the cover.
The Galen Leather website gives some great examples of what they were thinking when they were designing the cover. Inside pockets are well designed and functionally placed to store business cards, other small notebooks or just scraps of notes that usually get accumulated with daily use. Even the iPad mini or similar sized devices are figured into the design. The pen loop is nice and stretchy to hold big pens if that's your fancy and I like the big pens.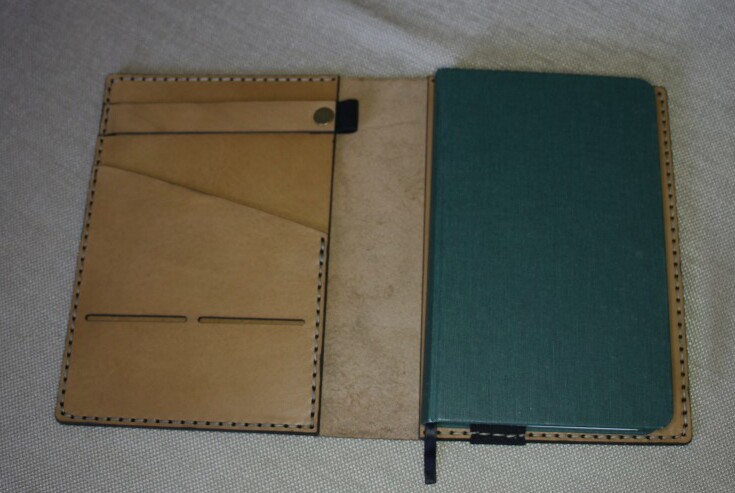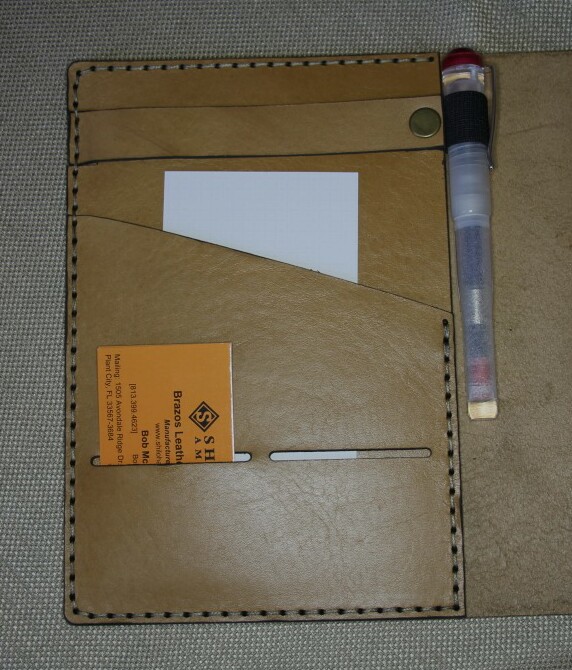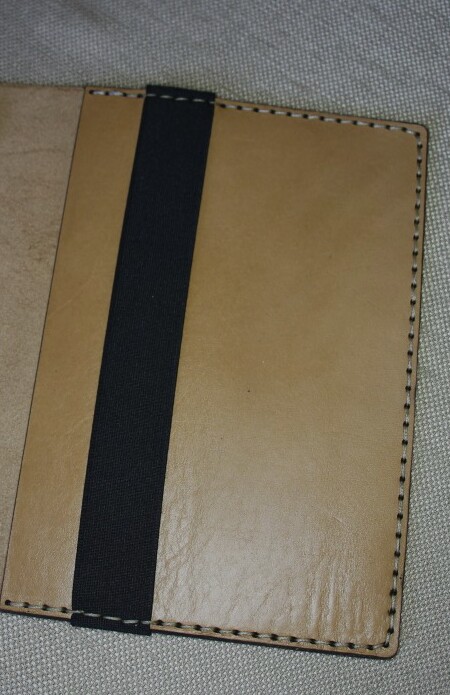 The belly band is a vertical orientation in a complimenting color and quite stretchy. On the inside it goes through the back cover of your A5 sized notebook of your choice. I'm using it with my current daily journal by Shinola. The other side of the band can be used to stretch over the front and keep the notebook safely closed during travels. As mentioned above the heft of this notebook could survive a lot of traveling around while protecting the inside. I don't use the band to keep the cover shut so I enjoy the full beauty of the leather cover sitting on my desk.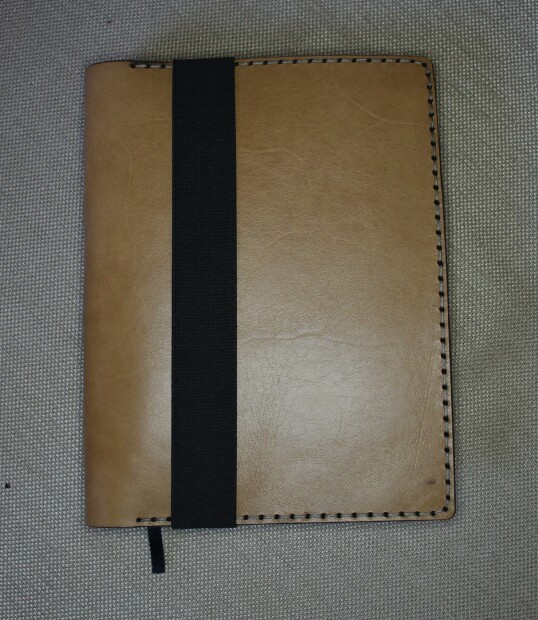 I did find the wide spine a little unusual at first but now I think I have picked up on a great design feature. Looking at the cover it's 6.7" x 9.1". Not a lot of extra space on the height but the width really gives you room for other paper and notebooks you may like to carry or a big pen will ride easily in the large spine area. Most of the other notebook covers I own fit the traditional A5 size almost perfectly and that's fine but it limits other things you might find yourself carrying outside your notebook. The Galen Leather just has more capacity, even some examples on their website with a tablet.
Conclusion
I like it, I really like it. I have been using it mated up to my daily journal and slowly finding other things to carry along with it. The construction gives a rich look and I'm sure a long useful life.
Visit Galen Leather and see their whole product line, I don't think you will be disappointed with any of their products.
Other blogger Reviews
Remember: Write something nice……
Thanks for stopping by and if you enjoyed this post I would love to send you an email every time I have a new post. Click Here to Subscribe
Click here for some great deals on pens and ink I have for sale