I don't think anyone sits down for a letter writing session and specifically reaches for a multi-pen. I don't, but I can't fault the convenience at work or on the go if you do a lot of markup or colored ink work. I owned a multi-pen when I was a young boy and still a closet stationery geek. It was the venerable Bic 4 Color Retractable.


I loved that pen and guarded it with my life by only taking it out to show my buddies or for writing something special. Oh the horror if it were to run out of ink, I had no clue that I could actually buy a refill. Truth be known it probably dried up by NOT writing with it. That was 40+ years ago and they still sell it. In later years my standards for the writing experience has elevated somewhat and given the choice, a 4 color ballpoint is not my preferred. I own one other multi-pen.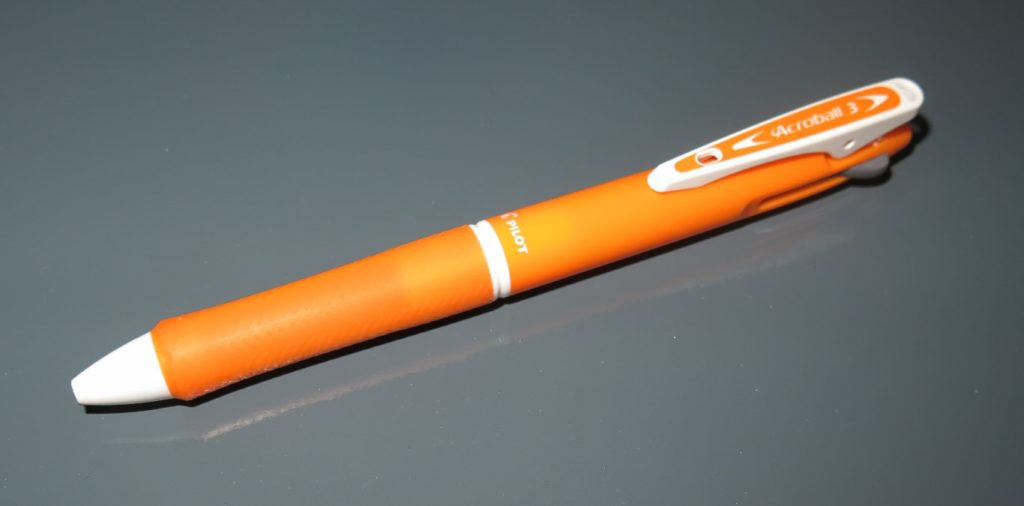 A Pilot Acroball and for its intended use it's not a bad pen. Good action and full size refills that right ok.
Now if there is a category for classy upscale multi-pens, I now own it. A Black Lamy 2000 Multifunction Pen. The Lamy 2000 line is nearly iconic in its stature as a fountain pen. The shape and design have been around unchanged for a long long time. It's aesthetic just works and the Makrolon material is unique while being a comfortable material to handle, hold and write with. The brushed stainless steel trim gives a nice contrasting look against the black body.

THE PEN:
21.7 Grams
7/16" Diameter
Length: 5 ½"
Brushed Makrolon resin barrel
Brushed stainless steel head and knock
Red, Black, Blue and Green D1 refills included
Street Price: $50
PACKAGING
Packaging is good for this price range, not much to review. If you usually discard packaging not much to change your mind on this one.
Lamy's build quality, fit and finish is known to be a consistent high quality. This one is no different, minus the clip, but more on that later. The Makrolon material is smooth with no burrs or rough areas The joint of the section and body is nearly invisible as you can see, or not see, below. Threads are smooth and start easy every time.
Some multi-pens take proprietary refills. That can be good or bad. Usually that means more expensive and limited selection of color and point sizes. My Acroball takes proprietary refills and they write fairly well for a ballpoint but when they run out I would not have any extras laying around, and I'm a pen guy with way too many refills laying around. The Lamy takes the universal D1 size that are available in 80+ variations at my last count. In the Lamy you can mix and match the refills to your preference though the pen twist mechanism will always reference only blue, red and green.
THE CLIP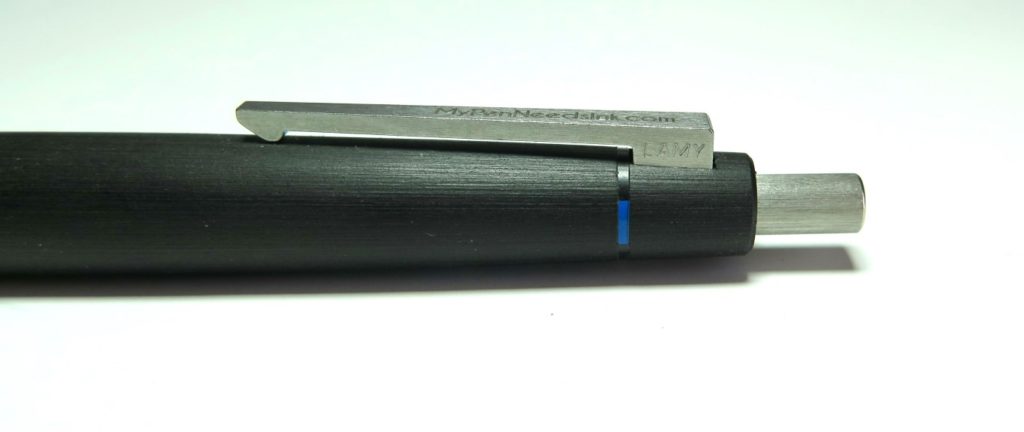 The clip is standard Lamy fare. Its thick shape lends itself positively to the overall aesthetics of the pen. The LAMY name is printed on the side discretely and doesn't get in the way of the other iconic design elements of the pen showing off the great design. The clip is thick and has a good springiness for performing its main duty, namely holding it in one's pocket or clipped to a notebook or pad. My particular example had a loose clip and my small amount of tinkering to take the pen apart did not yield any wisdom on how to tighten it up. It doesn't affect the use of the clip or the pen at all but I found this minor defect unusual based on all the Lamy pens I have owned. I'm sure if I send it in Lamy they would make good on it.
IN USE:
Lamy has figured out how to fit 4 pens in a barrel the same size as the fountain pen. That's a good thing as it's comfortable to hold, incredibly lightweight and a pleasant shape proven over many years. I own a Lamy 2000 fountain pen and besides being heavier I can barely tell the difference. Deploying the writing tip of the pen is a normal pushbutton knock. To get the color you desire is a gravity exercise. Near the tail end of the pen is a 3 color ring.
A portion of the ring is colored in blue, red and green. Holding the pen horizontal and facing the color you want on the section up to towards the ceiling you depress the knock and you get the color facing up. You face the clip up to get black. It works ok most of the time. I am not an engineer and looking at the pen, after taking it apart, I don't know how to do it better but to me it's just not smooth. I think I understand what contortion each tip has to perform when you push the knock down but however clever the gravity selector is I wish for something a little smoother. That being noted I would not trade off pen thickness or weight for that smoothness so my expectation are probably unreasonable. It works, it works every time and the right color comes out of the tip so there is a fair amount of good design and technical engineering invested.
CONCLUSION
Thanks to The Pen Company for sending this pen over. Lamy has done a great job creating an affordable but higher end multi pen for those that have the need and enjoy the convenience of four colors in a single body. If your use is utilitarian with a pen body that looks good in a boardroom or with a client you need to impress and maybe you need it tough enough to be thrown around in a purse, pocket or EDC bag. The Lamy is probably a great choice for you.
Do deploy a multi-pen regularly?
Remember: Write something nice……
Thanks for stopping by and if you enjoyed this post I would love to send you an email every time I have a new post. Click Here to Subscribe
Click here for some great deals on pens and ink I have for sale