The grand prize growing up was always the big flip top lid of 64 Crayola Crayons with the sharpener in the back. Grail marking products for a 10 year old. With 64 colors to choose from I had my favorites but my personality quirk at the time didn't allow me to use those favorite colors because I didn't want to dull the tip or worse use them up! So I remember taking others colors and mixing them on the page to try and create the colors I liked that were sitting right next to me! I guess the concept of just buying another box was escaping me or out of the financial reach of a young lad of 10.
My Crayolas of today is fountain pen ink and as I have matured, ok just grown older, I use what I buy. I don't buy limited edition inks as a general rule, I know my 10 year old personality would creep in and never allow me to use it. Since my quest with fountain pens started I have spent a considerable amount of time and shipping costs on sample vials looking for some key color tones that I like to write with:
Brown
Green
Burgundy
Red
Blue
Purple
Orange
I have my favorites in each color family with a couple of different blues, greens, purples and red / burgundy. Overall I have maybe 20 bottles of ink which quantity wise represents about a 10 year supply. Additionally, nothing in a long time has really jumped off the screen at me to go buy.
With a recent Vanness Pens order I got a free sample vial of Bung Box Norwegian Wood Emerald ink. My current favorite green is Diamine Delamere Green which I have been perfectly content with but I have heard good things about the Bung Box ink so I found an 80's vintage Sheaffer that writes like a fire hose and inked up the Bung Box.
Below are some of my ink cards compared to other greens I have tried. The Bung Box is a little bit different shade but that really comes down to preference.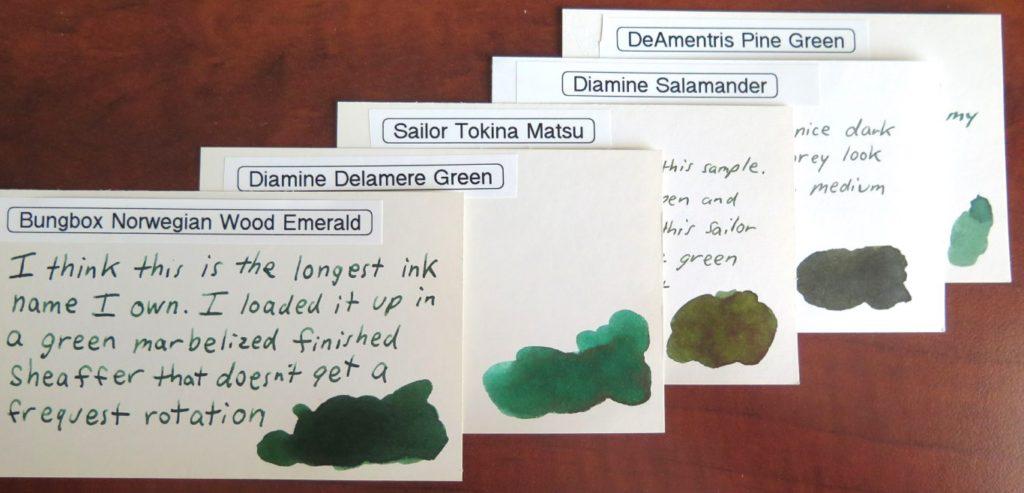 The Bung Box ink behaved well, wrote well, shaded beautifully and even cleaned out well. At $43 I just didn't experience that big of a difference over my current inventory. In the event I find it on deep discount or my Delamere hue gets discontinued I would consider the Bung Box but for now I will appreciate the opportunity for experiencing a great ink in a sample format. I will give it to Bung Box though for some of the coolest names in the ink biz though.
Are you a Bung Box fan?
Remember: Write something nice……
Thanks for stopping by and if you enjoyed this post I would love to send you an email every time I have a new post. Click Here to Subscribe
Click here for some great deals on pens and ink I have for sale