Urban Survival Gear. I think that is what I am, an urban survivor that consumes a lot of gear, ok HAS a lot of gear that is rarely needed for actual survival. A company called Urban Survival Gear has launched a Kickstarter campaign for the TiScribe-HL .
Kelvin, from USG, recently offered to send one over for me to try out and warned me there was nothing else like it in the world. I might be coloring that a little bit but I love a maker that is passionate and excited about their product. Having reviewed the TiScribe fountain pen about a year ago I remember being impressed with Kelvin's work and attention to detail so I welcomed the chance.
What came in the mail call was a bit of a surprise. The refill was a Mont Blanc Document Marker. Until I popped the cap off the refill I had no idea that "HL" in the name of the pen and Document Marker are synonymous with highlighter. It was a What The Heck! moment. In Kelvin's defense, and with a smile on my face, I agreed there wasn't another one like it the world.
The Pen
Material: Available in brass, copper and titanium my review sample is in a shiny brass
Length Capped 5 ½"
Length Uncapped 5 1/8"
Length Posted 5 5/8"
Diameter Body 3/8"
Diameter Cap 7/16"
Weight 39.2 g
Pricing: Pledges start at $41 for the brass version and at the time of this review that level was still available.
Packaging
Urban Survival Gear takes a minimal approach to the packaging. I like the thinking behind more money and effort put into the product. Kelvin uses the popular clear twist tube that serves the pen community well. This style packaging ships a lot of pens around the world safely and inexpensively. If you're short on room or you're just not a box saver no big worry dropping this one in the recycle bin.

What's In The Box
TiScribe-HL Pen Body and Cap
Mont Blanc Document Marker Refill (Available in green or yellow)
O-Ring (More on this later)Construction Fit & Finish
High quality was no surprise after my first TiScribe. The attention to detail is as good as any machined pen I have reviewed. I every time I used the pen the cap threads started easy with no squeals or roughness. I wish more machined pens took the time and focus that Kelvin and team have on the TiScribe-HL relative to body and cap threads. It doesn't affect the writing quality of the pen but when they are smooth and quiet the experience for me is just better. A+ here.
The O-ring threw me at first until I got a little rattle after installing the refill. I knew a detail this big was not overlooked and that's when it donned on me. Using the O-ring allows for any tiny manufacturing variances that may occur with the refills' length and insures a tight quiet fit. Great idea, well executed. My only suggestion would be a drawing or quick text of instructions for dummies like me.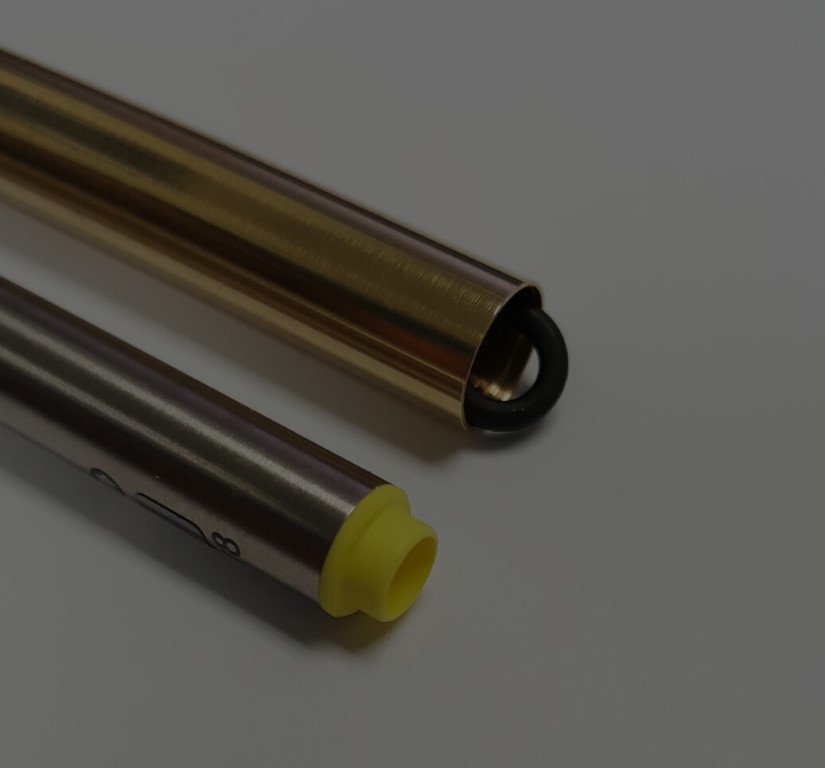 Overall Appearance
The brass is beautiful right from the start. Highly polished and smooth from the TiScribe factory. You can read mixed reviews on the patina that sets in with any brass or copper pen. It's really a personal preference that you have decided before purchasing a pen made from one of these materials. You know it's coming.
The accents on the HL include 4 grooves turned into the body of the pen at the normal grip section. They look nice and provide a good reference point for your fingers in the event you grab the pen while multi-tasking or your eyes are glued to text.
The tail of the pen is nicely tapered and near the tail are two black O-rings set into the body. I like the aesthetic appeal of the black but these mostly are functional to allow a grip of the cap when posting.
Another O-ring near the writing tip and a nice rounded taper going down to the yellow wedge tip of the refill.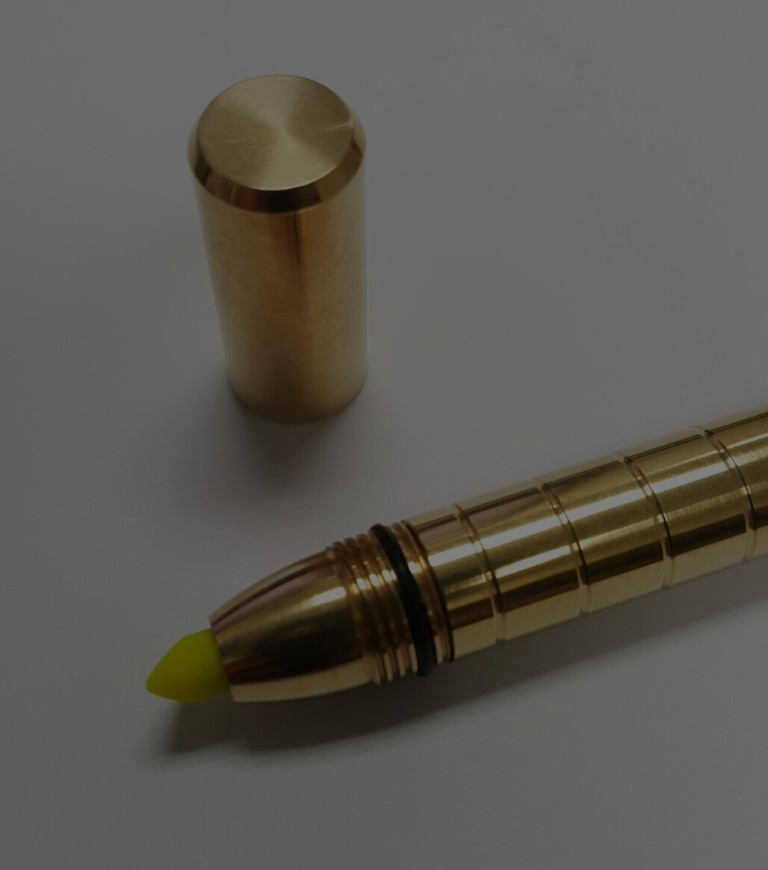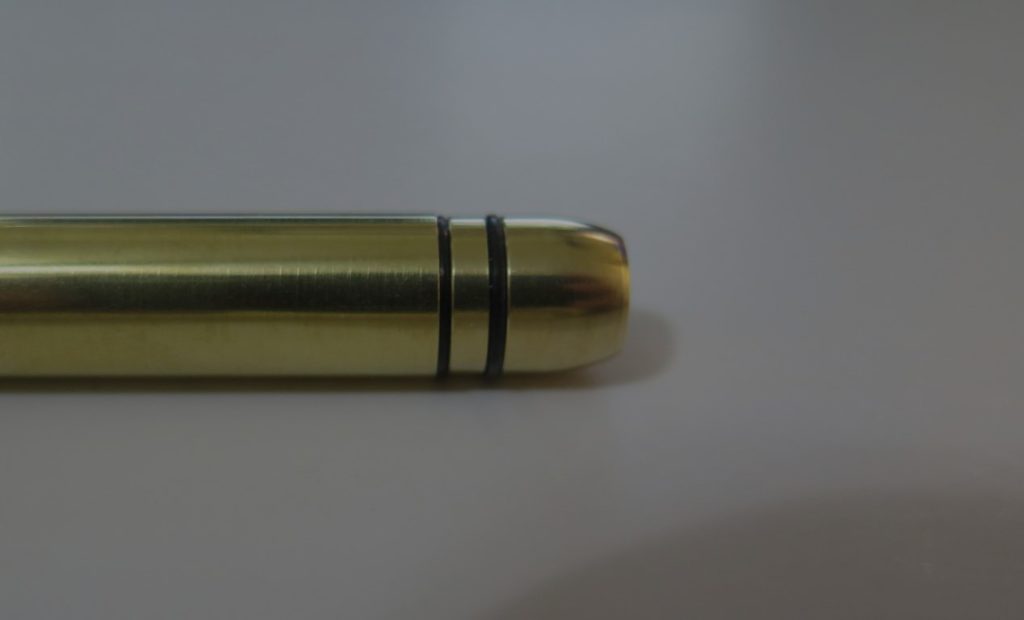 Ergonomics
I'm not sure ergonomics is a stringent requirement for a highlighter but the TiScribe has no drawbacks here either way. Length is good, the four rings grooved into the body near where your fingers rest give a good indicator grip and the diameter of the pen comfortable. With the short cap the threads are close enough to the writing tip that your grip hand will probably never be bothered by them.
Cap
The cap is small, about 15/16″ in lenght and slighter larger diameter than the pen body. The very top is chamfered both for aesthetics and comfort I suspect. Threads are wonderful as described above and an O-rings mates the cap to the body to prevent any premature drying out of the refill.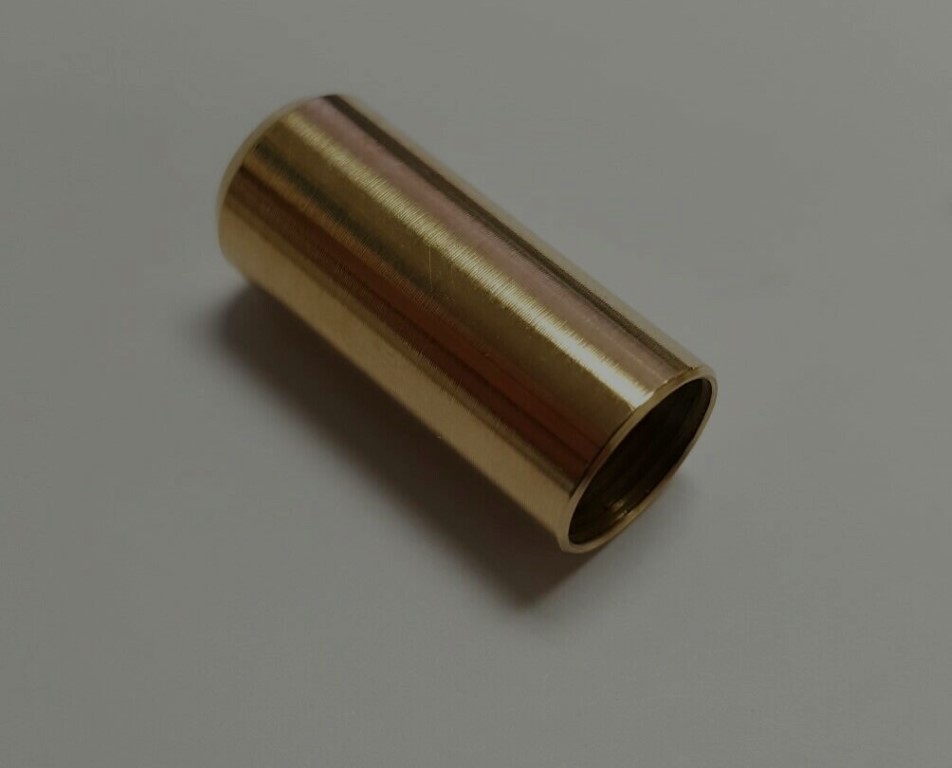 Clip
My review sample came as a no clip option.  A clip is available (+$10), as well as a magnet installed in the tip of the cap (+$5) as a retention option.  I have the magnet concept on another pen and it's actually quite handy. That would probably be my choice and retain the clean lines of clipless.
Refill
I have never used a Mont Blanc Document Marker. I have not reviewed a lot of highlighters to compare it with but thus far my limited experience says USG has made a good choice with the Mont Blanc. It's wet and goes down thick, a trait I like in my fountain pens, so I welcome it. The color is vivid and dried quickly on the sample paper I tried. Winner in my book.
Conclusion
I don't use highlighters a lot. Mainly because I find mainstream versions ugly and low on character. Coming from true pen nerd having nothing to do with highlighting text. I have a cool one now so I suspect I will be highlighting more than I have in the past.
If you are a highlighter and reading this blog you're likely a pen nut so a TiScribe-HL may be eligible for your next pen spend. I can almost guarantee you there is not a cooler, or better quality highlighter out there. There is still time to get in on the Kickstarter. An added bonus is pricing is on the lower end of the machined pen spectrum.
Remember:   Write something nice……  (and highlight it!)

Thanks for stopping by and if you enjoyed this post I would love to send you an email every time I have a new post. Click Here to Subscribe
Click here for some great deals on pens and ink I have for sale