I am in a comfort zone with paper. I have my brands that I like but I'm always open to try new things. Cognitive Surplus is a company that offers recycled paper journals in some really cool covers and 4 different configurations. Besides being a unique name I had not heard of them before as a force in the paper or journal space. I'm glad they found me. They were kind enough to send over a couple of their journals for me to try out. A Hypothesis and an Experiment. I love the names and they offer two other variants as well called Test and Theory. See the whole line here.
I hope you'll stay a minute and read about my experience with these two.
Both of my review samples are slight variations of the A5 size. The hard cover is a little bigger than the paper itself and the soft cover is flush with the paper measuring in at 6 ¾" x 8 7/8".
The soft cover Experiment is 112 pages coming out to ¼" thick and the hardcover Hypothesis with 192 pages pushes out to 5/8" thick.
Price
$18.95 Hard cover Hypothesis
$10.95 Soft cover Experiment
Covers
I'm not a flashy guy and typically I don't buy printed cover journals but I'm glad the Cognitive Surplus team jolted my norm a little bit. They have a big selection of attractive covers with a wide appeal that does not really cater specifically to a masculine or feminine style. I would have a hard time selecting just one from their selection but I will admit to an affinity to bicycles from fond memories of my youth. Nice catch here. My other cover was Crustaceans & Echinoderms with an ocean theme in a pleasant greenish blue tone. They don't do plain and now that I have carried the Bicycle version around for a couple of days I recall some comments from others about me stepping up my fashion game a bit. Although if you've seen my wardrobe you would have doubts, but a cool looking journal can't hurt.
Construction, fit and finish are excellent and I tested the advertised waterproofness on the hard cover Hypothesis. The small puddle of water I put on the cover and let sit for a minute or two wiped right off with no trace.
The Hypothesis is a classic book bound style. It's promoted as lay flat and it lays as flat as any similarly bound journal that I have used. Don't expect spiral notebook type lay flat with any of them.
The Experiment soft cover model is 4 groups of pages folded over then those groups looked to be glued together. This type of binding construction helps it lay flatter I'm sure. You also get a little slimmer and lighter weight journal with the soft cover if space and carry weight is a consideration.
Cool covers are nice but the paper is where any journal has to deliver for me. I like purchasing recycled products in multiple consumer product categories but writing on recycled paper usually is not pleasant with anything wetter than a ball point.
Cognitive Surplus says their product is fountain pen friendly and I would agree. They suggest, with printing on the vertical belly band packaging, For best results use a small to medium tip fountain pen. That's a good suggestion but by no means a requirement. You can see in my writing sample everything worked very well. The only ghosting I got was from my fire hose writing broad Faber-Castell Ondoro. Some thicker paper has fallen victim to it before so I will give kudos to Cognitive Surplus for their 80 GSM choice. Common with recycled paper is the off-white color. No surprises here and the tone is pleasant enough.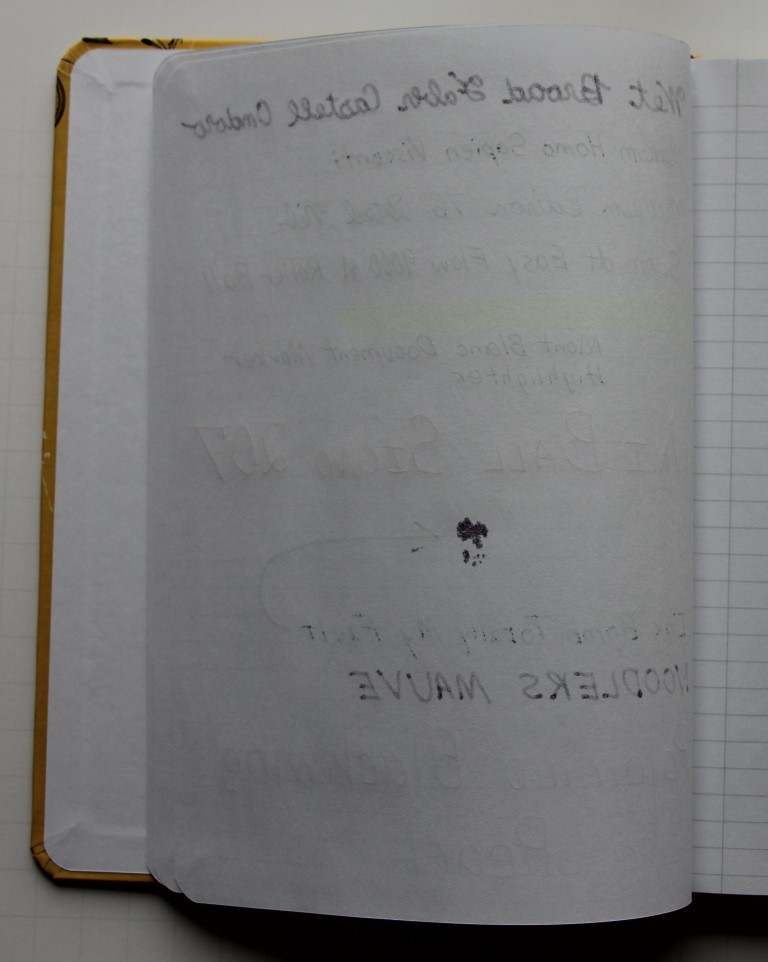 An additional feature of the paper is it's FSC-Certified. The (FSC) Forest Stewardship Council is an organization that promotes and educates in the area of maintaining sustainable forestry. There are different levels of certifications within the FSC and I applaud Cognitive Surplus for their environmental contribution.
My review samples came with college ruling with 9/32" spacing. The line printing is consistent all the way to the edges and they looks like a medium shade of a forest green. It's pleasing to the eye and well defined. The Experiment is lined on the front and the back. The option I tried on the Hypothesis is lined on the right, blank on the left.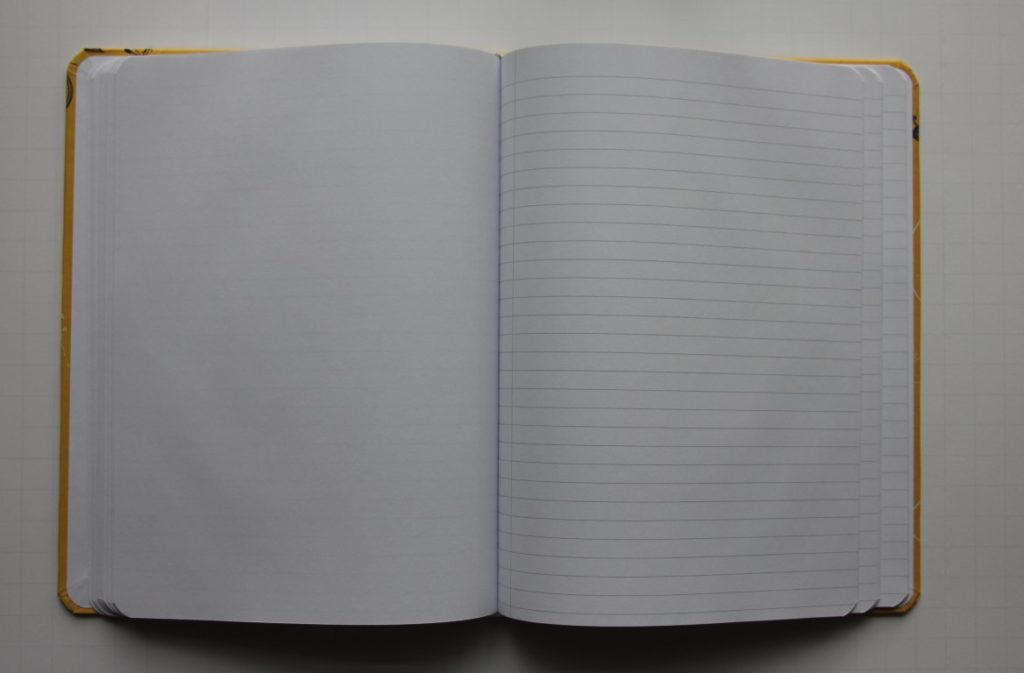 Writing
Cognitive Surplus has done their research and produced the best recycled paper I have ever written on. The paper they have chosen has texture and you can feel it when you write, not nib drag or friction but a tactical feel that's different from some of the popular brands' coated paper. I liked it, coated paper is nice for its slickness and near impenetrability but drying time almost always suffers. The drying time for the Hypothesis and Experiment, with no smudging, was at 15 seconds. I have waited minutes for coated paper.
Conclusion
Thank you Cognitive Surplus for sending me out of my comfort zone with a splash of color in a quality journal. If environmental support is a passion for you I don't think you'll do any better with a recycled paper product that these. If the recycled thing is not a hot button for you I would still encourage you to give these a try. A quality product, at a fair price, with a wide array of cover choices and just enough customization on the inside to help you work like you want to.
Thanks again to Cognitive Surplus, I am still enjoying my time with the Hypothesis and Experiment.
Remember: Write something nice……
Thanks for stopping by and if you enjoyed this post I would love to send you an email every time I have a new post. Click Here to Subscribe