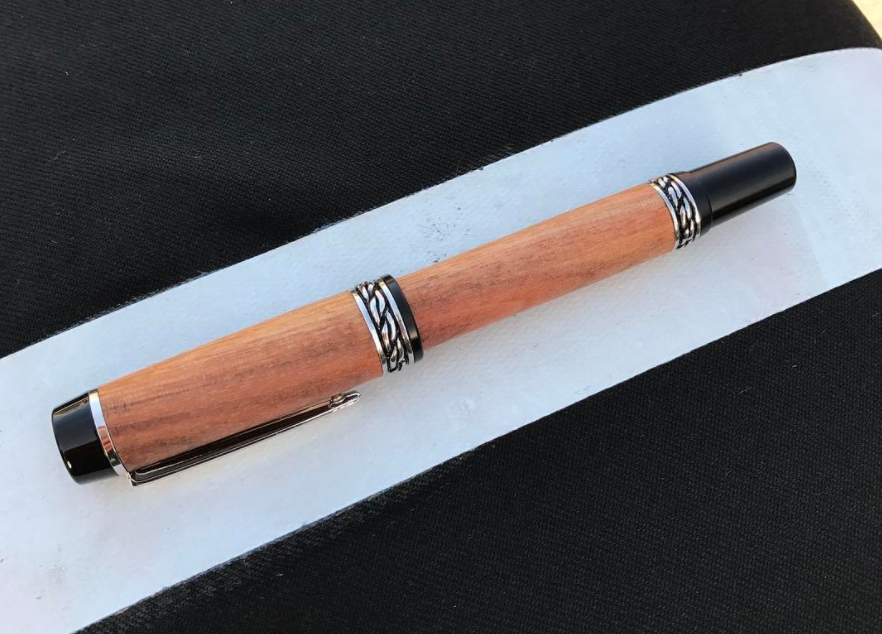 I like to make things and I like pens. Several years ago when I was spending more time in the woodshop I made some simple ballpoint pens for family members' gifts. They came out good, though somewhat plain and the Cross style refill wasn't to my preference.
Since then I kept looking at that wood lathe over in the corner and kept thinking I needed to make a fountain pen. So just before Christmas I received the new Penn State Industries catalog and decided to give one of their fountain pen kits a try. Penn State Industries is a popular supplier for hobbyist that cover the arts and craft scene with handmade pens to sell. The ordering process is dizzying with all the choices, pen mechanisms, finishes, tools, supplies and a huge host of pen body materials to choose from. Plus it doesn't stop at pens, the same concept of turning raw material will let you make wine stoppers, ice cream scoops, razor handles and other gifty ideas.
The model I landed on was the Olympian at about $13. The hardware I received was a mixed bag of plastic parts and metal parts. The metal parts being substantial enough to give the final product a sense of quality. It came with a converter, an ink cartridge and what Penn State calls a German made nib. I needed a few other tools like drill bits and such so my total tab for this project was a bit more than the pen kit.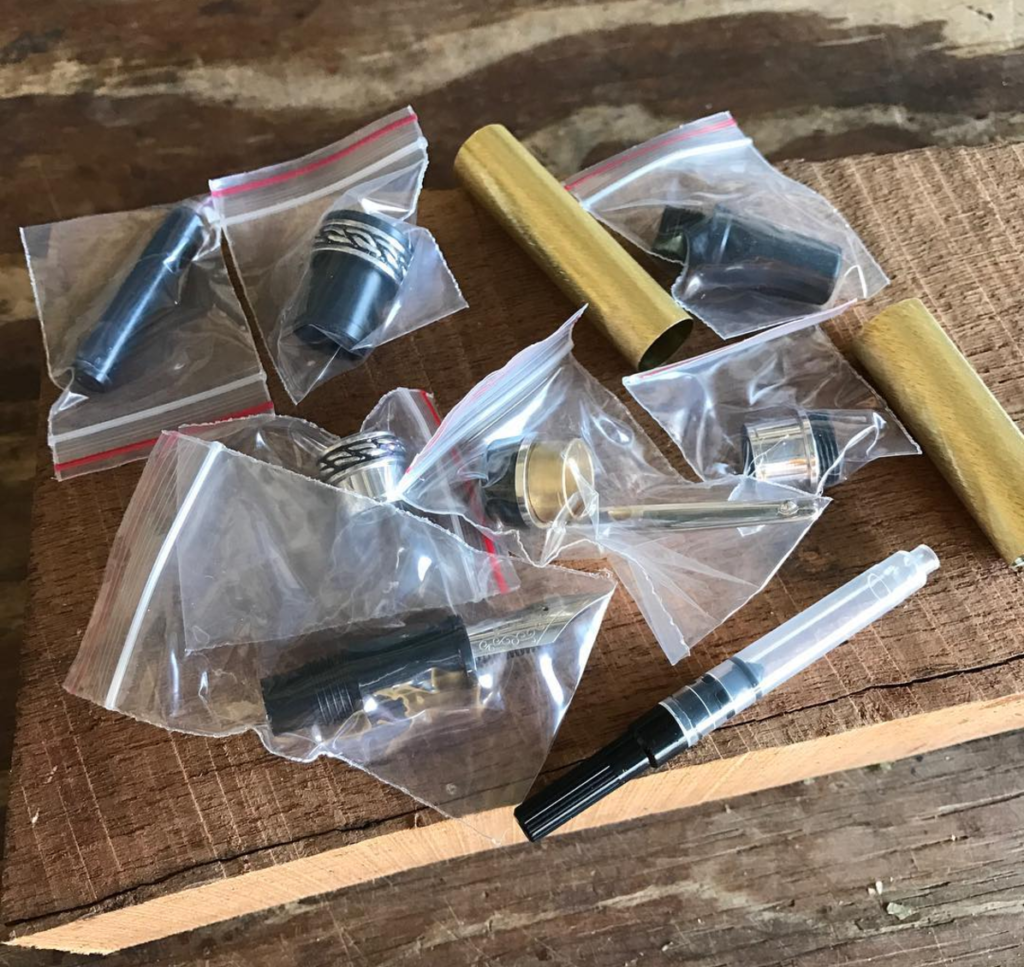 For my project the pen body was harvested from some 100+ year old barn wood from a family member's homestead. We made some other keepsakes for the family member out of the same wood and we had a piece left over that was big enough for my fountain pen project.
You start by cutting the body material down to size. You need two pieces in the correct length for the brass tubes provided in the kit. One for the pen body and one for the cap. Drill bits are a very precise size. I chose to pick them up with the pen kit and I doubt I will ever need to replace them, or need them for anything else other than making more pens.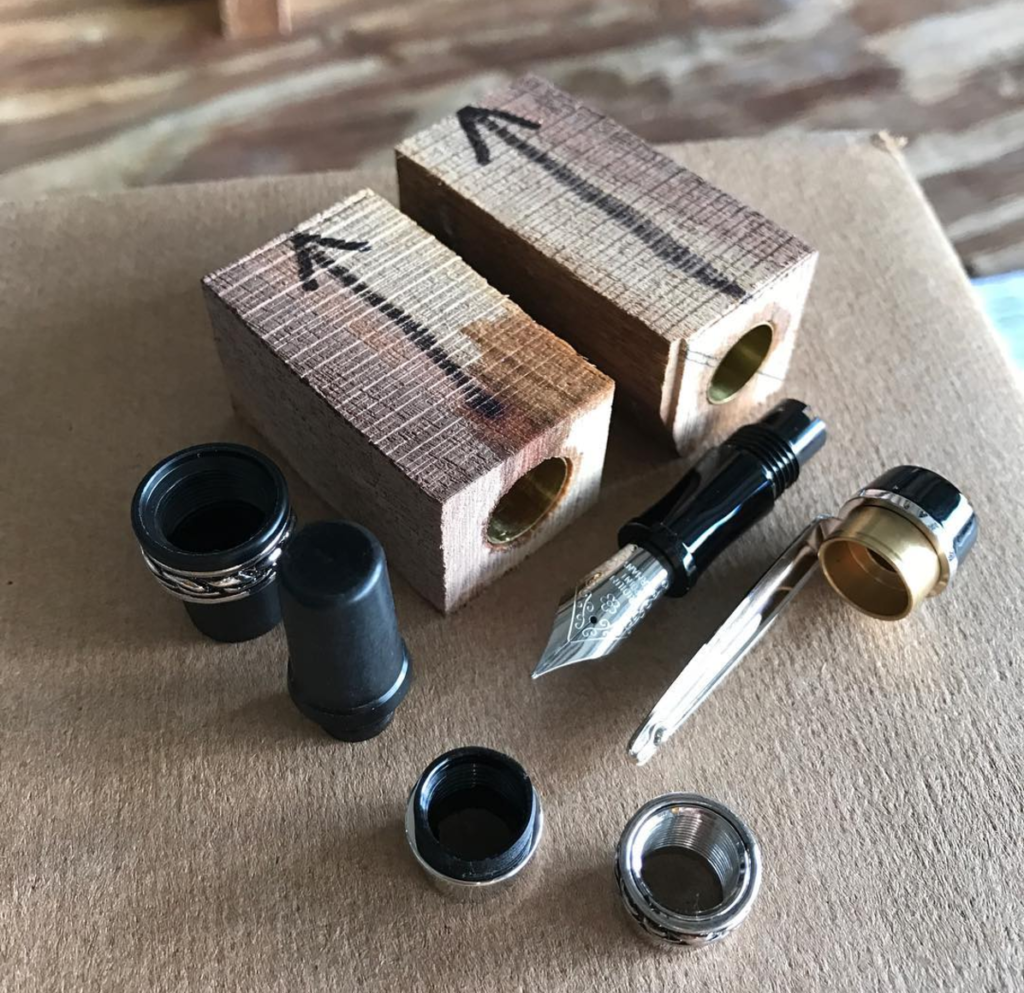 Next you mount the two pieces on a mandrel and load them on the lathe to begin the turning process with sharp chisels. You turn the 2 pieces down to near the diameter of the size bushings and then sand them progressively finer to reach the final size. I went down to 800 grit because that is the finest grit I had on hand.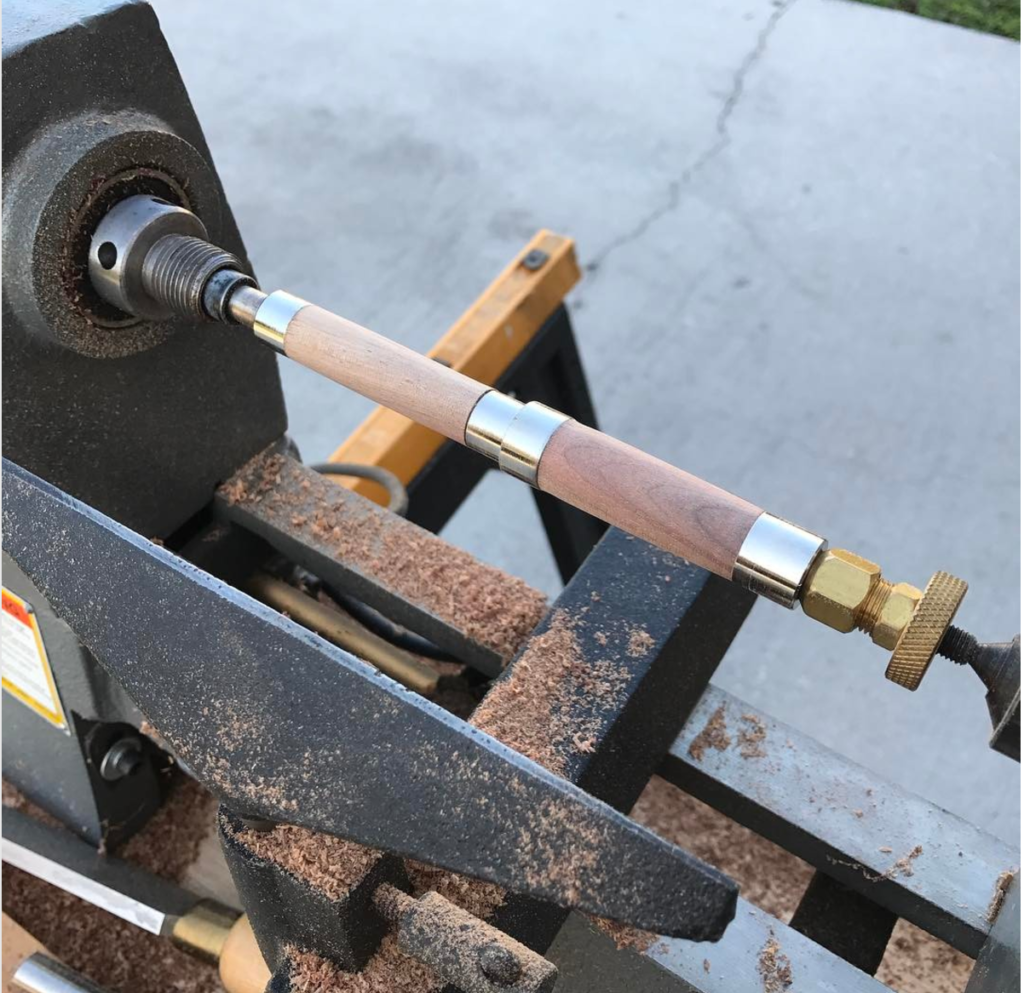 Finishing of the wood can become a whole science in itself. I took an easy route using CA (super glue) and some automotive wax. The finish is warm wood without a lot of flash or luster. Your preferences may vary.
You need a lathe, some drill bits and a few other tools. I bought a small light duty cheapie lathe. For writing pens and the volume I plan to do this will work fine. I'm sure someone could get crafty with a drill press but either way you'll need some tools.
The price of entry is not conducive to making a single pen. A Pilot Metropolitan is a far greater value if you look at the pure economics.
The nib appears to be decent quality. I cannot confirm a German descent but I have no reason to believe it's not. I was disappointed in the dryness of the nib when I inked it up for the first time. I suspect, as with some other inexpensive pens, nib performance may be hit or miss. Mine needs some tuning, and yes I will probably spend more than I paid for the pen to have it tuned. Everybody does that right? What's more disappointing to me is if I were going to give this as a gift to a non-pen person I don't think they would enjoy the writing experience and that might persuade them to avoid fountain pens in the future. I don't know what the solution is though when marketing a $13 kit.
With glue up and finish drying time I have about an hour invested. I like the final product. I think with practice using the chisels I could give the body more character. The cap threads are plastic but smooth. You will not mistake this pen for a Mont Blanc but even precious resin can't match the warmth of a family member's 100 year old homestead barn.
This was a fun exercise. I have another kit but no body material in mind. Have you ever tried it?
Remember: Write something nice……
Thanks for stopping by and if you enjoyed this post I would love to send you an email every time I have a new post. Click Here to Subscribe
Click here for some great deals on pens and ink I have for sale