I had a great show in Atlanta this year and though I didn't really have a budget to spend going in I did have a well thought out list of things to see. I saw most of them and changed my mind on quite a few. They just didn't speak to me and I don't buy stuff for the sake of ownership and checking off a list. In the end I am happy with my haul.
My social acumen was better this year. I know a lot of people talk about this phenomenon, or borderline fear, but I have never had one bad experience interacting with other pen people at shows. Granted not every conversation takes off into an all night gab fast but we're all different. I'm hoping I continue to mature in this area with the more shows I'm able to attend. This year I met some new friends and connected with others I only get to see in person at pen shows.  I was very fortunate to score a late Saturday spot for nib work by the great Mark Bacas @nibgrinder.  He does incredible work and I have a better writer because of it. Thanks Mark as always.  My only regret from the whole show is missing my good friend @gentlemenstationer. We were even in the same room together, how do we do this GS?. The loss was mine.
Below is my haul from a couple of hours on Friday and a full day on Saturday. I missed Sunday due to travel home but my wallet protested when I tried to delay departure and sneak one more round of the show floor in.  I plan to do full reviews of a some of these new treasures in the future but until then here are my first impressions: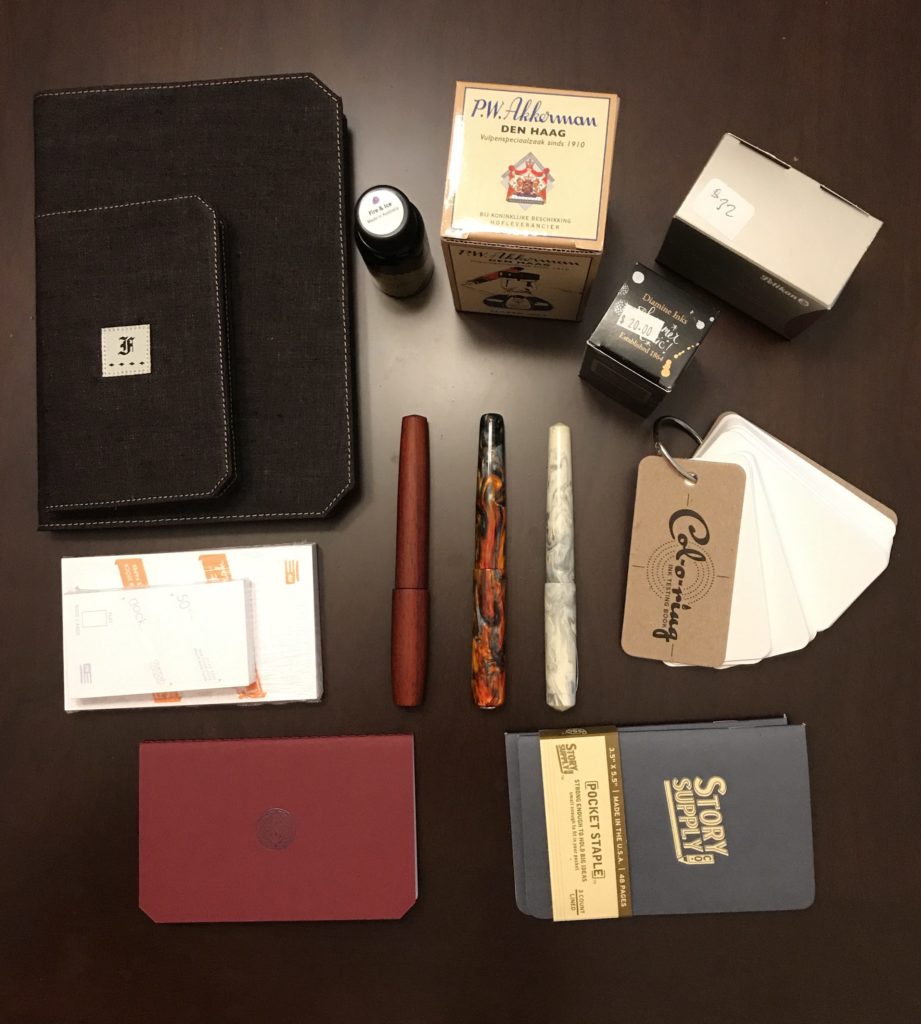 Franklin-Christoph Notebook Covers – Starting at the top left I picked up two fabric notebook holders from Franklin Christoph. Always love their stuff and these are a nice break for me from my usual leather products. I got the pocket notebook cover and an A5 journal cover, both in Linen Brown Fabric. Also got a set of the pocket notebooks and the A5 notebook itself has a nice cover that might be a shame to cover up.
Robert Oster Fire & Ice – This is my first Robert Oster ink and I had a bit of FOMO when I saw a bottle of it. I like the blue hue and with the broad nib on the right paper the ICE portion does pop out.
Akkermann # 28 Green Ink – I have a green ink l really like but Brad and Mike talk about #28 so much that I had to try it.   This does rank as the prettiest ink bottle I have ever seen though. I so much want to put it on display.
Pelikan Edelstein Smoky Quartz – Late last year I sold my one partial bottle of brown ink, Caran D' Ache Grand Canyon.  I loved the color but the small bottle made it such a pain to refill the larger size pens that I prefer.  I never replaced it so I set out at this show to get another brown ink. The Pelikan Edelstein Smoky Quartz landed in show bag. In hindsight I think I was more enamored with it's status as ink of the year and there was probably something else that would have worked for less money.  Lesson learned but it's still a very nice color and well behaved ink.
Diamine Cocoa Shimmer – I have a lot of Diamine ink and the brand has never disappointed me so I had to get their version of the glittery en-sparkled ink.  Andersons Pens had a good selection and I landed on the Cocoa Shimmer. It needs the right paper to really see it's shimmer but when you do it's really something. I have read different reports on what this glittery stuff will do to your pen but I will watch it closely and flush soon just in case.
Col-O-Ring – I have tracked my ink samples on index cards for several years now. I always knew the big box stores' index cards would not perfectly depict the ink color but it has worked for comparing two similar shades.  The Col-O-Ring is a bunch of small very fountain pen friendly cards held together with a ring. I've only been back from Atlanta for a couple of days and I have had a lot of fun opening up all my inks and spilling big blotches on Ana's creation. Ana Reichert of Well Appointed Desk may not have invented the idea but she did perfect it with her version.
Story Supply Pocket Notebooks – I love love love what Vito and Gabe are doing with their company, giving back to kids. Read about their goals here.  I'm always on the hunt for new pocket notebooks with fountain pen friendly paper. My quick test filling up a page says these are a home run.
Nock Co Dot Dash cards – I originally bought some of the Dot Dash index size cards to really support Nock. With the pack sitting on my desk I found myself using them for more and more little tasks until now I'm hooked on them.  I got a refill of the 3 x 5 size and picked up the new business card petite size.  I plan to use the business card size for making notes to put in the boxes of stuff I buy that shows when, where and how much for the item.
Ryan Krusac Legend #16 Fountain Pen – I wanted an all wood pen and I got a beautiful all wood pen. Ryan's a cool guy, a talented artist and was a joy to talk with and deal with. He has several models in a variety of wood species. I liked the 16 mm diameter version of his new Legend series.  He has a slightly smaller 14 mm diameter model as well.
Kanilea Pen Company – In a short couple of years Hugh and Carol have really made an impact on the custom pen market and our community.  Their designs, company focus, packaging, conversational exchanges and everything about them carries a Hawaiian vibe.  This was a purchase I was on the fence on, for me the price of entry was stiff for an unknown brand, again, unknown to me. I read many positive reviews on their product and everyone said go see it in person.  I went to see them as my first stop when I got to the show on Friday. Hoping for the best  selection.  I can confirm the best photography cannot prepare you for what you experience in person. Within 30 seconds I fell off the aforementioned fence and knew I was going home with one. The harder part was picking which one.  Especially as they sold two others while I was standing there!  The model that took me awhile to decide on was the Kilauea.  It's a stunning orange, grey and red swirls. Everyone I have show in to loves it and by mid Saturday all the Kilaueas they brought had been sold. I scored!
Carolina Pen Company – The now famous Jonathon Brooks @brooks_803 creates some of the most beautiful and creative use of color in resin pen blanks available today. So much so that several other custom pen manufacturers use the blank resins that Jonathon makes. He is also a very accomplished pen maker himself. I got a Charleston model fountain pen in a beautiful off-white color with some grey swirls and gold specks that you can see when you spin the pen. A very interesting finish. Jonathon also gets credit for the best line at the whole show "I own lots of women's makeup".  It brought the house down at the live Pen Addict podcasts.  He was referring to how he gets much of the color into his pen blank creations but you can imagine the context of the comment.
Wrap up
I brought home more than I expected to. I will need a better plan for DC or restrict my visit to fly in grab what I can in 15 minutes, hug Brad and leave.  I already look forward to next year and I might even do the weekend trader pass!  If you have a show in your area or have the means to get to one I encourage you to make all efforts to go. If you're not a big social person that's ok, you WILL still enjoy the show. If you like chatting with other pen nerds, count on learning something and gaining new friends in this wonderful community.
The links above are for reference only. I tried to link to the product and dealer that I bought from at the show. I would purchase from all of them again but there is no affiliation other than that. Pricing should not be assumed the lowest available.
Remember: Write something nice……
Thanks for stopping by and if you enjoyed this post I would love to send you an email every time I have a new post. Click Here to Subscribe
Click here for some great deals on pens and ink I have for sale