Readers of my little space in the blogoshpere probably don't come here for ink reviews.  My few ink reviews are few words. I like this ink, I don't like this ink is about the extent of it. I know there are many more properties to an ink that are important to a lot of people and I have some really esteemed colleagues that write about them and give a lot back to our community in that area. I'm publicly thanking you Inkdependence :). Today I'm typing out one of those short ink posts as I begin working on reviews of some of the treasures I picked up at the Atlanta Pen Show.
I have been intrigued throughout the past year with some of the boutique multi colored inks that sheen and shine different colors or shimmers of gold. The most talked about was probably J. Herbin's 1670 Emerald of Chivor, though I learned researching for this post that they have a whole line in that series including Rouge Hematite, Bleu Ocean, Stormy Grey and Caroube de Chypre that sit alongside Emerald of Chivor.
I like all the J. Herbin inks I have tried but I seem to have an affinity for Diamine inks, mainly because of their color selection. I've never had a bad experience with ink, or at least any that could be attributed specifically to the ink.  After trying at least one bottle of all the major brands, and yes I paid $32 for Edelstein Smoky Quartz (uuugggh!), my staple inks will probably remain Diamine.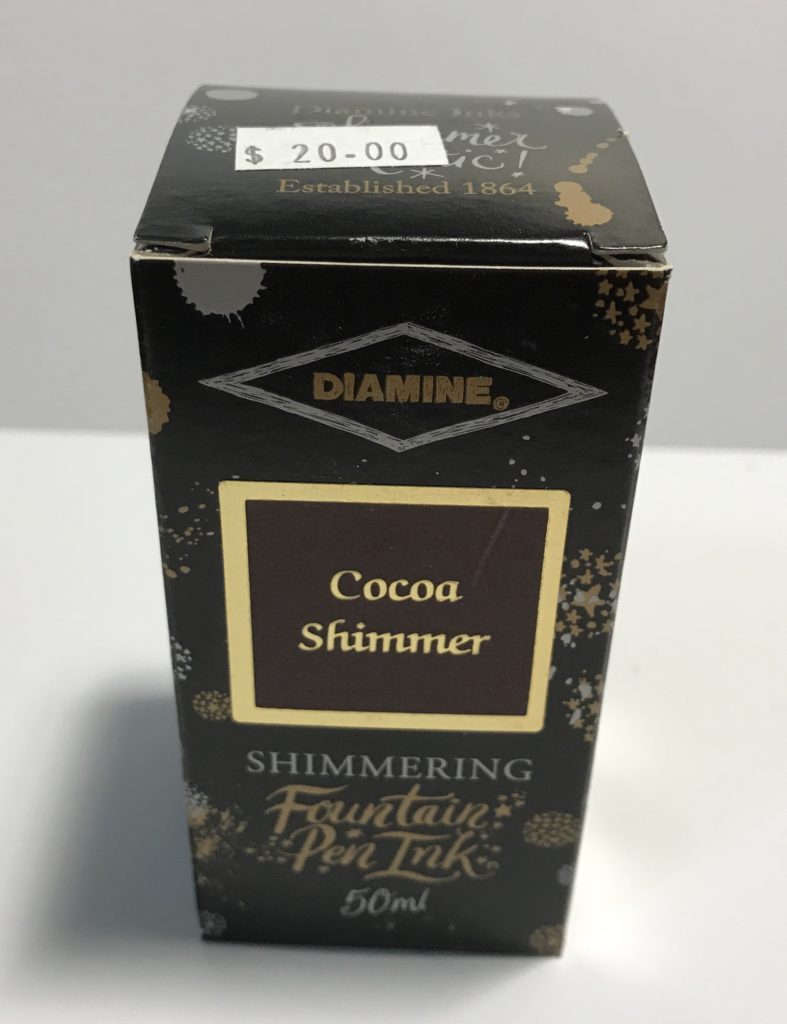 Diamine jumped into the game with their shimmer inks a little while back with what they call their shimmertastic colors. Being the Diamine fan and not being able to find a bottle of Emerald Chivor at the show I picked up a bottle of  Diamine Cocoa Shimmer from the Andersons. The Cocoa is a brownish burgundy with prominent flakes of gold showing through. There is some feedback online that says the gold flakes could cause a bit more gunking problems with the pen feeds but I didn't find proof in any review so I'm not sure if that is speculation or if there is evidence of it happening. I have not experienced that yet but I've only been a user for a couple of weeks now and I'm a well disciplined pen hygienist so I'm not too worried.
First thing I noticed is all the gold flakes resting at the bottom of the bottle: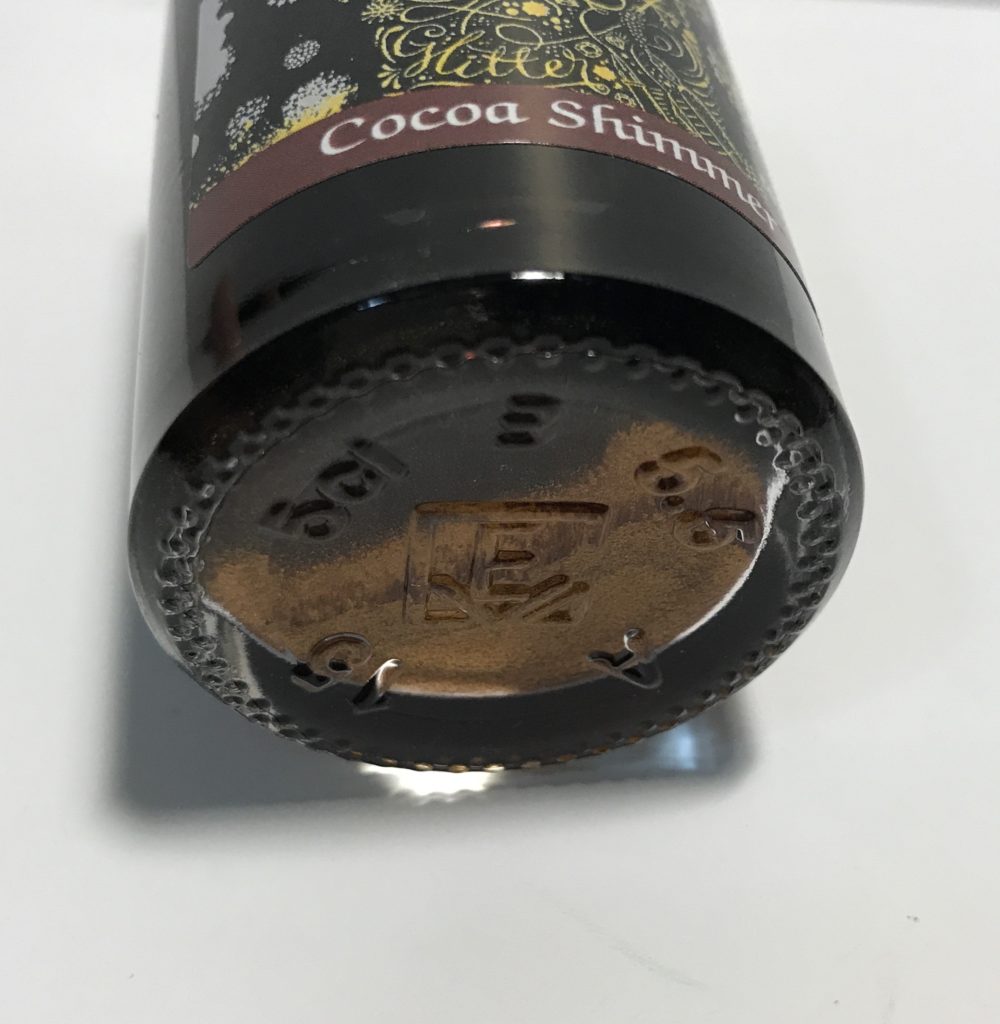 I have read about this and yielded to the tip of shaking the bottle well to disperse the flakes throughout the ink so some of it gets into the pen.  I suspect these heavier flakes would be some of the basis for the gunking concern since they are particles that have a tendency to separate themselves from the liquid part of the ink.  I'm watching it closely in my pen.
Here's the bottom of the bottle after shaken and dispersed: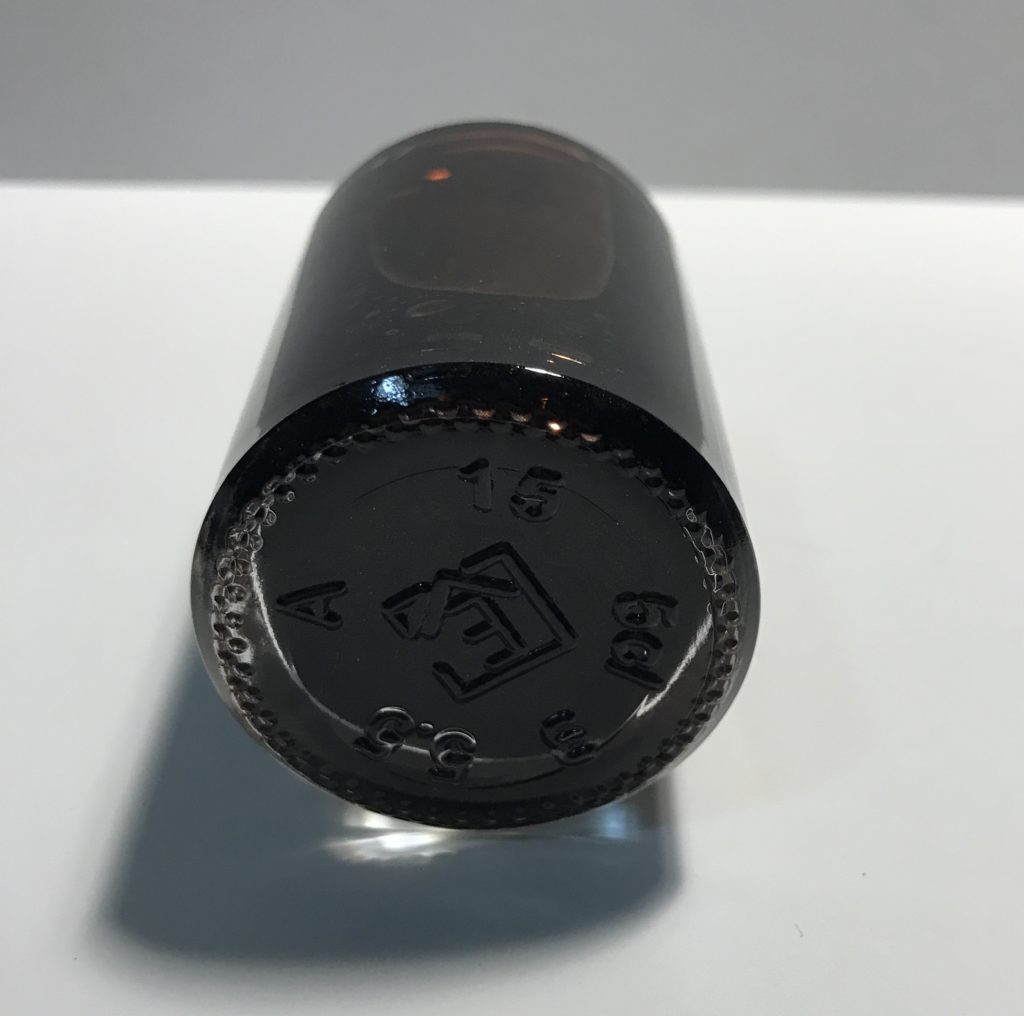 I inked up my Ryan Krusac Legend with a full fill and I've enjoyed seeing the gold show through on almost anything I write on.  This is not a big shading ink despite the wide wet nib I was using but the character REALLY comes out with the gold flakes and especially when you move the paper around to let the light hit it differently. I also did not experience any more feathering or bleed through than normal. Overall a well behaved ink that gives me something more than just a new color shade. I'm enjoying it. Here are the samples I did: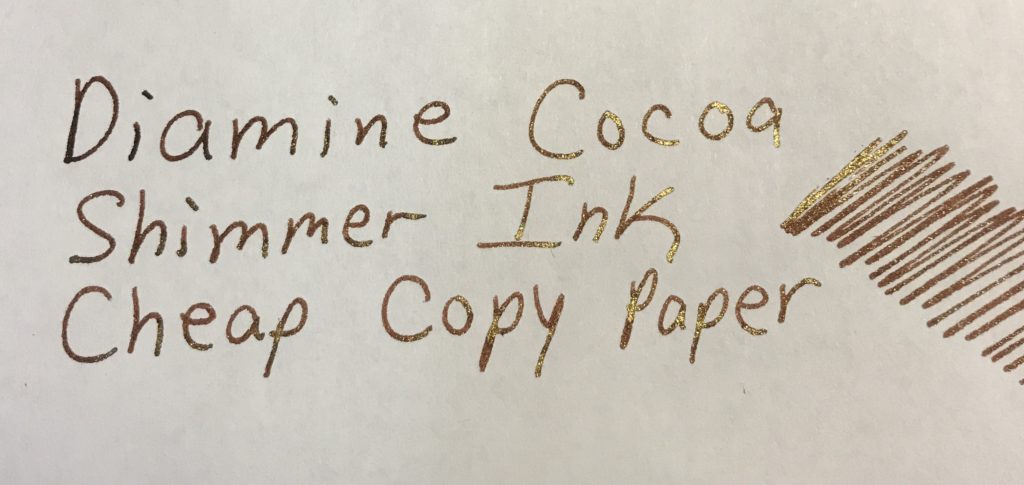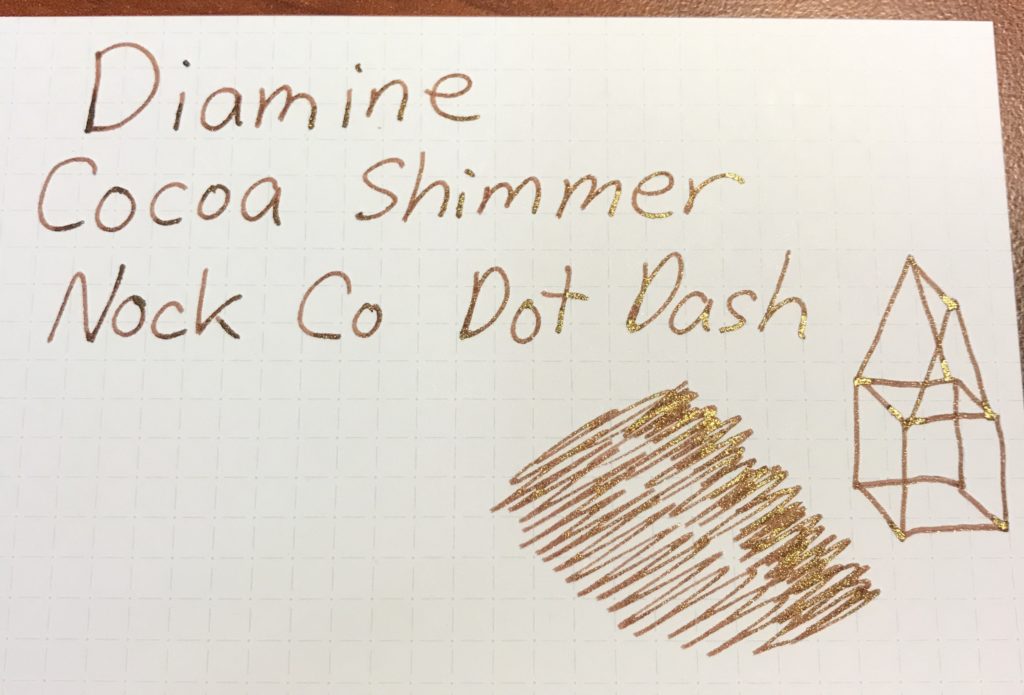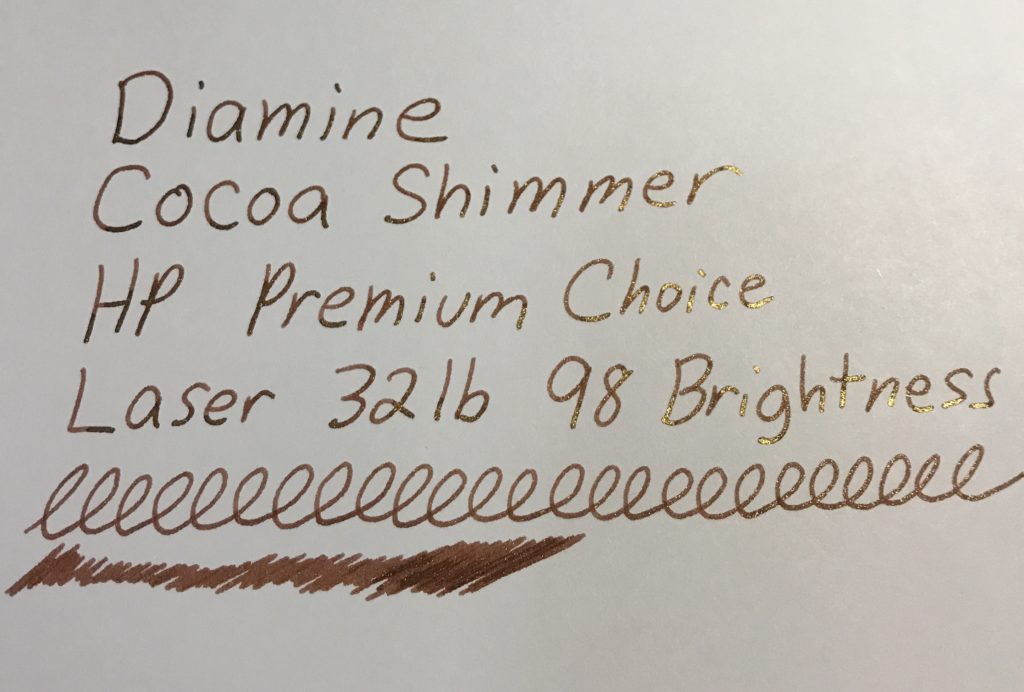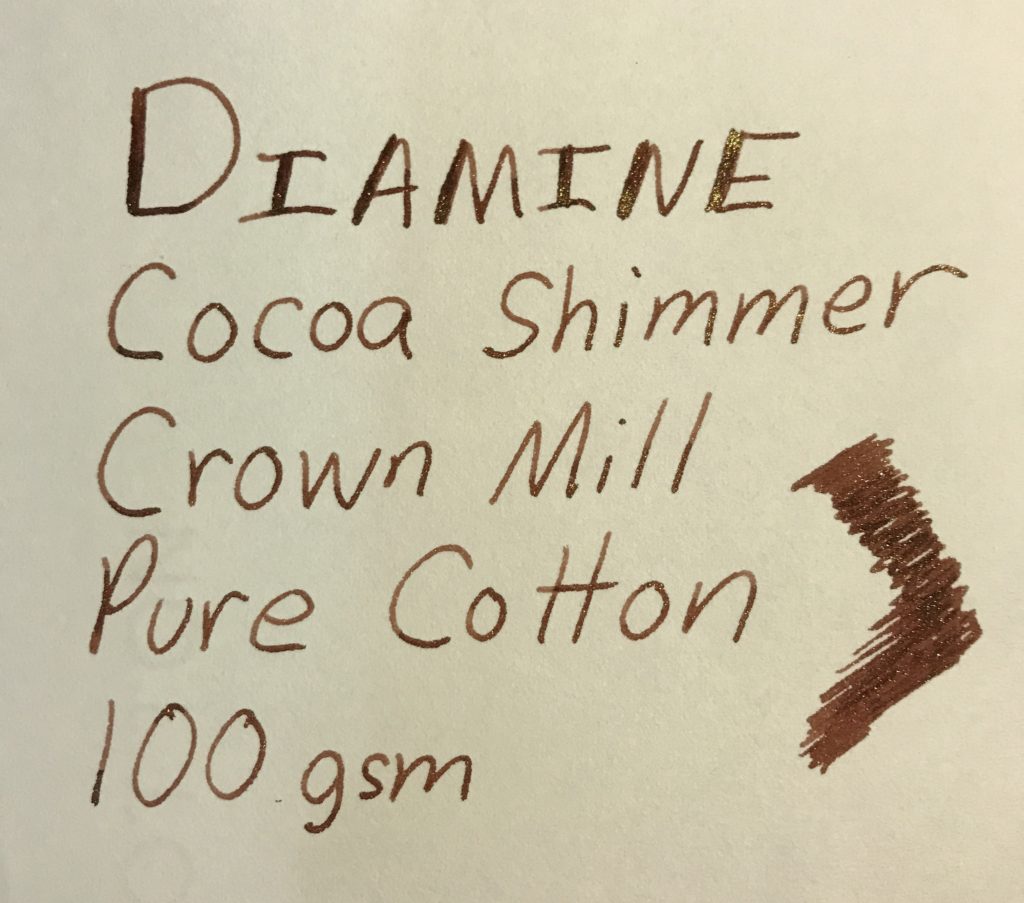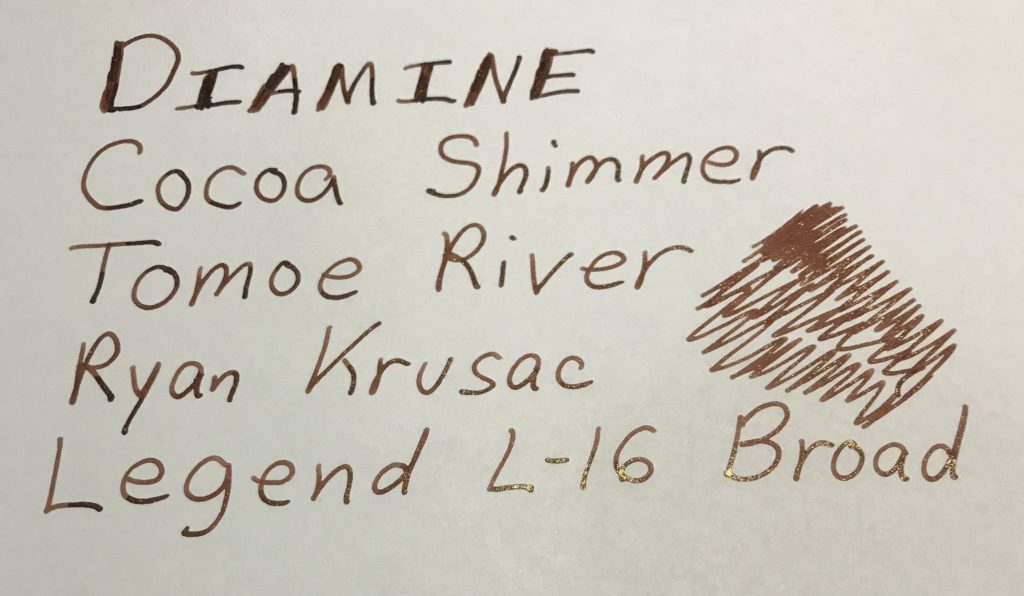 For my next purchase I may try J.Herbin's entry with the Purple Pizzazz. I'm a deep bright purple ink kind of guy so that one intrigues me. Until then I need to write more and enjoy all this ink.
What about you?  Any shimmering, glittery inks in your collection?
Remember: Write something nice……
Thanks for stopping by and if you enjoyed this post I would love to send you an email every time I have a new post. Click Here to Subscribe
Click here for some great deals on pens and ink I have for sale