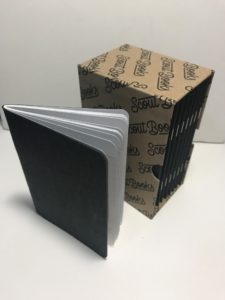 I have begun to use more and more pocket notebooks. I have taken on a fundamental shift is my use pattern. For several years I held a strict discipline of a single notebook dedicated to my To Do List. Most of these tasks are personal in nature and I rarely have to refer back to them after I cross them off. This strict discipline frequently left me scrambling to look for a piece of paper to leave a note on somebody's car or at their door even if I had my pocket To Do list notebook with me. The logical sensible thing to do was just tear a page out of that and BAM there was the paper I needed.
I tried carrying two notebooks for a very short while. One for my formal to do list and the other one for everything else. That didn't work so I'm getting better at using my notebook for what it is. A bunch of blank paper stapled together to write on. If I need a quick list for shopping at the home center, I got it covered, missed mom at home and need to leave her a note, I got it covered. And I don't carry anymore stuff than I have to. How hard is this right? The only drawback is I go through notebooks faster. I was going through the same amount of paper just not a single notebook as fast. This is a better system by far.
My increased usage had me doing a little shopping recently to see if there was a brand in the marketplace that I was overlooking. Fountain pens get the most use from me and most of those have a fat wet broad nib so wide lines and good paper are a must. Rowan over at Scout Books was kind enough to send me some of their notebooks to try out. A great experience and a great product.
Price: $24.95 pack of 10
Size: 3 ½" x 5" Is there a standard pocket notebook size anymore?
Lots of stock colors available
Paper: 32 white pages of 70# recycled paper. Hold on though don't worry about the sometimes feared R word
Available with lined, blank or dot grid paper
Line Spacing: ¼" or 6.5 mm
Lines: Faint gray dots give a good lined page effect
Construction Fit & Finish – I was very pleased with the Scout Books and how well they are constructed. Folds were straight, printing was consistent and the edges were crisp. They are two staple affairs and all in fine order with the binding. The slip case for 10 books was sturdy enough without be overbuilt and taking away from the money invested in making the notebooks.
Cover – Scout Books offer many different fun styles of covers, the one I spent time with for this review is an all black variant. They carry several cool print patterns and also offer a custom line where you can use your own artwork and have it transferred to the covers using silkscreen, letter press, painting or stamping. Stock offerings come in packages of 10 with a nice slip cover. Custom orders require a larger quanity purchase.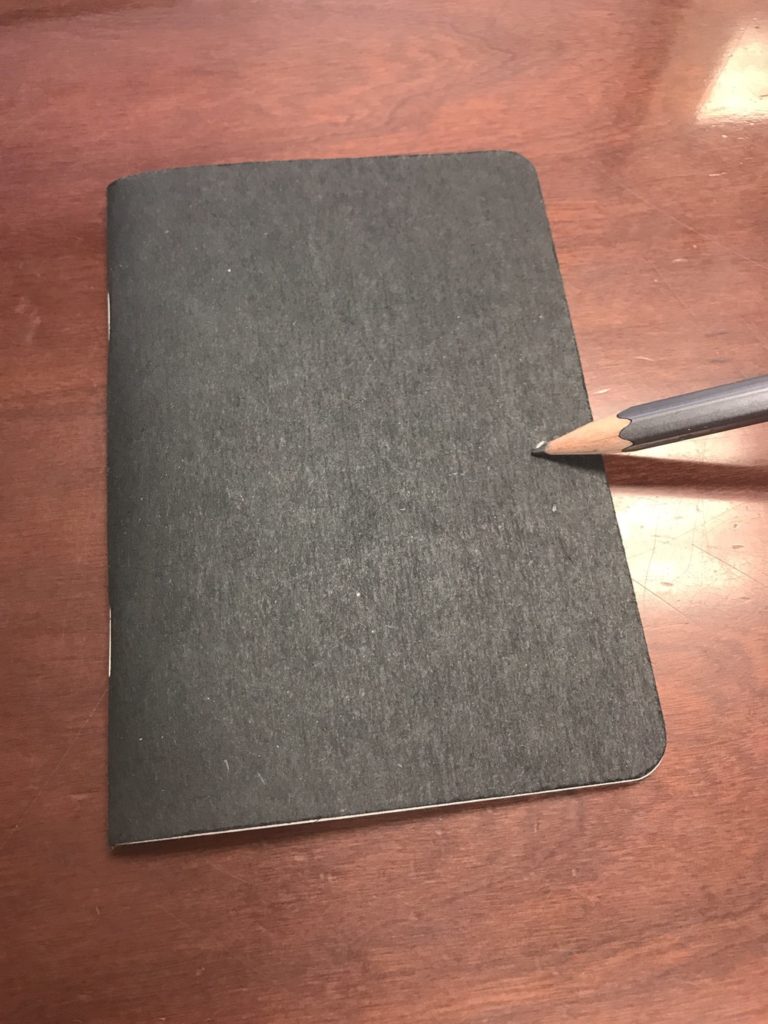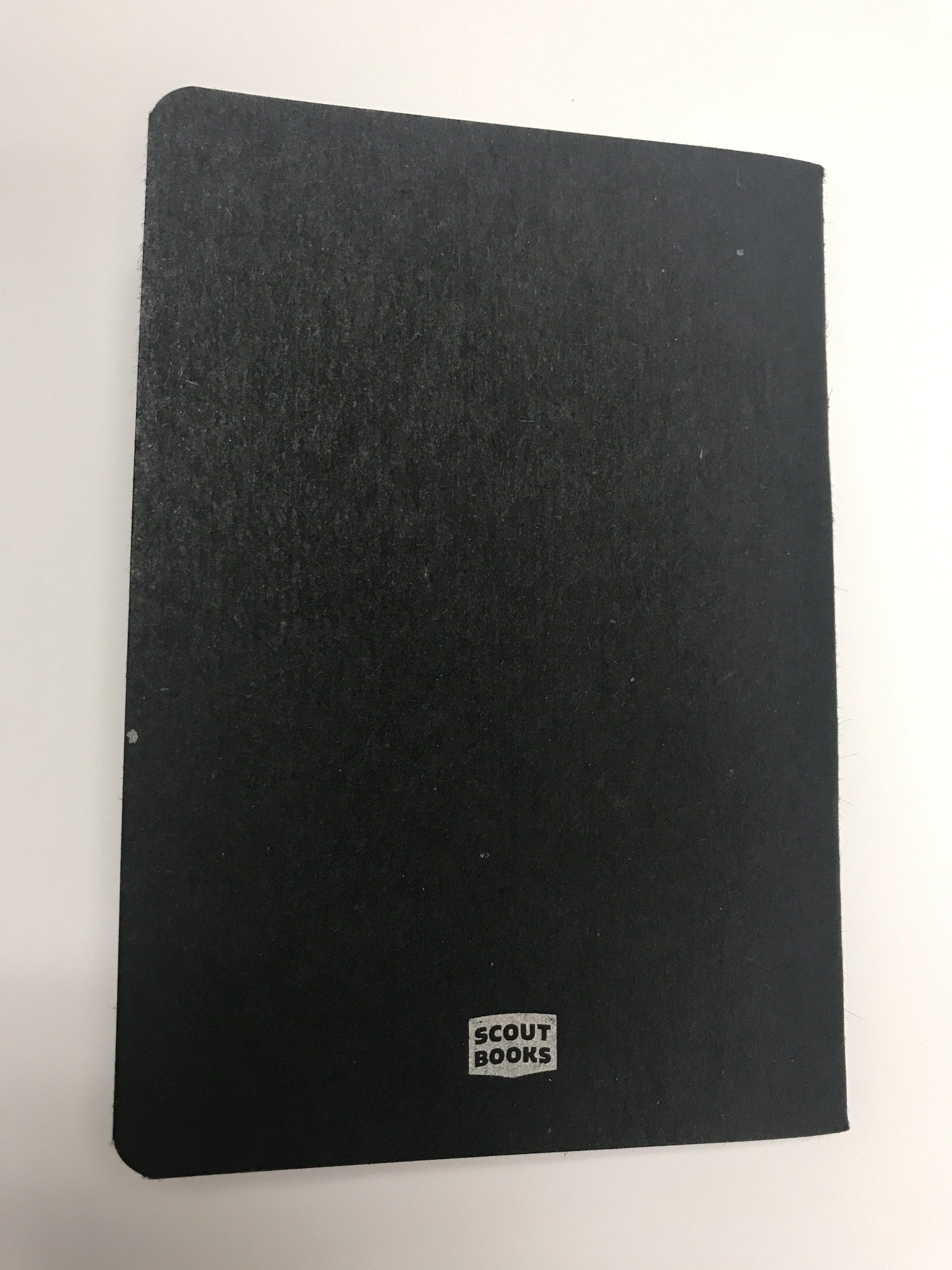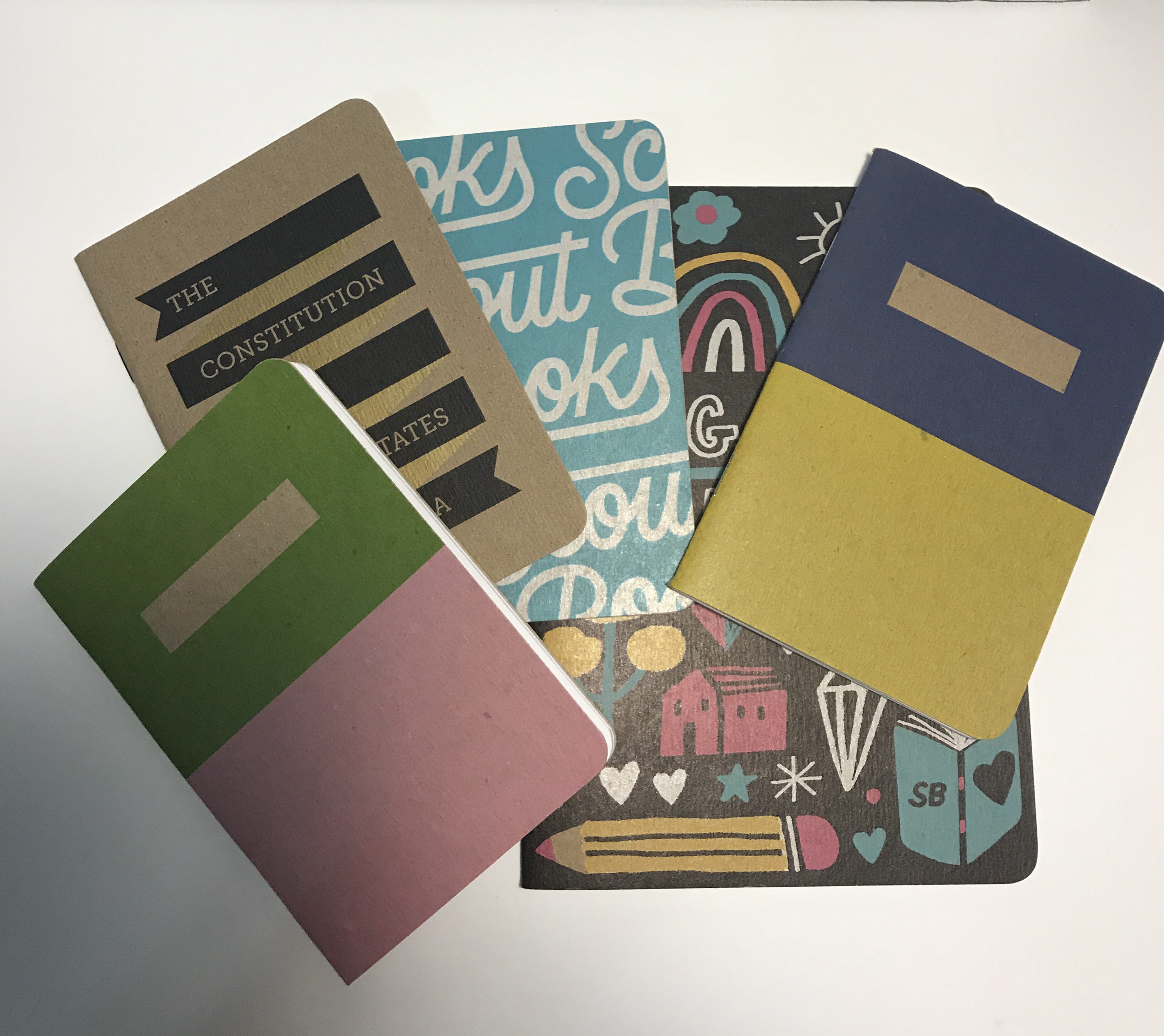 Paper – Scout Books is using 70# paper that I found has very good performance, an added bonus is it's a recycled paper product. There is some feathering with the wetter nibs but for a utility notebook it's very acceptable and usually that means extremely fast dry times. Under 8 seconds in my test produced no finger smudges. The line spacing is good for me at ¼". I like broad nibs and line spacing that is too tight jumbles up my writing too much. Ghosting was minimal and the only bleed through I got was with a Sharpie marker using a heavy slow hand with a lot of ink transferred. Impressive.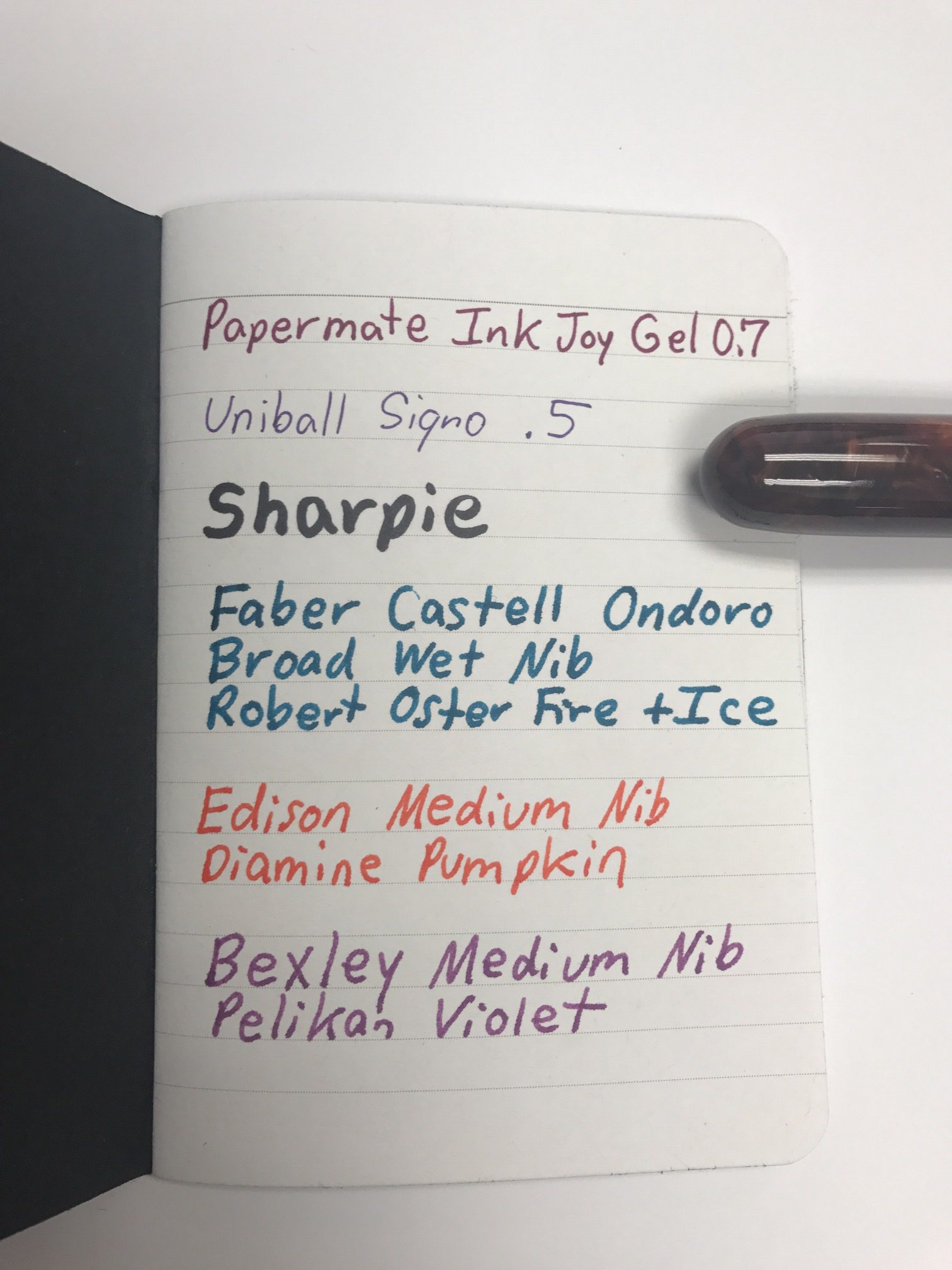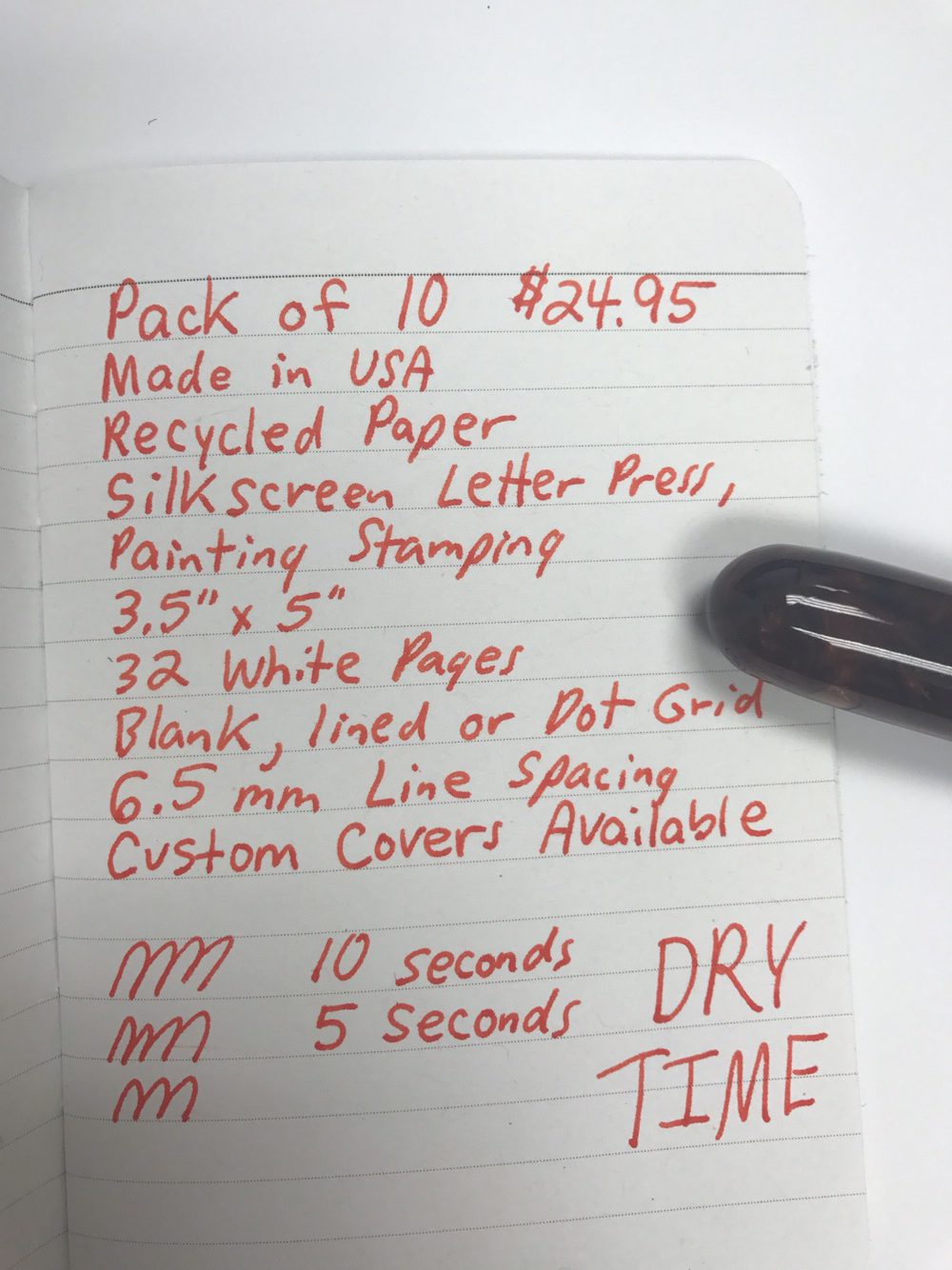 Conclusion – Nothing I would add, at $2.50 a notebook the price is competitive for a quality pocket notebook. The recycled paper, if that is important to you, takes just about any ink and wet fountain pens reasonable well. If I had the marketing reach I would love to do a My Pen Needs Ink custom notebook.
Thanks to Rowan and the team over at Scout Books for sending these along and creating a great choice in the pocket notebook sector.
Remember: Write something nice……
Thanks for stopping by and if you enjoyed this post I would love to send you an email every time I have a new post. Click Here to Subscribe
Click here for some great deals on pens and ink I have for sale