Part 2 of the Inks From Atlanta tour I'm embarking on. This one is the Akkerman 28 Hofkwartier Groen that I've heard many positive reviews about. Number 28 is my first bottle of Akkermann ink and I still have it inked up from the Atlanta pen show enjoying it.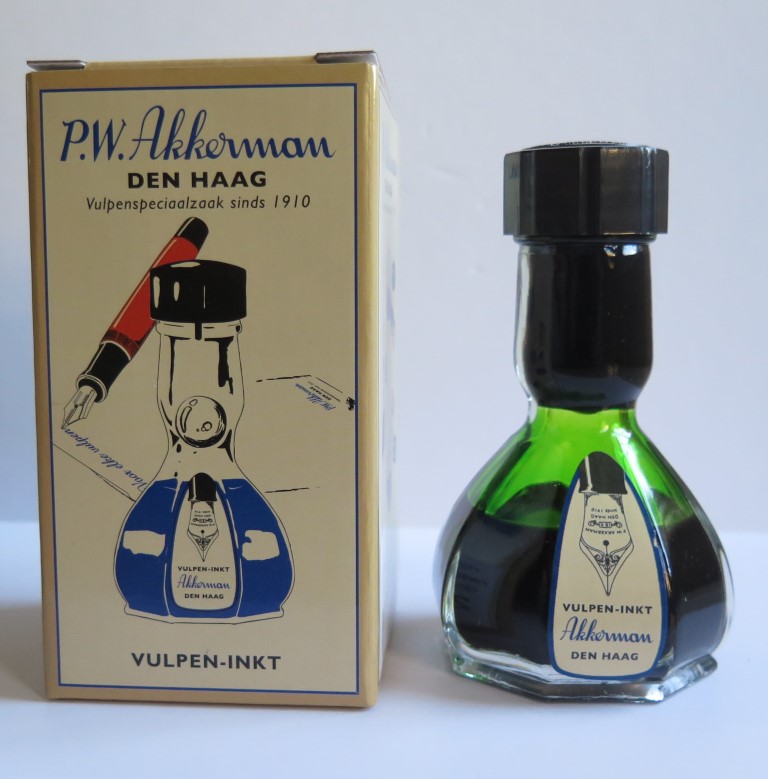 I added the bottle opening diameter because some smaller bottles will not allow certain large pens to get a full fill because the nib and section will not fit inside the bottle. That wouldn't rule out the ink but it would force you to a syringe type fill into another container. No problem here at all with the 1″ + opening of the Akkerman bottle.
Bottle
The Akkermann bottle is beautiful, another one almost like an antiquity or art that really should be appreciated sitting out on a shelf or a desk. I need to study up on the ink exposure risk to lighting over the long haul or is it a myth that it's harmful.
Akkerman uses a rubber washer for sealing which serves its purpose very well but I found that it sticks to the lip of the bottle and removal usually results in inky fingers. It would be less messy if it stayed with the cap which I think is the design intent. In my practice it just didn't work.
The bottle is the type where you turn the sealed bottle upside down which fills a reservoir at the top of the bottle so your nib can go deep enough for a fill. This helps you get the nib deep enough to fill when the ink supply gets low and shallow in the bottle. Without this second reservoir some bottles are hard to fill from without resorting to a syringe to extract the last bit of ink. The Akkermann implementation of this dual chamber works great.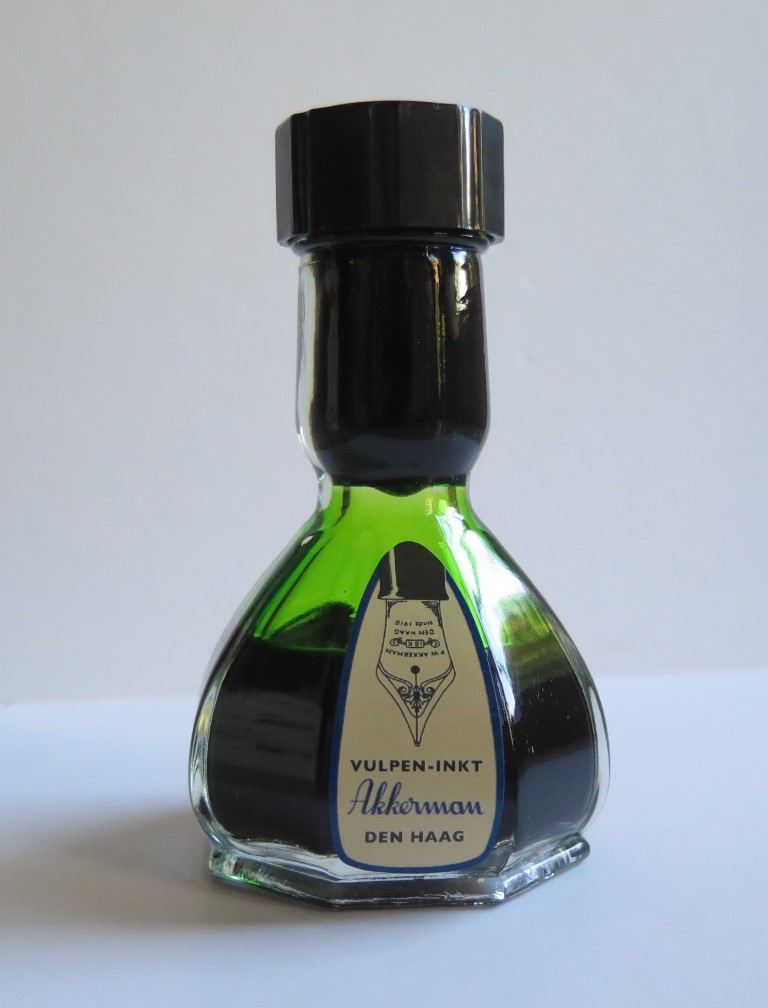 Sheen & Shading
The green is light and bright. You won't mistake it for any other color. I don't see any other tone or color coming out of it even with the big Col-o-Ring swab I brushed on. There are several good tools online to compare the color side by side.
The only other green I have is my favorite Diamine Delamere green which is much darker.
Conclusion
This is a saturated but light colored ink. I will keep it even though my personal favorite green will lean more towards the darker tones. The properties of the ink gave me no problems at all and I wouldn't hesitate to buy another bottle of Akkerman.
Writing Samples
Remember: Write something nice……
Thanks for stopping by and if you enjoyed this post I would love to send you an email every time I have a new post. Click Here to Subscribe
Click here for some great deals on pens and ink I have for sale