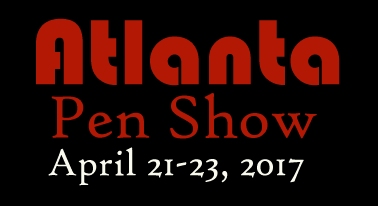 Is it too early to start planning for the Atlanta Pen Show ? I think not. I keep telling myself I want to make it to DC and Atlanta this year but so far Atlanta is the only sure bet. I'm getting a little better at the whole pen show social aspect after 2 years. That hesitation is totally on me, everyone at the show has always been super nice and friendly.
Atlanta Pen Show
April 21-23, 2017
Wyndham Atlanta Galleria
www.atlantapenshow.com
I have not done a lot of research so far but a growing list of what I want to see has emerged:
Ink
I'll end up with one of these shimmering, shading, flakes of gold ink at the show. Not sure which one but my interest is up:
Diamine Shimmering Red Lustre – I like variations of red and Diamine has always performed well for me as a brand.
Robert Oster Fire & Ice – I will be surprised if I find any of this available. I think it's been very popular
A new brown ink – this will be my first attempt at shopping by swatch as I have no brand allegiance or ideas.
J Herbin Emerald of Chivor – I know I'm months and months late to the game on this one but if it's still available it may be this one or the Robert Oster
Akermann #28 Green – I have a green I really like but it seems like I hear about this one every week on the Pen Addict podcast so I'm going to give it a try.
Pens
Anything in real wood – Since making my first fountain pen out of a pen kit and some old barn wood I just love the feel of the wood in my hand. I also have a Faber Castell Ondoro in real wood and it's equally soothing in hand. I'm gunning for your table Ryan Krusac.
Aurora Optima – I don't own an Aurora and I've heard good things about them. This will definitely be a try before I buy as I have only seen them in print.
Sailor Pro Gear – See Akermann #28 above
Pilot Namiki Stella 90 – This has been on my list for a long time and honestly I don't remember why. Maybe if I actually find one and see it in person I will remember why.
Kanilea Pen Company – I'm on the fence on this one. Beautiful pieces but it's on the high side of my price point so it will really have to speak loud to me in person.
Scriptorium – I love working with small makers and support them when I can. I have seen some of their work and it's very nice.
Faber-Castell Special Edition Pure Black e-Motion – I love everything I have of Faber-Castell. Plus every one of them have been perfect writers right out of the box. Their styles can be unconventional but their quality always rings my bell.
The links above are for reference only. I have purchased from the dealers referenced and will purchase from them again but there is no affiliation other than that. Pricing should not be assumed the lowest available.
So there I have it, If I get one of each I will come home broke and probably on a bus so the hunting and deciding should be fun.
Would love to hear any recommendations you have for me on the above or what your plans are for The Atlanta Pen Show or other shows this year?
Remember: Write something nice……
Thanks for stopping by and if you enjoyed this post I would love to send you an email every time I have a new post. Click Here to Subscribe
Click here for some great deals on pens and ink I have for sale