A pen is a pretty straightforward design, a long slender tube, a stick if you will. Some are prettier than others with companies being creative by using variations on round, varying the thickness, accoutrements and of course what raw material they use. Sometimes those variations can move a pen closer to a piece of art or depending on your tastes and perspective they could venture into a novelty. Hopefully any execution of art or novelty does not impair the practicality of a pen as a writing instrument. Recently I've had the pleasure of spending time with a maker's pens that jump out a little farther with the design aesthetics than what you typically see on this blog. I've had fun with these.
Michael Hochstetler of Michael's Pens is a creative type when it comes to writing instruments. Since 2003 he has been building quite a design collection of his signature Fat Boy pen right here in the US. Impressive longevity when the industry of small production custom pen manufacturing is still relatively young.
Over the years, he has innovated using the basic design of a robust aircraft billet aluminum pen body, Parker size refills and German Schmidt internals. All quality parts and when you see the pen you will see the name fits, and it's not just a pretty moniker, they are fat for a reason and I found that trait pleasant for me over my time with three models:
Red Wire High Voltage Tesla Coil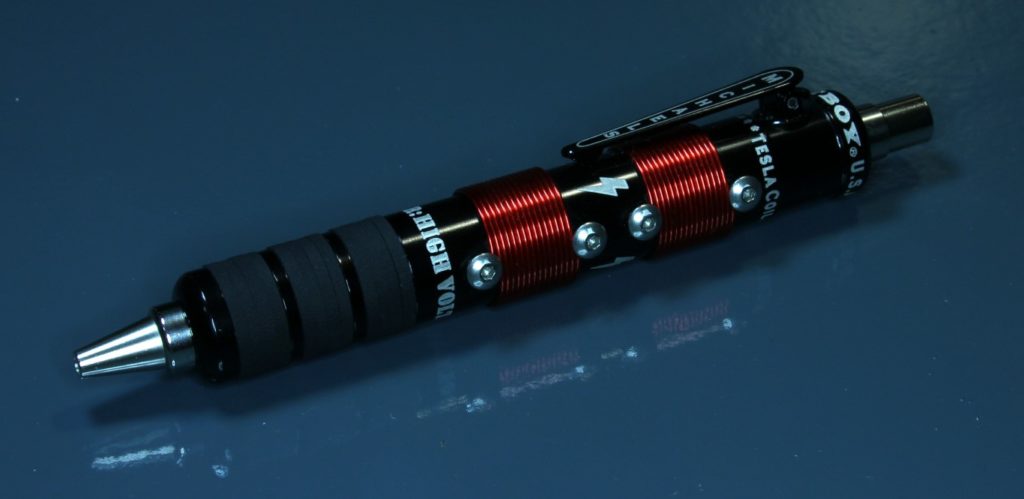 By far my favorite is the black body with 2 strands of red wire tightly wound around the body attached with stainless steel screws. The effect looks like the windings of an electric motor. The black clip is hinged where it attaches to the pen body. This is a numbered special edition model that sells for $219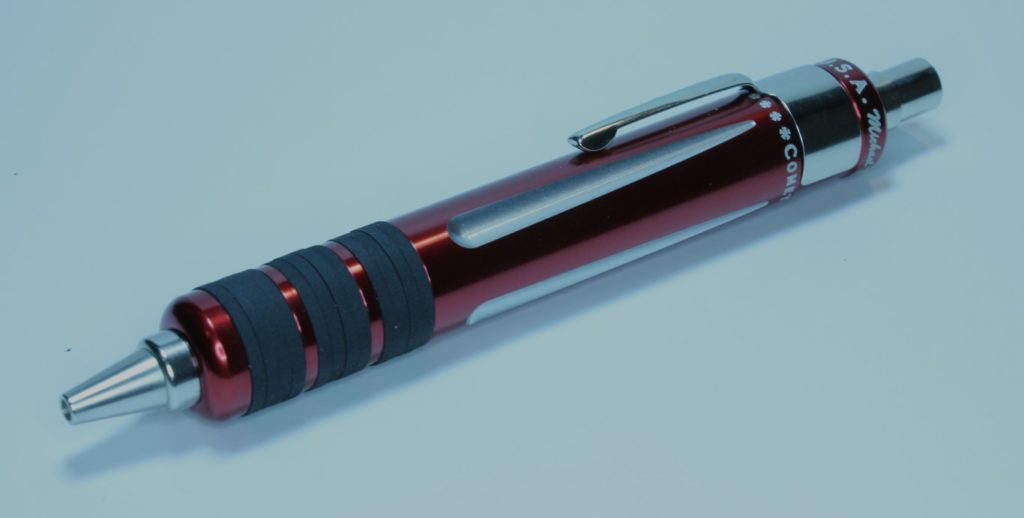 The Comet starts with the red billet aluminum body then Michael diamond cuts four streaking comets into the barrel. The comets retain the raw aluminum look for a striking contrast. Clip is a stamped steel version that pressure clamps across the top of the pen. The Comet series comes in 4 different colors and sells for $85
Laser engraved flames set the Chopper Collection collection apart and against the red I think I even feel tougher writing with it. Clip is a stamped steel version that pressure clamps across the top of the pen. The Chopper series comes in 4 different colors and sells for $85.
All of the Fat Boy pens are available in a Pencil with Eraser configuration as well.
The major outlet to find the most versions of Michael's Fat Boy is at Fountain Pen Hospital where search results on the Fat Boy returns 84 pages! Names like Archangelo, New York, Civil War Cannons, it's fun to browse through how many unique variations Michael has designed over the years. The Fat Boy could easily be a collector model like some people collect say Lamy Safaris or Kaweco Sports.
Michael also sent over a really cool pen stand made from a ring of ball bearings specifically for the Fat Boy. If you're considering the Fat Boy for a gift, or your desk pen, this stand would put it over the top. These sell for $45 with 6 variations to choose from Fountain Pen Hospital.
The Pen
Material: Aircraft Grade Billet Aluminum
Refills: Parker Style (Comes with a Monteverde Soft Roll P15
Length: 5 1/8"
Body Diameter: 5/8″
Weight: 1.94 oz. (Comet Model)
Street Price: From $85
Packaging
Michael does a nice job on the packaging from a shipping protection standpoint and also to support his major retail outlet Fountain Pen Hospital. The shiny black box and protective outer box depicts the quality that resides inside whether being opened up across a sales counter or a customer receiving it as a shipped package.  Michael has also taken the time to design some short documentation on the pen which may not affect the writing but accurately portrays that thought and details were not spared in his design.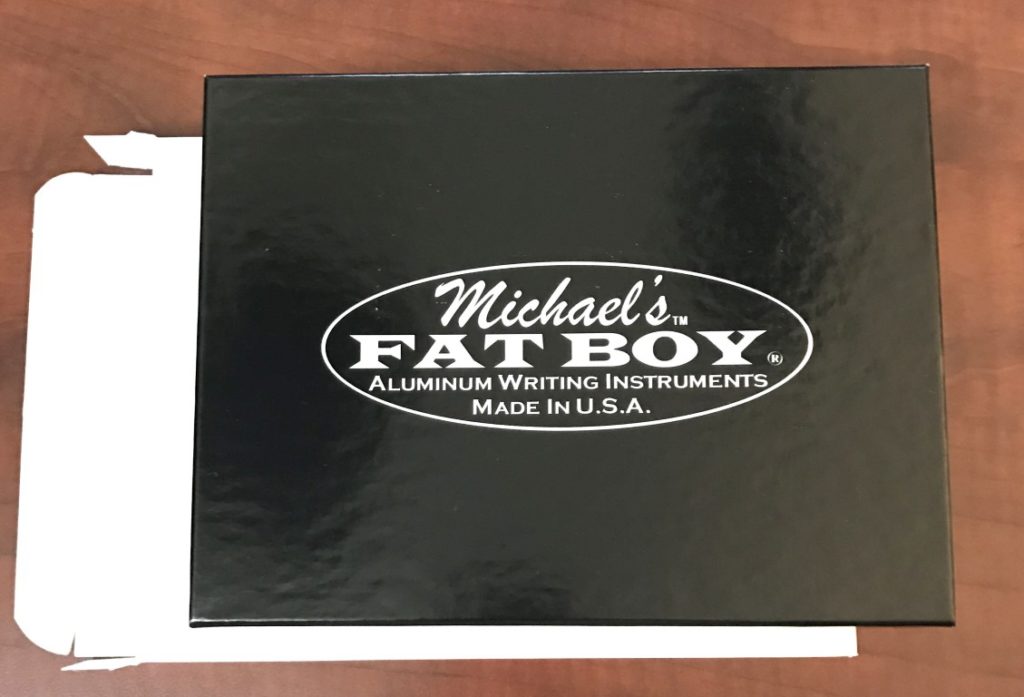 Overall Appearance
The Fat Boy is a big fat pen. It's like a 300 pound linebacker vs a more conventional pen as a 300 pound 7 foot tall NBA center. The proportions are different. Not bad or unattractive, quite the opposite for my tastes. At just over 5" I would not call this a pocket pen but it's a good length for every day writing. The big rubber treads where you grip the pen also give a big beefy look. At the tip and tail there is a large turn down in the diameter to mate up with the tip cone and the knock. A unique look.
The red finish that I tried out were striking with a smooth finish and no machine marks or assembly scratches anywhere. Threads were smooth and it includes an o-ring in the tip to help with squeaks, rattles and keeping the tip tight. The wire wrapping on the Tesla Coil edition is wrapped perfectly. I catch myself starring at it wondering how he did that so precise. A well put together pen with attention to detail obvious in the design and construction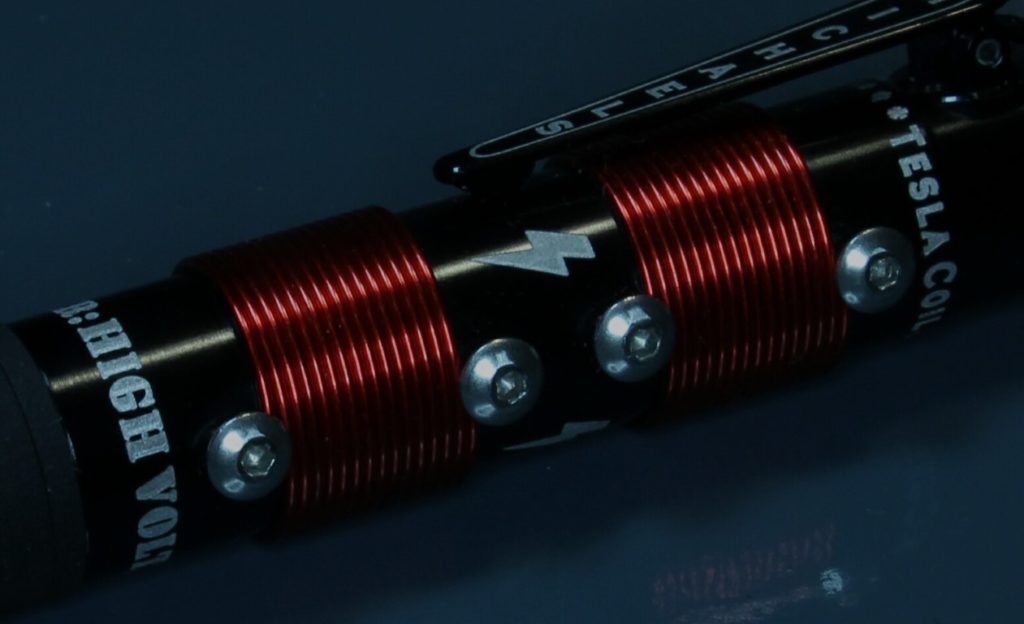 Ergonomics
Did I mention the Fat Boy is a big fat pen?. The aluminum makes it a comfortable weight for me and I happen to like big fat pens. At 5/8″ diameter It fills your hand. You feel the extra hardware on the Tesla Coil edition but there were no harsh edges that really bothered me. The weight differences between it, the Comet and the Chopper didn't make any difference to me. The knock works splendid like most Schmidts do and the three rubber rings at the gripping section work wonderfully for a grip. I would almost call them tires more than rubber rings.
Clip
All of the clips worked well. The stamped steel wrap around clamped version of the Chopper and Comet has good tension and performs it's intended role just fine. Here again the Tesla Coil is my favorite with the hinged and tapered clip definitely being a step up. It's emblazoned with M I C H A E L S and the hinge adds a little bit more mechanical panache to the pen.
Refill
Great choice by Michael on the Parker style refill. He includes a Monteverde branded refill with every pen which is a really good writer but it's simple to unscrew the writing tip end and slip in your favorite Easy Flow, 9000M or whatever you fancy. On the Tesla Coil edition he throws in an extra refill, nice touch.
Conclusion
A Fat Boy will get noticed in a room full of more ordinary pens. The aesthetic style may not be for everyone but I loved them. The large diameter and the grip was a joy to write with and the build quality was top notch so it's a winning combination for me.
Thanks again to Michael for sending these over to try out.
You can find Michael's pens at michaelspens.com and Fountain Pen Hospital.
Remember: Write something nice……
Thanks for stopping by and if you enjoyed this post I would love to send you an email every time I have a new post. Click Here to Subscribe
Click here for some great deals on pens and ink I have for sale