My opinion of multi-pens has not changed since I reviewed the Lamy multi-pen a little over a year ago. I still think they are good utility pens that fill a niche and frankly, I'm intrigued by the mechanics of them more so than just picking one up because I enjoy writing with it, that designation is usually left for my fountain pens.
What drew me to the Uni Style Fit, that I'm sharing with you today, is the lure of 5 colors in a single pen body, yes 5! The Uni Style takes the approach of building your own multi-pen with the refills you prefer. This initial cafeteria style purchase is unique and in the end may cost you a little more but you end up with no wasted colors or refills you don't use. You don't need 5? There are plenty of body styles for 3 and 4 colors as well.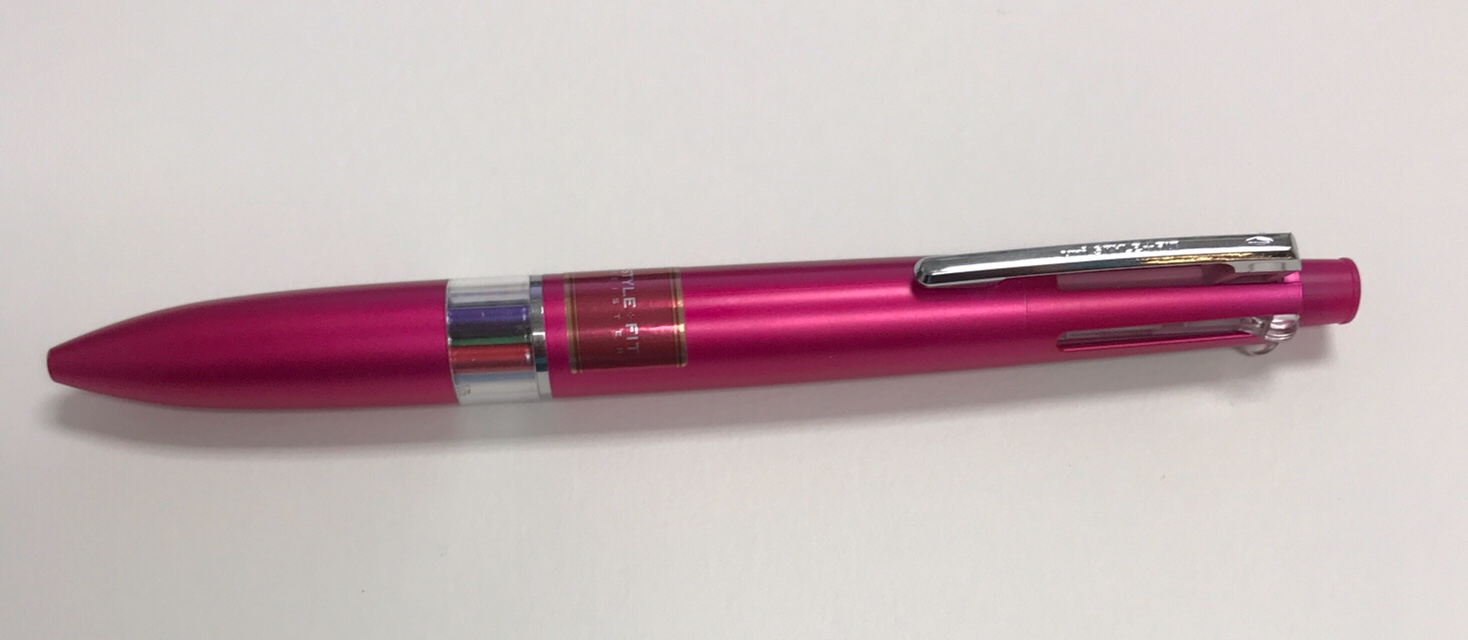 Material: Aluminum
Length Overall: 5 7/8
Weight: 7.85g
Street Price: $17.25 with 5 gel refills
Here is a great Uni Style Fit guide that Jet Pens put together and gives a lot of detail on the options available.
The Uni Style uses the excellent Uniball Signo ink and you can get refills in ballpoint, gel or mechanical pencil. You can even mix and match or double up on your favorite blue! The only possible drawback I found was you are locked in to their refill system. They have some excellent choices and at less than $2 a refill I think they are fairly priced. I loaded up a Pink Meister 5 series with 5 colors of .5mm gel refills. Total cost: $17.50.
I'm a deployment guy when it comes to pens. I don't want to spend a lot of time between when I pick up a pen to the time ink hits the paper. Mainly because at my age I may forget the thought! Pushbutton knock style remains my favorite for random quick notes but with a little thought in the refill placement (See insider tip below) the Uni-Style is pretty good and the typical slotted sliders at the tail end of the pen. They are all clear so you use a clear window in the body of the pen to see which color which slider pushes out the tip. There are four sliders and the clip acts as the fifth refill slider. Ingenious and though not the fastest color chooser here is your insider tip. You can strategically place the refills you use most often and then by memory you know sliding the clip gives you blue, for example. Retraction of the tip is like most others, just partially deploy another color and everything goes back inside safe and sound.
The sliding clip doesn't instill the most confidence in its robustness if you are hard on traditional clips but it hasn't broke on me yet so maybe I'm being over critical and just paranoid because the clip moves. Ramp is good and even with the construction it works like a pen clip should.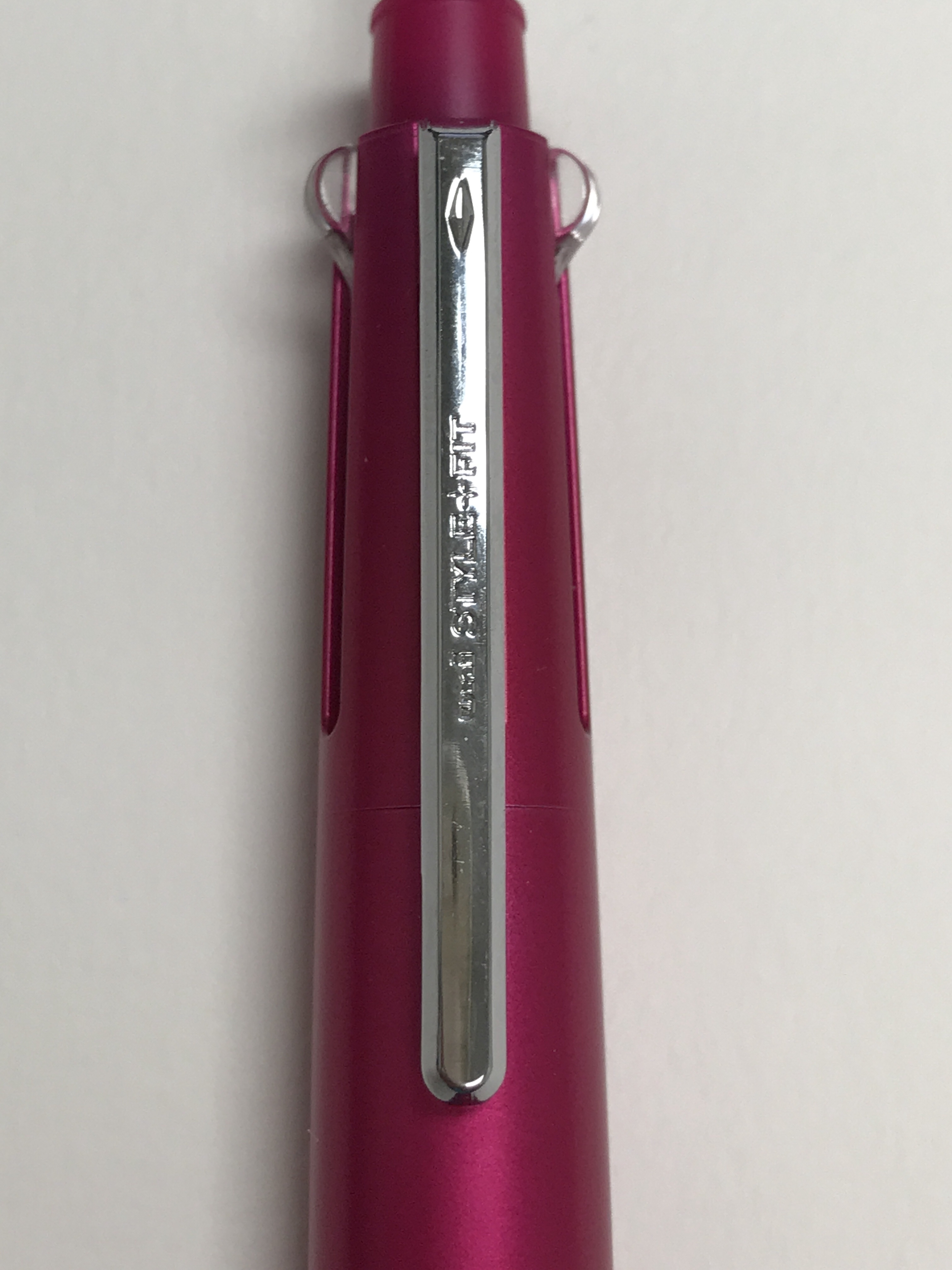 The only design element I can't grasp is what looks like a knock pushbutton on the top of the pen. It looks conventional enough but not on a multi-pen. It even pushes down a little bit but doesn't seem to do anything. Unsolved but unimportant.
(UPDATE:  The pushbutton that I couldn't figure out is to advance lead when you're using the mechanical pencil refill. Thanks Kelly!)
(UPDATE 2: Underneath the pushbutton is an eraser. Nice touch. Thanks Notebook Stories for the tip off!)
Conclusion
The Uni Style is a fat pen, coming in at over ½" in diameter. It's holding 5 pens and when I look at the wall thickness of the body I don't know how they could make the whole assembly any thinner. I like the girth but I understand it wouldn't be for everyone. It does slightly taper down smaller near the clip end of the pen and the overall shape gives the pen kind of a torpedo look. The taper down to the nose is gradual and the ink window is a good size.
If you have a need or application for a multi-pen the Lamy 2000 is probably the dressier more dignified sibling with its Makrolon body and black look but at way less than half the price of the Lamy the Uni Style Fit is a better writer with the Signo ink, has 5 colors and you can build it yourself with a huge selection of option al refills and pen bodies.
Place your order
Remember: Write something nice……
Thanks for stopping by and if you enjoyed this post I would love to send you an email every time I have a new post. Click Here to Subscribe
Click here for some great deals on pens and ink I have for sale