I have done a post like this before and I think this is a topic valuable enough to repeat, especially for pen enthusiasts who are new to the fountain pen sector. The first fountain pen I ever bought was a disaster nib, I could not understand why anyone would want to write with a dull nail that smeared ink and was attached to the end of a major brand name pen that I paid a lot of money for, at least at the time I thought it was a lot of money for a pen. I should have done more research and not shelved it away in shame. I just needed to be introduced to a nibmeister.
A nibmeister is an affectionate term given to some talented individuals in our community that don magnifying optics on their head and work magic with our fountain pen nibs behind a small grinding wheel. Watching them work makes me nervous but I so enjoy the output. There are a variety of pen problems they can help you identify and fix if you tell them what you're experiencing. Common issues include baby's bottom, slow starts, skips, scratchy, too wet, too dry, and even repairs from drop damage or other accidents. Most of these nib magicians can also change the shape of the nib into one of the many variations of specialty nibs that make writing more fun and infuse more character in your writing style. Stub, Italic, Architects, these are commonly referred to as grinds as usually they entail grinding away some of the metals from the existing nib.
Granted not all pens need nib work or the services of a nibmeister but unfortunately some fountain pen brands are known for inconsistent nib quality out of the box. It can be a difficult balance for the pen maker. The time and labor required to tune every nib that leaves a manufacturer's shop floor would raise the cost of the pen to all of us. NOT tuning the nib results in sometimes delivering a less than optimal writing experience that could sour the reputation for a brand in the eyes of the unlucky recipient. Some pen enthusiasts are confident enough to do some nib tuning on their own, I commend them. For others a nibmeister is a great option if you're really in love with a pen for all the other reasons but it just doesn't write well.
Mark Bacas is one such talented nibmeister that our community is fortunate to have. I have sent Mark many of my pens that possessed some bad writing characteristics and all of them have come back the first time as almost a completely new pen.
Mark was kind enough to share his story with me and I'm excited to team up with him for a cool giveaway so read on!
Mark has been interested in pens for most of his life and he admits he may be guilty of absconding some fountains pens that his dad brought home when Mark was a young boy. It took a visit to The Great Southeastern Show, that later became The Atlanta Pen Show, where Mark's eyes were opened up to the world of fountain pens. Mark's collection grew and like many of us he began having nibs refined and custom ground. A process that fascinated him. An active member of the Southeastern Pen Club Mark and Mike Masuyama became friends and Mike suggested he give the whole nib work thing a try. Mark gives credit and praise to Mike and Jim Rouse, of Franklin-Christoph as his mentors and accomplished nibmeisters that have help many pen enthusiasts over the years.
Around the 2015 Atlanta Pen Show Mark began acquiring tools and building his knowledge to really make a go at nib work. He's getting busier and busier with work as more people find his talent valuable. A unique bonus that Mark offers with every pen he works on is a
video of him writing with the customer's pen to give them a sense of how it performs after the nib work. His prices are reasonable and his turnaround time back to me has been less than 3 weeks.
Here's Mark at the Atlanta pen show working his inky fingers off.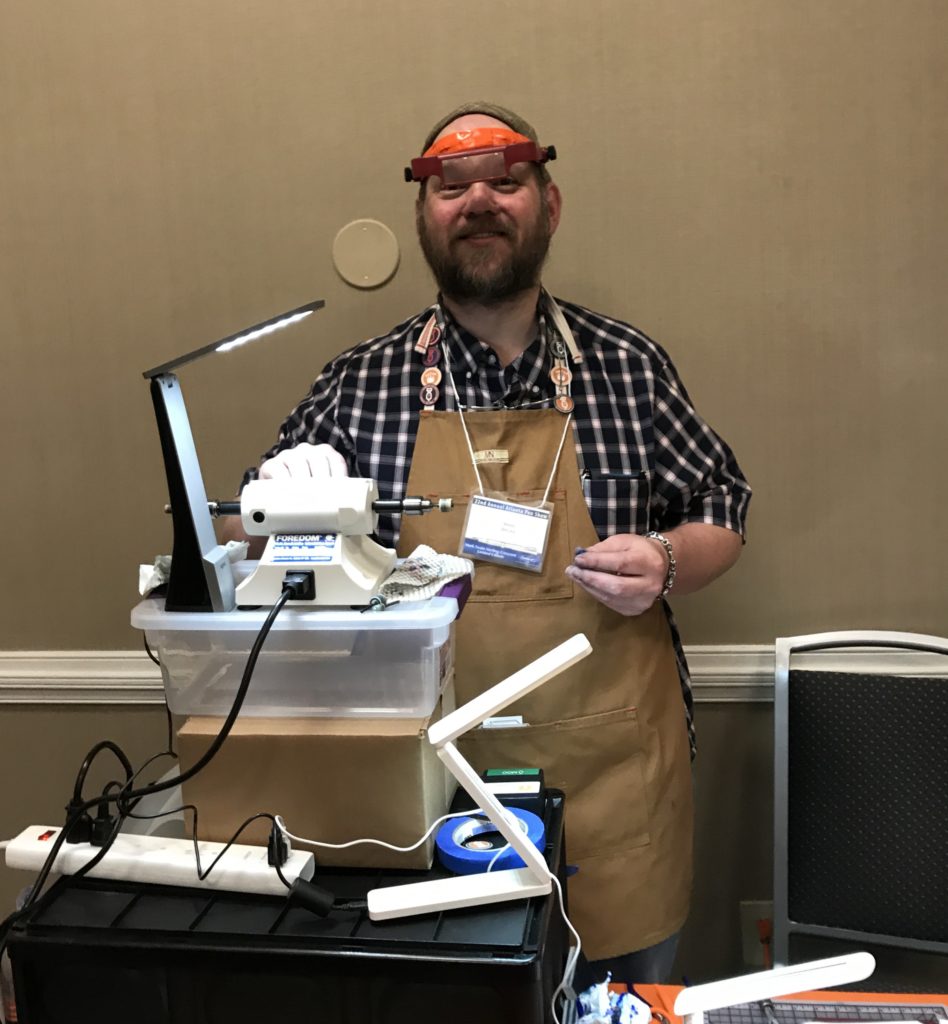 Here is his tool of the trade that requires a really steady hand.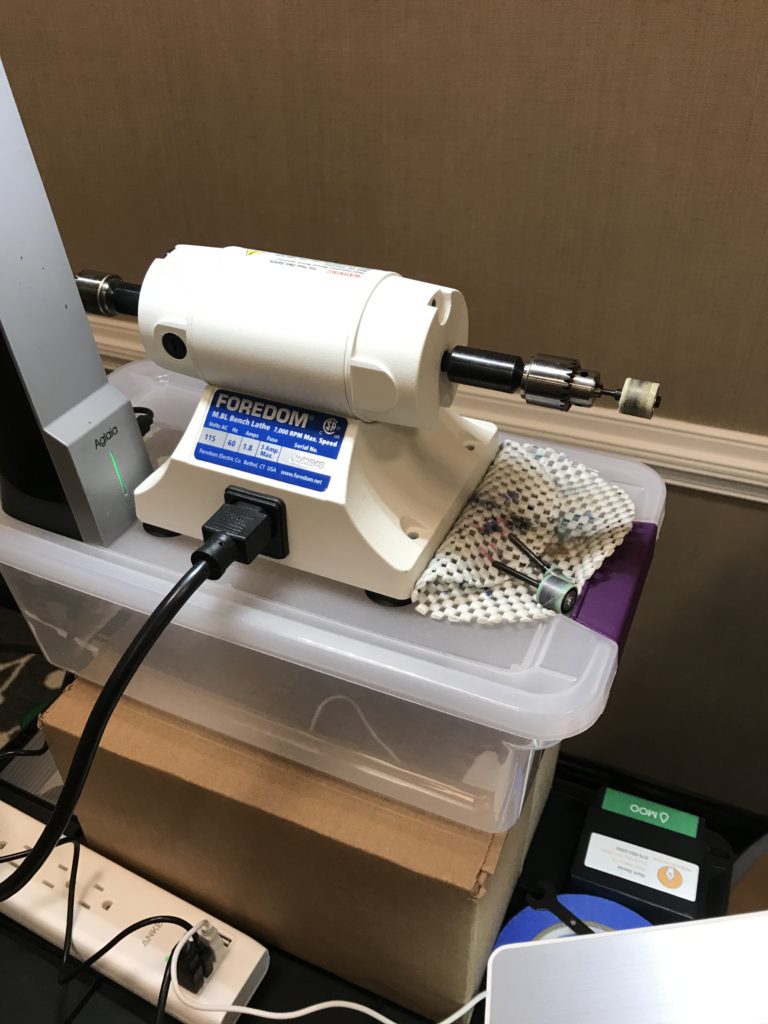 NOW THE GIVEAWAY
Mark has been very gracious to team up with me and offer a free nib tune or grind to one lucky readers. Just leave a comment here with what pen you would like to have tuned and why.
At 8:00 pm est on Tuesday June 27th, 2017 I will use Random.org to draw a winner. The winner will have 5 days to contact Mark and myself to start the process and shipping their pen off to Mark. The only cost for the winner is shipping the pen to Mark. Mark and I will cover the nib work and the return shipping.
Even if you're not the lucky winner I still encourage you to go to Mark's website, review his services and have him do some work for you. I'm confident you'll be delighted.
Thanks Mark for everything you do for our community, for me personally you have truly made my writing and my collection more enjoyable.
Good luck to all and I look forward to reading your plans!
Remember: Write something nice……
Thanks for stopping by and if you enjoyed this post I would love to send you an email every time I have a new post. Click Here to Subscribe
Click here for some great deals on pens and ink I have for sale