I'm a car guy. I don't own a lot of cars and the most I ever owned at one time was 3 old cars with a combined Blue Book value of a new small economy sedan. Growing up it was a dream of mine to get up in the morning and be able to choose what car I wanted to drive to work from a fleet of cars I enjoy driving. Do I want to drive the Jeep, or the sedan or the sports car?
I did that for a while but the upkeep, insurance and tags became more money than the sum of enjoyment I derived from it. During those short periods I never owned a German car due to the unfounded fear that maintenance and repairs are expensive so as a side benefit of this pen hobby I now own a Porsche. Ok it's a pen and technically a Porsche Design pen that has been billed as the fastest pen in the world. Read on to see why that marketing hype may not be that big of a stretch. Either way I can now get up in the morning and ask myself what am I going to write with today, the Edison, The Bentley, or maybe that's Bexley, or the Porsche?
Recently my friends at The Pen Company sent me over the Porsche Design Shake Ballpoint in white resin to give it a try. I wonder about the Porsche moniker being used for anything outside of the automobile realm but here is an excerpt from the Porsche Design website.
Porsche Design is a luxury brand with a particular focus on technically inspired products. The brand was founded in 1972 by Ferdinand Alexander Porsche, whose products have stood for functional, timeless and purist design ever since. The products are designed in the Porsche Design Studio in Zell am See, Austria and sold around the world in the company's own stores, shop-in-shops, high end de- partment stores, exclusive specialist retailers as well as the official online shop.
The Pen

Material: White Resin
Length Overall: 4 1/16"
Barrel Diameter: 25/64"
Weight: 1 oz
Street Price: $103 USD
Germany is stamped on the side of the tail piece but the website says designed in Austria
Packaging
Packaging is well done and what you would expect with a Porsche licensing. My usual disclaimer applies: I'm a box saver and this one stacks easy, but if you're not a saver this one doesn't give you any pause as being unusual. Enough about that.
The pen is in the box with the refill loaded and ready to write.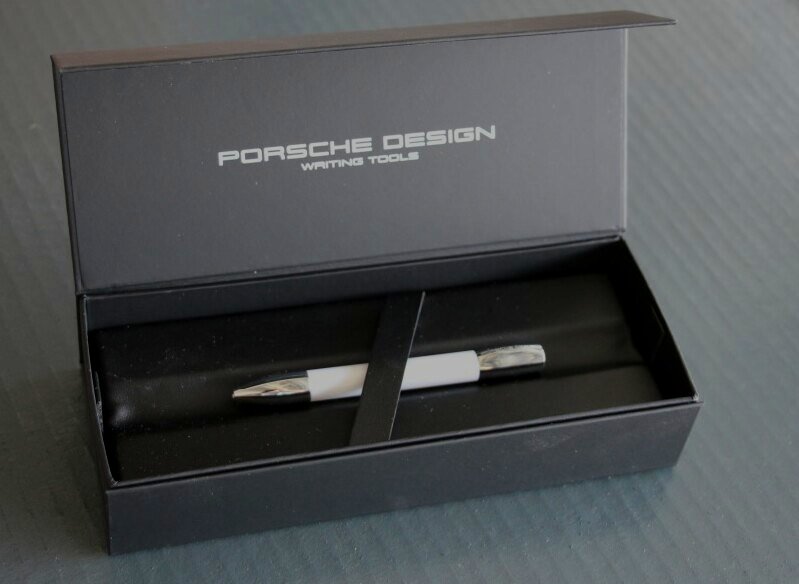 Construction Fit & Finish
This is a pocket size pen at just over 4" with no cap or clip. Three major parts that you see, the body made of thick resin, and two metal chrome ends. Looks like it could take a good pocket beating and stay nice looking. The White resin appears to be white all the way through so I suspect that would help with scratches. I would need a little more mileage on the pen though to positively confirm that.
Overall Appearance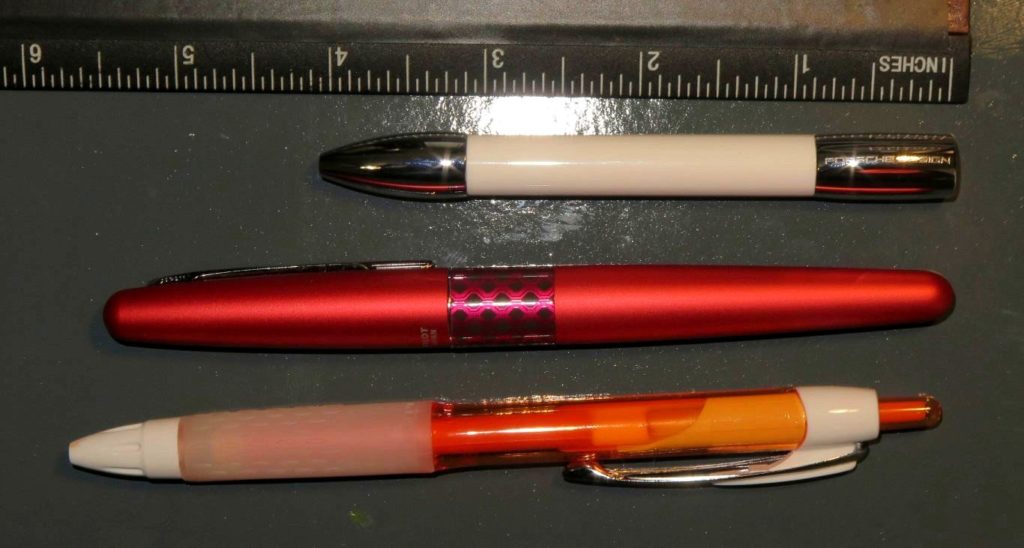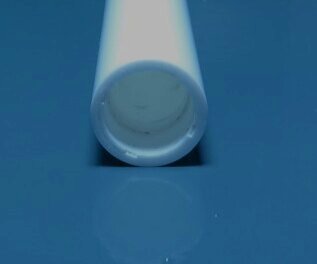 This is a short attractive pen with gentle curves and a beefy mid-section. With the proportions and the curves of the chrome end pieces I can use a little imagination and see a little Porsche 911 in it, or maybe that's just me not being able to let go of the car associations. I don't know how they do that with some of the other products selling under the Porsche Design line but I think they played decent aesthetic homage to the brand with the pen entry.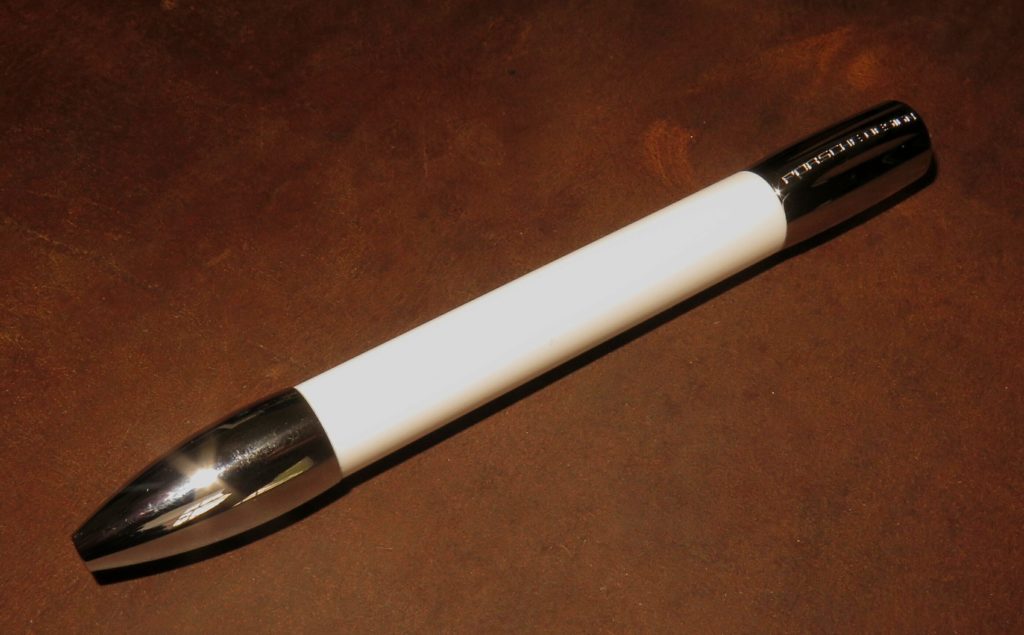 Porsche design calls the barrel special edition white pearlized resin. It contrasts better than I thought it would as white on chrome.
The tail piece has a slight bump that works perfectly as an anti-roll device and it holds a vertical branding of PORSCHE DESIGN engraved in it. Tasteful and discrete.
The girth of the pen fits my larger than average hand well, even with the short length and there is no sharp edges on the tail where it rests in the web of skin between my index finger and thumb. The length is probably at the length limit for me to call a pocket pen without a clip. A 1 ounce weight and a little bigger grip section near the tip of the pen makes this a comfortable pocket writer for me.
By far the most interesting feature of this pen is the tip retract and extend mechanism. It's done with just a shake of the pen, or maybe I would call it a flick of the wrist. I'm a big fan of EDC pens being quick to deploy because if I'm going to carry it in my pocket it's for quick notes on the run, emphasis on quick, while waiting in line, checking out or some other task that usually has people waiting behind me to do the same thing so I like to get done and out of the way.
The Shake Pen is unique and one handed it worked for me every time. This is where I would give props to the claim of fastest pen in the world. Even with a conventional one-handed click pen there is some finger re-positioning after deploying the tip with your thumb and then moving to a writing grip. With the Porsche Shake Pen you just flick your wrist in the direction of the pen's writing tip and your writing tip appears. Sign your receipt, flick it again and tip is gone. Done, clean, slick. Here is a short video I did showing the shake in action.
Clip
No clip, proceed to next section.
Refill
The Shake Pen uses the venerable and widely available D1 format. There are a lot of good choices on D1 refills if you don't like the Pelikan branded unit that came with the pen. It worked fine for me as a ballpoint.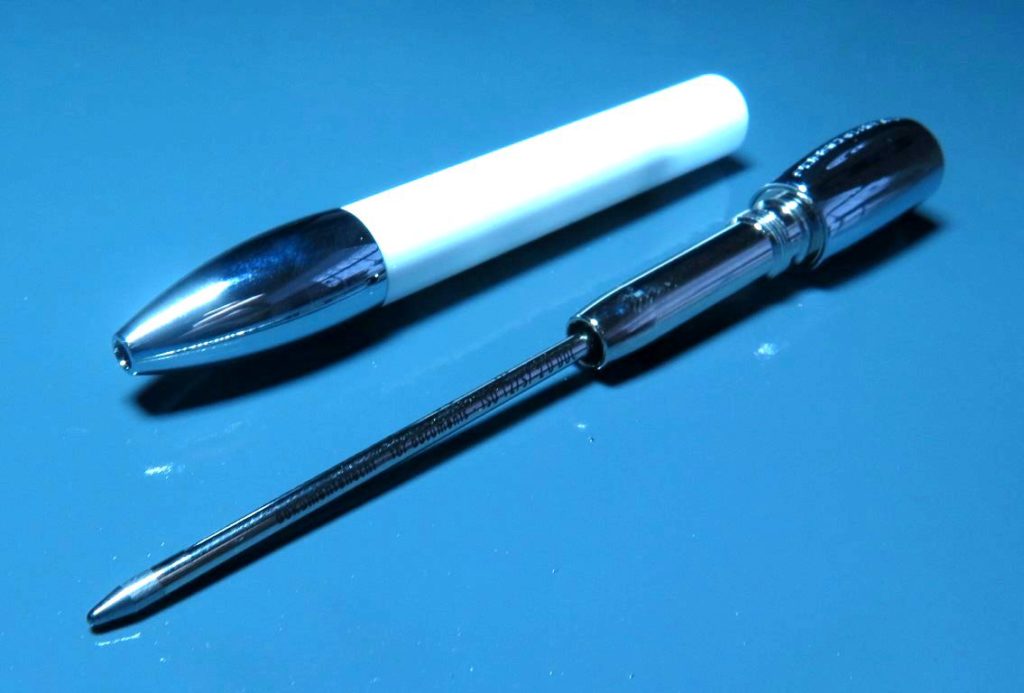 Conclusion
My first Porsche is attractive, doesn't need to be insured and the shake function is fun and practical. Deploy and retract worked every time that I flicked it correctly. If you're a fan of the brand this pen could support that in a small way and would probably look good in the center console of your 911, Boxster or Buick. I liked the pen and have not rotated it out of my pocket carry yet. Thanks again to The Pen Company for sending this one over to try out.
Any connection you have with pens and cars?
Remember: Write something nice……
Thanks for stopping by and if you enjoyed this post I would love to send you an email every time I have a new post. Click Here to Subscribe
Click here for some great deals on pens and ink I have for sale