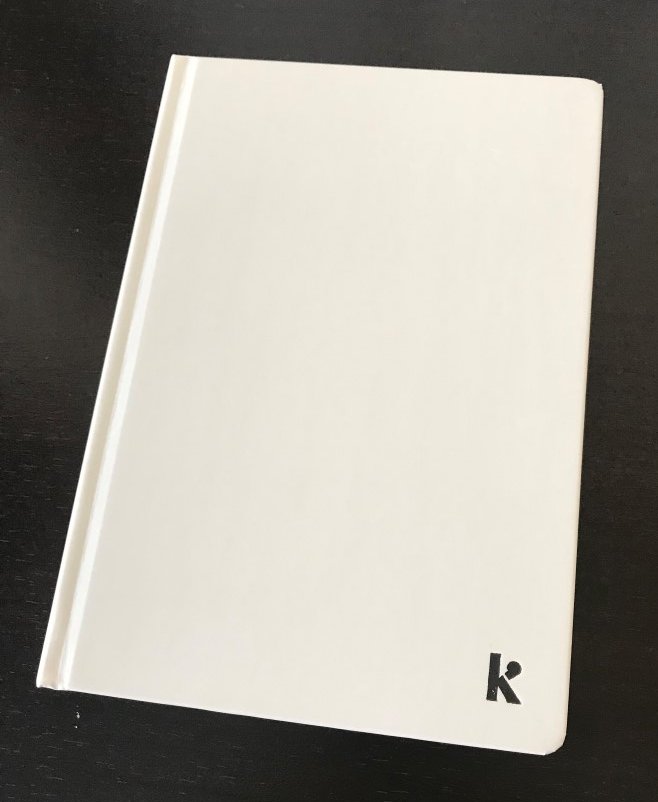 I'm a big supporter of recycling and companies that make good decisions designing their product relative to environmental consciousness. I recycle household waste and though I'm not a strong activist I'm ok with my contribution efforts. Where I have a harder time being supportive is in the stationery area. Paper is the most obvious opportunity for using recycled or sustainable supply of raw material. Most recycled paper product just isn't good for writing, admittedly if you're reading this blog your standards are probably like mine and a little higher than the usual consumer of those recycled products. Read on, my opinion has changed.
I received a new planner in the mail recently from Karst Stone Paper. Here would be the text message review: Paper made from Stone. That is enough to get my interest right there.
Paper made from recycled stone
Week at a glance focused format with monthly view included
Designed in Sydney Australia
Weight 17.3 oz
Planner price: $38.95
Lined Hard Cover Notebook with the same paper: $29.95
Pocket Journal: $11.95
Karst has made a very attractive planner with a white stiff cover and a small K logo of branding in the bottom right corner. I found the cover easy to clean and with enough texture to make it easy to hold on to. The binding is good and tight and though I would like it to lay a little flatter when it's open the pages do not flop over by themselves so it's a very usable construction. You feel the weight of this planner coming in at 17.3 oz. I assume that weight comes from the paper.  Belly band, inside back pocket and silver ribbon page marker are all included in the design as well.
Paper
The big difference from similar A5 journals that we know and love is on the inside: Paper made of stone, really. Karst uses the waste byproduct, calcium carbonate, from the mining and construction industries. Here is the FAQ that explains in more detail.
Writing on the paper is smooth without being slick. Ink colors are true and even with broad wet nibs I got no bleed through and just a little bit of ghosting on the back side. The paper even took a Pitt's Artist Pen with style and grace, that's a lot of ink. The only pen that didn't cooperate is the Mont Blanc Fineliner. I got some spider feathering despite no feathering at all with big broad wet fountain pen nibs. A variety of fountain pens, roller balls, gel, ballpoints and pencils worked great. The only drawback I found was drying time, it was delayed with some of my favorite pens. It would not keep me from using the paper more extensively but just something to keep in mind if you tend to move fast opening your planner, jotting down an entry then closing it back up. An absorbent blotter would probably eliminate any issues. Overall an enjoyable experience to write on.
Content
The printed content of the planner is more extensive than most planners and date book type of products I have seen. Karst takes a weekly view focus and still provides a list type monthly view.
They have taken a deep approach to helping you plan and motivate you for success throughout the book. This text takes up some space but it's easily ignored if it's not your thing, I read through the whole thing and it's impressive how they integrate the message of goals and positive thinking. I like the calendar formatting of the weekly view and though I'm typically a month view planner I have a few ideas for other life tracking events that I'm going to try with the Karst.
Conclusion
I applaud the Karst team for doing something really different, and so appreciate them sending this over for me to try out. I hope their success is enough to make a significant positive impact on our environment. Stone paper is cool, it was a joy to write on and I see one of their regular blank journals in my future soon.
Remember: Write something nice……
Thanks for stopping by and if you enjoyed this post I would love to send you an email every time I have a new post. Click Here to Subscribe
Click here for some great deals on pens and ink I have for sale