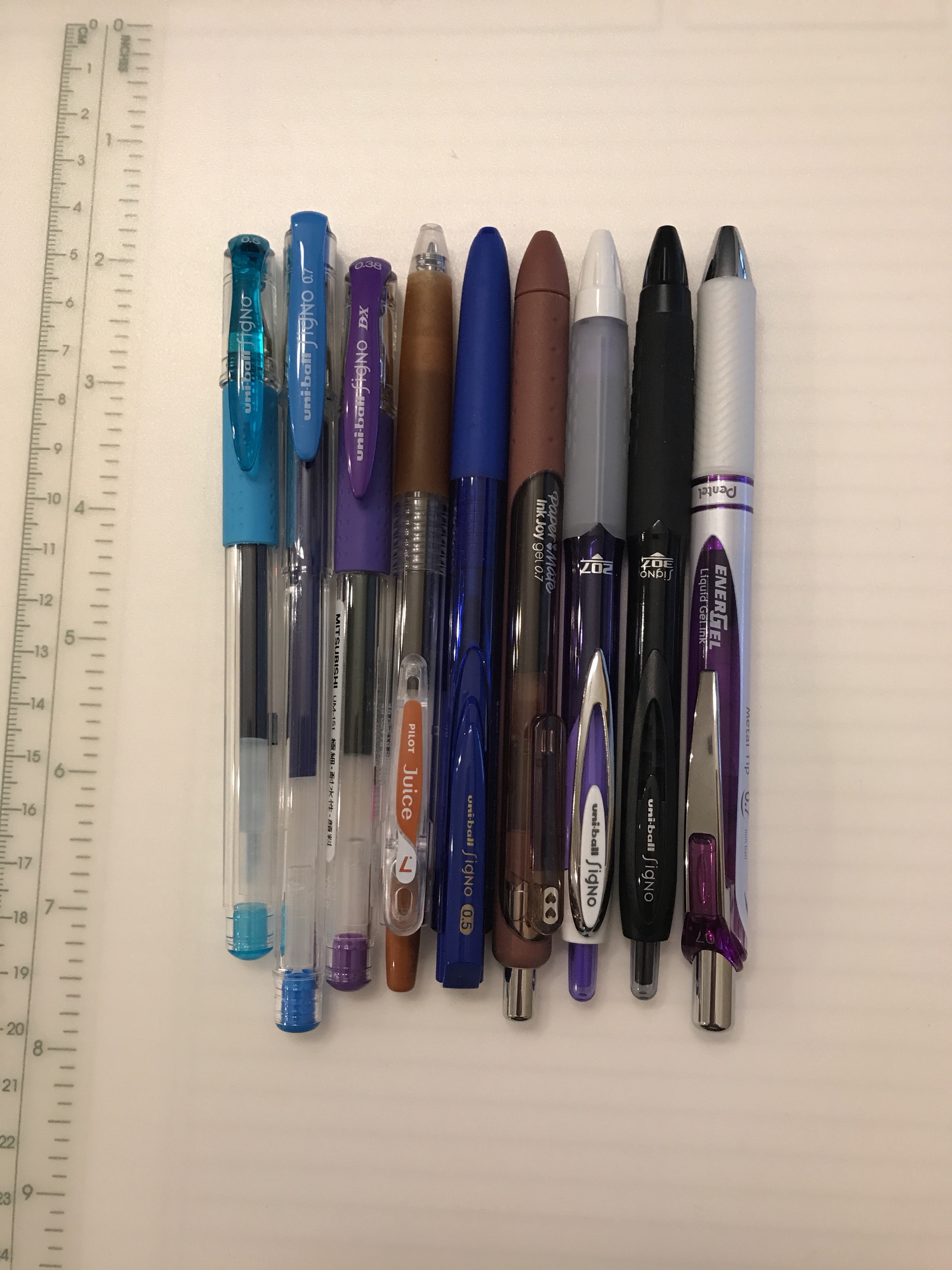 In the knife community when you pick up a knife that catches your eye at the checkout register (think gas station or rural convenience store) and admit to it that is enough to get you banned for life on the internet knife forums for buying such presumed junk quality. In the pen community when you make a good score with a gel pen that was on sale or overstocked in a funky color you get high fives across the same internet. Funny, and I enjoy the high fives a hundred times more. Usually these finds come at the checkout of the big box office supply chains. $2 seems to be the price point cap so I bite more times than not and I would say my batting average is probably a .500 with those purchases that I keep. The other approach I take is sometimes on pay day Friday I just want a pen fix so I will shop Jet Pens in sort of a game mode to get as close to $25.01 for the free shipping. This usually includes something that writes from the Whats New area. Jet Pens' excellent service has them in my mailbox, across the country, on Monday. From both approaches the keepers that I have enjoyed are numerous so I'm sharing them with you here to fuel your ideas in case you haven't tried any of these. Forgive the short reviews of each pen, they are disposables so my review criteria is slim, they write good, they are not uncomfortable to hold and a simple scale of 1-10 with 10 being my highest rating.
Here is what I started with
And here we go with the top choices in no particular order:
Papermate InkJoy Gel .7
This was a big box office supply store checkout counter find. It looked interesting and I always loved the name PaperMate, those two words together just say PEN to me. I was very impressed with how it wrote and liked it so much I found one of those 14 color pen deal and bought it. The whole body is rubberized which is kind of unique.
Writing: 10
Grip: 9
Aesthetics: 5 plain
Deployment: 10 clicky
Pilot Juice .7
A new one for me but I quickly fell in love. The clip is the BEST of the bunch if that is something you use frequently.
Writing: 10
Grip: 7
Aesthetics: 8
Deployment: 10 clicky
Pentel EnerGel .7
Another drugstore stumble find and I find myself grabbing it often sitting around the house. I don't own alot of Pentel product and I'm not sure why not.
Writing: 9
Grip: 10 fat body
Aesthetics: 4 Blah
Deployment: 10 knock
And now for the Uniball Signo Run
Uniball Signo 207
Probably my favorite grip and always a consistent writer every time I pick it up.
Writing: 9
Grip: 10
Aesthetics: 9
Deployment:10 clicky
Uniball Signo 307
There are reportedly some differences between the 207 and 307 somewhere but I can't find them except in the looks department. They both write and grip just the same but I would bump up the 307 by 1 point in the aesthetics category as I think it's a touch nicer looking.
Writing: 9
Grip: 10
Aesthetics: 10
Deployment: 10 clicky
Uniball Signo UM-100-.7
The longest body shortest cap of the lot with a step body that I'm not sure the purpose of but it's a solid performer.
Writing: 9
Grip: 4 all plastic
Aesthetics: 4 the cap to body balance is off to me
Deployment: 5 cap
Uniball Signo UM-151-.5
Probably my favorite stick style pen with a cap.
Writing: 10
Grip: 8 rubber is there but firm
Aesthetics: 5 plain clear body
Deployment: 5 cap
Uniball Signo DX UM-151-.38
The smallest tip size I will go. I am surprised it writes as smooth as it does but I only use this one occasionally when I have a specific need for a really fine line.
Writing: 9
Grip: 8 firm rubber again
Aesthetics: 5
Deployment: 5 cap
Uniball Signo RT1 .5
Writing: 9
Grip: 8
Aesthetics: 7 kind of sleek for a disposable clicky
Deployment: 10 clicky
Plenty of great pens in the $2 price range and if you're going to have pens in the car, garage and kitchen drawer why not have ones that write good!
What are your favorites?
Remember: Write something nice……
Thanks for stopping by and if you enjoyed this post I would love to send you an email every time I have a new post. Click Here to Subscribe
Click here for some great deals on pens and ink I have for sale